Getting hair cuts for the family can sometimes be more crazy then a trip to the local zoo. My husband just wants a place that can get him in and out without messing up a basic cut. My oldest son wants a place that doesn't listen to his mom but to his personal wants and needs. My youngest wants a place that doesn't scare him and can make the experience a pleasant one. I just want a place that can meet all of our needs in a timely manner allowing us to get in and out and all looking their best.
Fantastic Sams® Hair Salons seems like just that place to me. Unfortunately I don't have a Fantastic Sams within an hour of me or I would have given them a try but when I went around and did some online research it looked like a place that could meet my entire family needs and I didn't come across any negative complaints. All the personal photos that I found the stores all seemed very clean and organized.

I really liked that they were a one stop shop. I could get everything from a cut, color, and wax all in one stop all at affordable pricing. The last time I got a cut and wax done together at a salon I almost fell over when I paid around $75. I felt like I was getting robbed! Here at Fantastic Sams all four of us can get a cut and pay less then that!
FANTASTIC® Services Offered
CUTS
Adult Cut (includes fs shampoo therapy™)
Adult Cut Plus (includes fs shampoo therapy™ and blow-dry)
Designer Cut (includes fs shampoo therapy™, blow-dry, and curling iron or round brush finish)
Kid's Cut (fs shampoo therapy™ offered)
Kid's Cut Plus (includes fs shampoo therapy™ and blow-dry)
Bang Trim
TEXTURIZING
fantastictexture™ waves – waves, curls, texture, body, volume
Curl Smoother – reduce or eliminate curls – smooth and control coarse hair
Perm Plus (includes fs shampoo therapy™ and blow-dry)
Designer Perm (includes fs shampoo therapy™, blow-dry, and designer wrap, spiral, piggyback)
TREATMENTS
Deep conditioning for stressed hair
Chelating treatment to remove chemicals, metals and product build up
Reconstructive treatment to repair damaged hair
COLOR
Hair color
Hair color retouch
Tipping
Blonding
Foil Highlighting (full or partial)
Lowlights
SERVICES
Beard trim
Moustache trim
Hair relaxing (Mizani)
Up-Do's and Special Occasion Hair
Blow-dry
Designer blow-dry (includes shampoo, blow-dry, and finish)
Shampoo
Shampoo sets
Non-chemical hair straightening (Flatiron)
Facial waxing
*Services vary by location.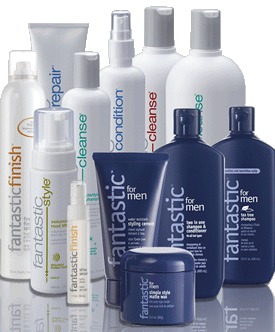 Plus, while you're there you can check out the full selection of hair care products. I had a chance to try a couple of them out and I was pleasantly pleased. I loved the lavender mint line! It smelled so good every morning. I did find the shampoo carried more of the lavender scent while the conditioner left a nice minty smell. Together I was left with soft, shiny hair. I finished my look off when I did my double braids by prepping my hair with their finishing spray and it held great all day long!
Keep your hair looking fantastic with our professional salon products, at prices that'll make you feel fantastic too.  Now, Fantastic Hair products are created in regimens: volumizing, moisturizing, clarifying and color protect to take care of your individual hair care needs! And, we have a fantastic new scent: Papaya Crème to make your hair smell terrific. Each line has enhanced ingredients to improve effectiveness, and of course, each product is formulated with FantasticComplexTM, our special complex comprised of pro-vitamins, soy protein, and silicone.
Fantastic Hair Products use soy protein to penetrate your hair and add strength, while pro-vitamin B-5 and panthenol condition it. Silicone protects the hair shaft during heat styling while restoring moisture balance and manageability to your hair.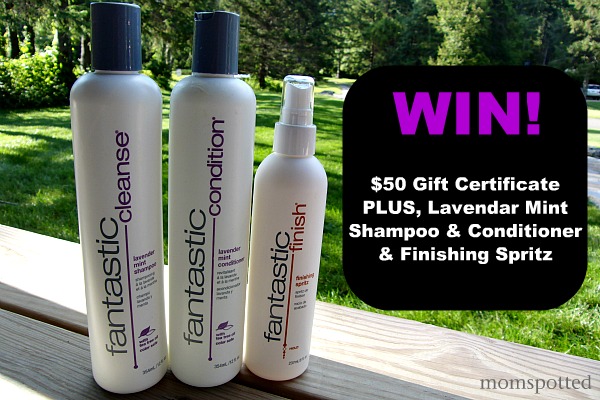 Fantastic Sams has offered one Mom Spotted Reader a $50 Gift Card & Hair Products (shown above)!!!

How to Enter:
1.) Visit Fantastic Sams and tell me what service of theirs you would try and use your gift certificate on.
Mandatory
How to earn additional entries:
2.) Become a follower on my blog (publicly- privately does not count)-leave another comment (or let me know if you already are) – 2 entries
3.) Subscribe to my blog by EMAIL (not feed) – 2 entries
4.) Blog about my giveaway- with a link back to here AND
Fantastic Sams
4 entries (get two more if you include a photo of the giveaway).
Post YOUR blog entry first and then the comment (please include the link directly to it not to your front page, and make an additional comment then the ones above.)
5.) Add my Mom Spotted button to your blog
6.) Follow
Fantastic Sams
on Twitter
7.) Follow
Mom Spotted
on Twitter AND Tweet about this giveaway-
Copy/Paste:
Win a $50 Gift Card & Hair Products from @FantasticSams & @MomSpotted #giveaway ends 9.12.11 http://wp.me/p18qpn-3N6
~this can be done once daily (leave link in comment)~
8.) Become a Fan of Mom Spotted on Facebook– leave me a comment
9.) Become a Fan of Fantastic Sams on Facebook! – Tell them what you love at their site
10.) Post on your facebook home page (1x daily):
Win a $50 Gift Card & Hair Products from @Fantastic Sams & @Jennifer MomSpotted Giveaway Ends 9.12.11 http://wp.me/p18qpn-3N6
(Make sure it links to me and Fantastic Sams & put link in comment)
11.) Leave a relevant comment on any non-giveaway post (reviews are ok)
(Make sure to check out all my other giveaways!
Check the side bar to the right for list!)
That's many chances to win a Fantastic Sams Prize Pack!!!
Contest ends September 12th at 11:59pm!
www.FantasticSams.com
***USA Only***

Mom Spotted Review Policy: I was provided with the featured item(s) at no cost by the manufacturer and/or its PR agency in order to test the products abilities and give my own personal opinions on it. The opinions I have given are mine and may differ from others but it was not influenced in any manner by monetary means.