Take out the trash, eat your broccoli — who needs moms anyway? Nine-year-old Milo (Seth Green) finds out how much he needs his mom (Joan Cusack) when she's nabbed by Martians who plan to steal her mom-ness for their own young. In a race against time and oxygen, his quest to save her knows no bounds. And with some unexpected help, Milo just might find his way back to her — in more ways than one.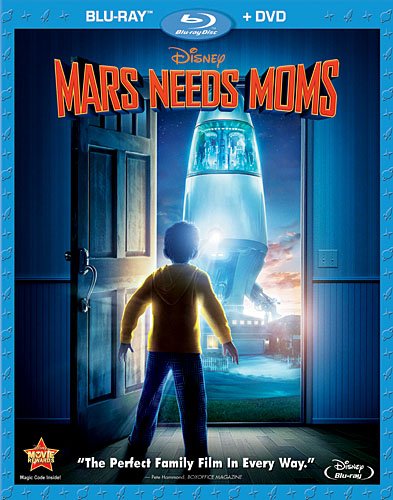 Sadly we completely missed this movie while it was in the theaters. The kids had bugged me over and over but the timing of it didn't work for us. Instead we counted down the days til it would be available to watch at home. When I let the kids know it was on its way they were super excited.
We were immediately absorbed into the storyline. What I really liked was they kept it real. If you have a child around the same age as Milo (which I do) you know all to well that getting the trash done is just how it goes in this movie. Luckily my child has never spoken to me the same way as I think I'd be crushed.
What happens next is Milo's worst nightmare no matter what he just said. When he realizes what is happening he goes to his Mom's rescue and finds himself getting launched into space. He'll have to find his way to his mom all while teaching the martians around him what it is to be loved by family.
The ending in my opinion was dead on and I cried like a baby but really, what other way could it happen in a mom's point of view? This is a must see for any family. Gavin who is my youngest was just as engaged as my 10 year old. Disney always finds a way to make sure that the entire family gets together!
Bonus Features:
Blu-ray 3D:
Everything on the Blu-ray & DVD plus….
Mom-Napping (All-new 3D Exclusive) –There's more than meets the eye during the Martian abduction of Milo's Mom. This alternate scene — completely finished in 3D — tells all.
 Blu-ray 2D:
Everything on the DVD plus…
Extended Opening – The movie begins… but wait, there's more.  See it here.
Life On Mars: The Full Motion-Capture Experience – Go way behind the scenes to the 'space' where the actors' performances are captured. This feature-length, picture-in-picture viewing mode also lets you listen to director Simon Wells and actors Seth Green and Dan Fogler give a fun and insightful look into creating the movie.
Deleted Scenes with Simon Wells introductions (4 Blu-ray 2D Exclusive Deleted Scenes) – 7 deleted scenes of which four are exclusive to the Blu-ray 2D release. Some cool scenes ended up on the cutting room floor. Now you can see them with introductions by director Simon Wells.
"Flower Power" Easter Egg – the name of the show that Ki watched and learned English from is entitled "Freaks on the Street."
Movie Download:
Everything on the DVD plus…
Deleted Scenes  – Three deleted scenes with introductions by Director Simon Wells
DVD:
"Fun With Seth" – The cast and crew had a galaxy of fun making Mars Needs Moms, thanks to the on-set antics of Seth Green and Dan Fogler. Watch them do the ROM dance see them compete to see who can do their verbal ROM the fastest, and much more.
Martian 101 – Do you speak Martian? Go behind the scenes and see how the producer and cast came up with their own unique Martian language. Then learn how to speak it yourselfwith lessons from a leading Martian language expert.
 Mars Needs Moms Social Media:
Those who want to stay connected with the upcoming release of Mars Needs Moms are encouraged to:
Language/Subtitles: Blu-ray: English, French, Spanish, Portuguese
DVD: English, French, Spanish
Audio: 7.1 DTS-HD MA, 5.1 Dolby Digital, 2.0 Dolby Digital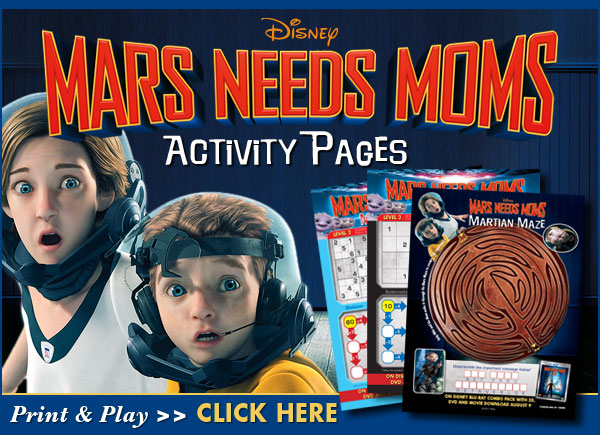 You can purchase the Mars Needs Moms on a Two-Disc Blu-ray / DVD Combo and order it fro Amazon
on sale right now for $22.99. It has a running time of 88 minutes and is rated TV-PG.
Mom Spotted Review Policy: I was provided with a DVD at no cost by the manufacturer and/or its PR agency in order to give my own personal opinions. The opinions I have given are mine and may differ from others but it was not influenced in any manner by monetary means.