I live in Western Ma and lately our very small area has been in the news for so many reasons. One of them caught major headlines when Phoebe Prince killed herself because the pressure from bullying in high school became too much. Sadly everyone from students, parents, and even school officials were aware of what was going on and no one did anything. Maybe if they had she would still be here. Maybe if some did something, anything, there wouldn't be ten young lives ruined over this. It got so far and so much was done and so much that can't be undone. It has divided our people and changed everything.
When my son started school this year all the children were asked to sign a Peace Builders Pledge. This pledge reminds the children that bullying will not be tolerated but it also stands not only against the people who are bullies, but also the kids that just stand by and do nothing. By signing the pledge the kids state they won't tolerate any form of bullying. They won't participate in it and they won't stand by and watch it.
So when P&G told me about a great family movie called Field of Vision coming out that focuses not only on the bullying but how we as the watchers can stop this I was definitely on board.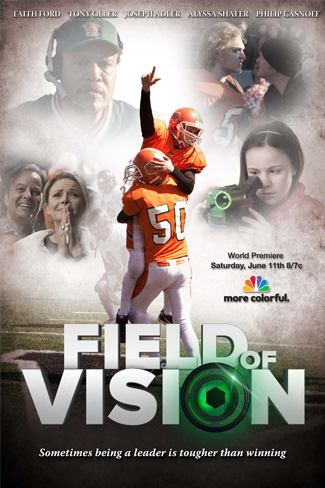 Synopsis:
Through mysterious footage captured on an old malfunctioning video camera, Sinclair High School's star quarterback, Tyler McFarland, learns that some of his teammates have been bullying Cory Walker, a troubled new transfer student. Aware that sharing this information with the coach might get his friends kicked off the team and ultimately cost the school the state championship, Tyler must choose what's more important: winning or doing what's right.

As these events unfold, the camera also reveals more surprising footage to Tyler's kid sister Lucy. She learns that Cory has a secret past, unknown even to him. Now Lucy must convince her mom (Faith Ford, Murphy Brown) and family that the camera's revealing insight is not a product of her imagination as she enlists their help to find the answers Cory so desperately needs. It's a compelling and intriguing story that shows both the challenges and rewards of doing the right thing even when it's tough to do.
This movie will make you laugh and make you cry. It touches your heart in so many different ways. I loved it and couldn't tear myself away for even a moment. I highly recommend tuning in Saturday, June 11 on NBC at 8pm ET/7pm CT to watch it with your entire family. This is something children should definitely watch and especially grade school children who often see things like this and don't know how to handle situations.For more information you can also check out the Field of Vision Facebook Page.
"I wrote this review while participating in a campaign by Mom Central Consulting on behalf of P&G and received a promotional item to thank me for taking the time to participate."