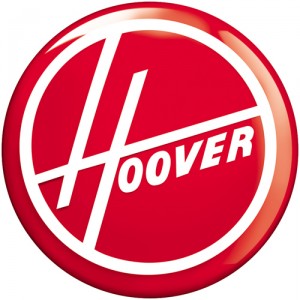 Do you have carpets? DO you have kid? What about pets? If so chances are they aren't looking as nice as they were years ago when you had them put in. Well, Hoover knows how much we want that professional clean without the professional price and have brought us the MaxExtract 60 Pressure Pro™! It costs less then a one time fee from the cleaners but will give you just as good results.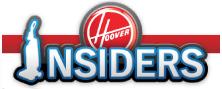 As part of being one of the Hoover Insiders I had a chance to check out the MaxExtract 60 Pressure Pro™. I don't have many carpets in my home. The boys rooms are wall to wall and then our bedroom and the living room have large area rugs. Seeing as we don't have it throughout we couldn't justify spending so much to have someone come in and clean them.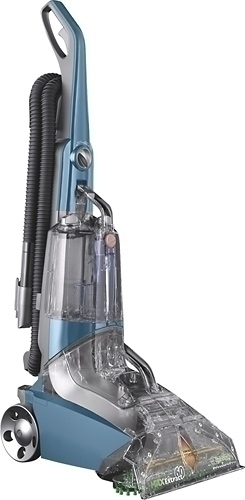 This MaxExtract® deep cleaner is designed to thoroughly clean carpets and rugs.
This easy-to-use machine removes water, dirt and grime with pressurized cleaning, and has heated drying for a fast dry time. Features a double chamber nozzle to power wash surfaces with even suction across a wide path, while the automatic detergent system provides the right ratio of detergent and water for the best cleaning results. Patented Hoover® SpinScrub® brushes gently loosen dirt and clean all sides of carpet and upholstery fibers, with an adjustable speed control for various floor surfaces, including a Spill Pick-Up mode so you don't scrub in spills.
Get professional looking results with Hoover detergents.
Pet Plus Carpet & Upholstery Detergent
Professional Strength Carpet & Upholstery Detergent
Cleaning Solutions page
MaxExtract® DualV® Nozzle Technology
we're pulling up a lot of dirty water so your floors dry fast and you'll be back to living on those deep-cleaned floors quickly.
Pressurized Edge-to-Edge Cleaning
a wall of pressurized water that loosens and lifts stubborn stains with constant and relentless spray.
SpinScrub® 60
counter-rotating brushes engineered to surround carpet fibers, removing dirt at every angle. It's like treating your carpet to a deep, massaging salon shampoo.
Heated Cleaning
powerful motor with forced heated air to help speed dry time.
Auto Conversion Tools
conveniently positioned where they should be – right at your fingertips.
SmartTanks™ System
separate tanks for clean and dirty water, so you can easily fill, empty and rinse each tank individually!
Includes:
16 oz Bottle of 2X Professional Strength Carpet & Upholstery Detergent
9′ Clear Active Hose
Upholstery Tool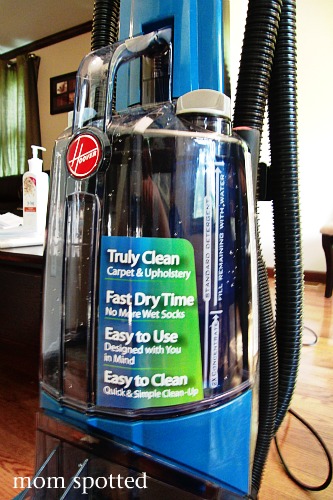 First off, it is incredibly easy to get from box to ready to use. It will take all of 5-10 minutes to put it together. I made sure to read the manual good since I have never used a carpet cleaner before and really that was the longest part. You'll need to pull out the top bucket to get started. It's as easy as that too. Just pull it out. You'll want to take the 2x Concentrate Solution and fill it to the first arrow below and the the remaining with water. Even filling it to that line did take more then half the bottle. Then there is a second opening and you'll want to fill the tank itself with water. Then just snap it into place.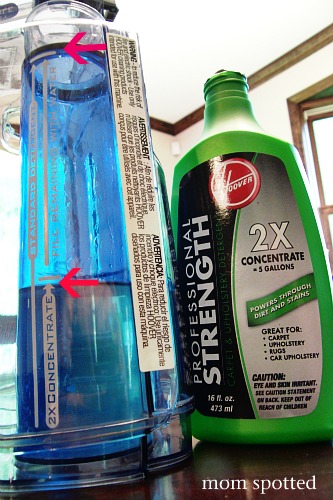 First I really wanted to hit up the cushions on our kitchen chairs. Over the 4 years we've owned them the boys have done a real number on them. As you can see from even this photo they were covered in stains. You can pull out the little handheld piece and it works great for these by just connecting it to the tube. If the MaxExtract 60 Pressure Pro is upright it should automatically work on the handheld. Just give the water a moment to work its way down.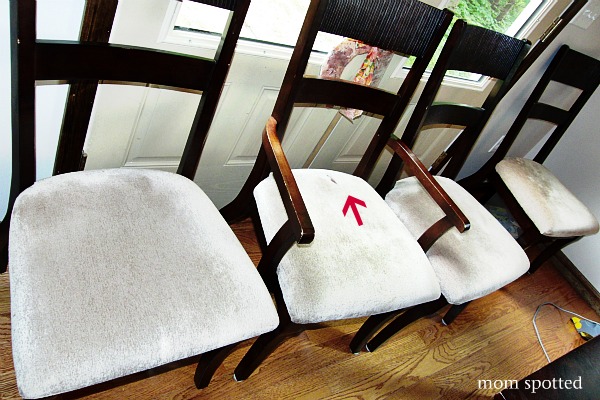 I forgot to take an after photo but it did a great job on the chairs. That big stain you see isn't gone but it isn't really that visible anymore and considering it's well over a year old I'm impressed. It brightened up the rest of the chairs but struggled on the sides since the were rounded.
I don't have any carpet on my stairs but you can see from the photo below how easy it would be to clean a very used walkway up nicely.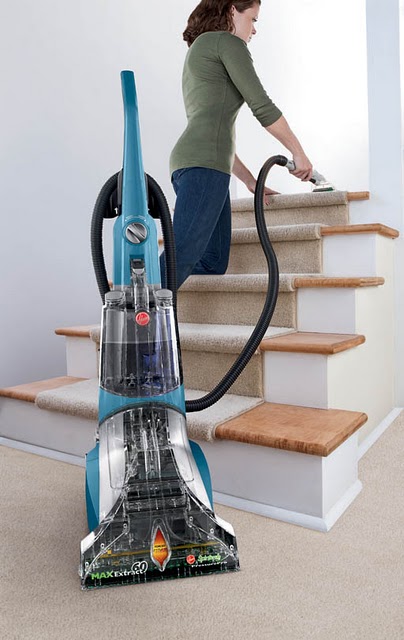 As you can see here that my carpet was in some serious need of a cleaning. It's a 10×10 rug and while it's nice and plush we've been living on it for 4 years and the only cleaning it has had is by vacuum. Once I spot cleaned it and that was it. Gavin was only a year  old when we got it and really who gets a white carpet with small kids? We do. We have a coffee table go in the center and then normally I sit on it and blog. With the amount of blogging I do you know I'm sitting on it a lot. As a result I've also flattened a spot. We needed some serious help getting it back.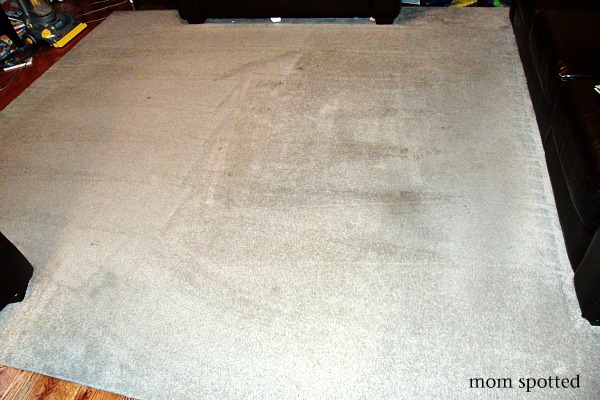 Here it is after cleaning it. The MaxExtract 60 Pressure Pro™  got ALL the stains out. I was floored. Literally. If I had known how easy it was to clean I would have invested in one years ago. You know that flat spot I told you about? Gone. Those little brushes pulled it back up and gave it life again. I went over it on wash mode once and then on rinse once. I wasn't sure so I went slow. I did have to fill up the water tank in the middle but no other cleaner needed to be added. The rug did take a couple of hours to dry with the fan on but it was also a very humid day which didn't help it.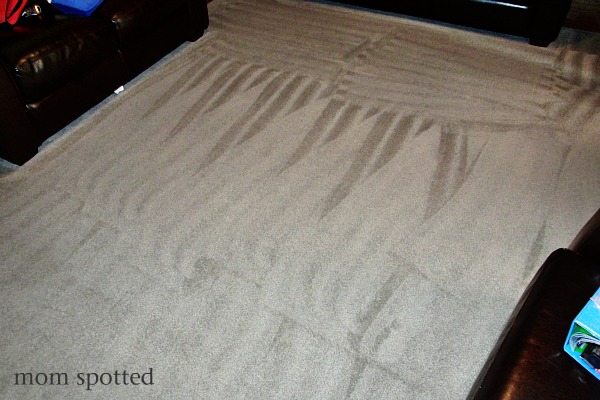 When you are done clean up is so easy. I like easy. See this tank? This keeps all your dirty water separate from your clean water. Just lift that big handle you see and it will come right out.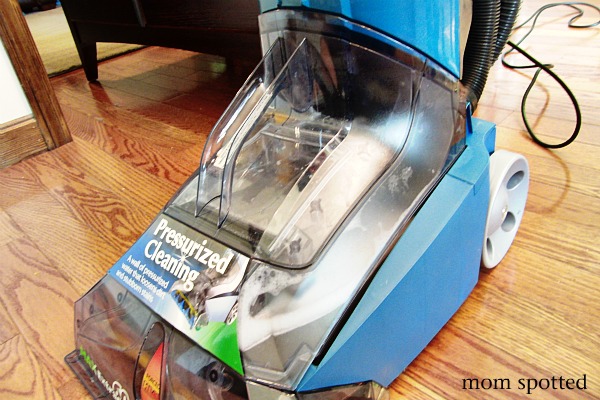 Isn't that gross? THAT was in my carpet. I'm so glad it isn't now.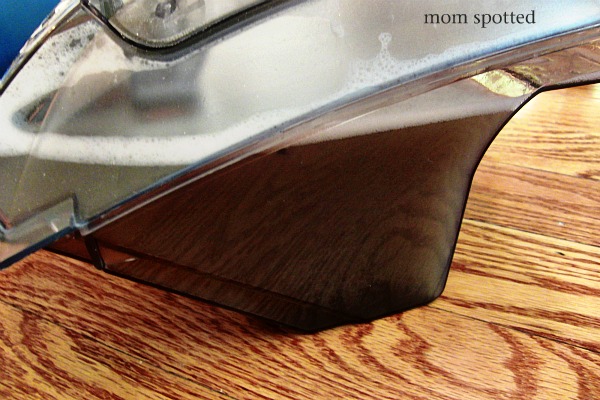 It's so easy to completely clean too. The top unlocks so you can really get in and rinse it out well. There is a spout on the back to just pour it.
*Warning* See the above photo? See how it's just a small strip that hits the ground. Well, don't balance it when you have it unlocked or like me you'll end up wearing it.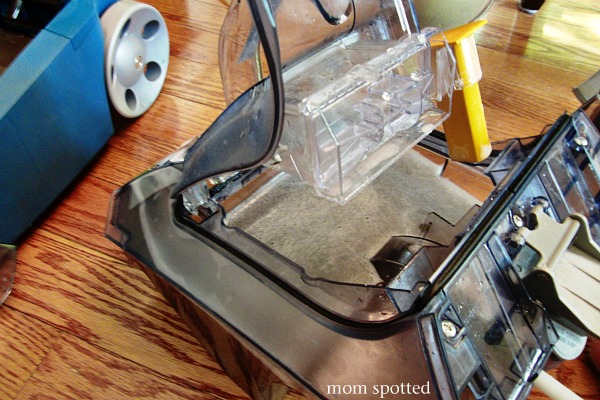 Love that you can also snap off the spin scrubbers. They get really dirty scrubbing the carpet and I couldn't imagine trying to clean them if they didn't come out. Just unsnap and run under water.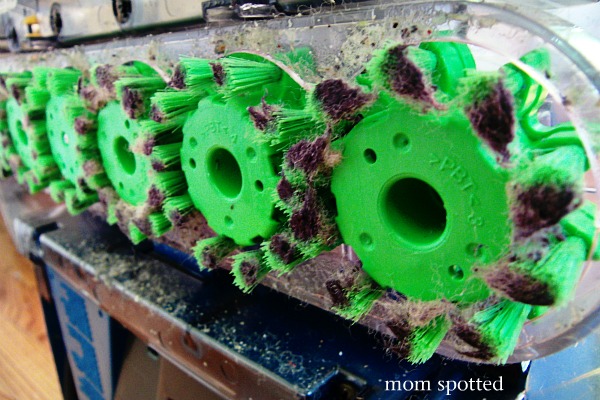 You can purchase the MaxExtract 60 Pressure Pro™ for $229.99!
OR
Hoover has offered one Mom Spotted Reader a MaxExtract 60 Pressure Pro™!!!

How to Enter:
1.) Visit
Hoover
and what other Hoover item you like!

Mandatory
How to earn additional entries:
2.) Become a follower on my blog (publicly- privately does not count)-leave another comment (or let me know if you already are) – 2 entries
3.) Subscribe to my blog by EMAIL (not feed) – 2 entries
4.) Blog about my giveaway- with a link back to here AND
Hoover
4 entries (get two more if you include a photo of the giveaway).
Post YOUR blog entry first and then the comment (please include the link directly to it not to your front page, and make an additional comment then the ones above.)
5.) Add my Mom Spotted button to your blog
6.) Follow
Hoover
on Twitter
7.) Follow
Mom Spotted
on Twitter AND Tweet about this giveaway-
Copy/Paste:
Win a $230 MaxExtract 60 Pressure Pro Carpet Cleaner from @HooverClean & @MomSpotted #giveaway ends 6.26.11 http://wp.me/p18qpn-3dD
~this can be done once daily (leave link in comment)~
8.) Become a Fan of Mom Spotted on Facebook– leave me a comment
9.) Become a Fan of Hoover on Facebook! – Tell them what you love at their site
10.) Post on your facebook home page (1x daily):
Win a $230 MaxExtract 60 Pressure Pro Carpet Cleaner from @Hoover & @Jennifer MomSpotted Giveaway Ends 6.26.11 http://wp.me/p18qpn-3dD
(Make sure it links to me and Hoover & put link in comment)
11.) Leave a relevant comment on any non-giveaway post (reviews are ok)
12.) VOTE for me for the Lovable Labels Contest TWO entries (1x daily)
(Make sure to check out all my other giveaways!
Check the side bar to the right for list!)
That's many chances to win a MaxExtract 60 Pressure Pro Carpet Cleaner!!!
Contest ends June 26th at 11:59pm!
***USA Only***

Mom Spotted Review Policy: I was provided with the featured item(s) at no cost as part of being an Hoover Insider in order to test the products abilities and give my own personal opinions on it. The opinions I have given are mine and may differ from others but it was not influenced in any manner by monetary means.