I recently received the new Silhouette Machine and I am beyond excited to try it out. I'm crafty by nature and as I've been stating I'll be slowing down and doing more crafts soon. The Silhouette Machine will definitely be helping in that area! This machine is amazing and can do so many things. I'll be sharing more about that later but I really wanted to share this amazing Rhinestone Bundle Sale they are having!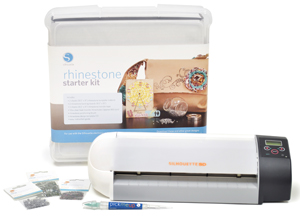 A Silhouette SD
The Rhinestone starter kit
3 additional packs of rhinestones
And 1 Pick Me Up tool
ALL FOR $229!
This Rhinestone Bundle includes:
The Silhouette SD
2 sheets of rhinestone template material
2 sheets of rhinestone transfer tape
2 rhinestone backing boards
1 rhinestone placement brush
1 CD of rhinestone images
1 pack of clear 10ss rhinestones
1 pack of clear 16ss rhinestones
1 pack of clear 20ss rhinestones
1 pack of pink 10ss rhinestones
and  1 Pick-Me-Up tool
That's a $350 value! So order now because this sale ends April 27th at midnight! You'll need to click here for the Rhinestone Bundle and enter the Promo Code SPOTTED at checkout for this amazing hot deal! Of course make sure to stay tuned to my review and rhinestone project!