I love Kolcraft. They have quality products at affordable pricing. Just because you can actually afford their products doesn't mean that you have to give anything up either! Kolcraft makes sure that not only baby has when they need but Mom is comfortable while using their products too!
For both boys we celebrated their first birthday's by tossing out the travel system and investing in a new car seat and stroller. The key to finding the perfect stroller was one that gave you all those same features as that big, bulky stroller but without the weight and size. However, many times when you run into the smaller sized strollers you find you have to give something up. It's usually the cup holder for you or your child (or sometimes both!), the basket space, etc. Not with the Jeep Cherokee Sport Stroller!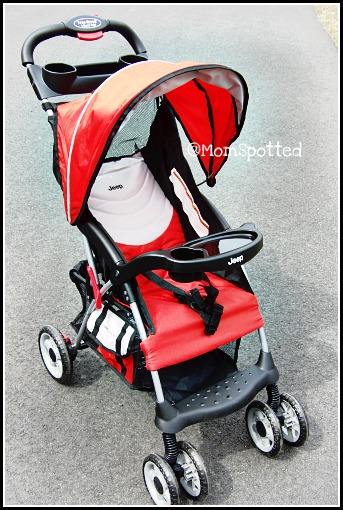 An ideal stroller for the active parent and baby who is always on the go! This rugged and compact stroller features Free-Stand™ and one-hand fold, all terrain wheels, snack tray and cargo bags for storage. Go anywhere and everywhere with this portable and easy to fold stroller!

Features:

Lightweight & compact frame for easy travel
Convenient one-hand and self-standing fold design
Removable parent tray with dual cup holders
Multi-position reclining seat back
Removable snack tray with dual cup and juice box holder
5 x 6 shock absorbing sport wheels
Adjustable canopy
3-point quick release buckle
Large storage basket plus cargo bags for gear
This stroller doesn't miss a beat on any of the features! First off I love that the child has both a child snack try with a cup holder built-in. There's nothing like handing your one year old a snack and expecting them to balance that and their sippy cup all on their lap without making a mess. Don't want it there? That's okay because it's removable!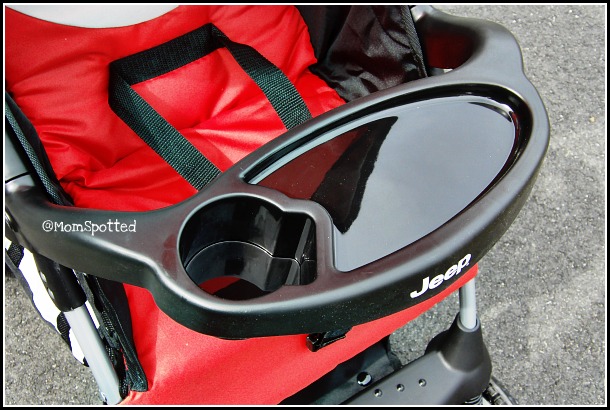 You can safely secure your child in and I like that there are double clips so you can get them out easily.
The seat is really cushioned and the head piece has added padding for when they doze off.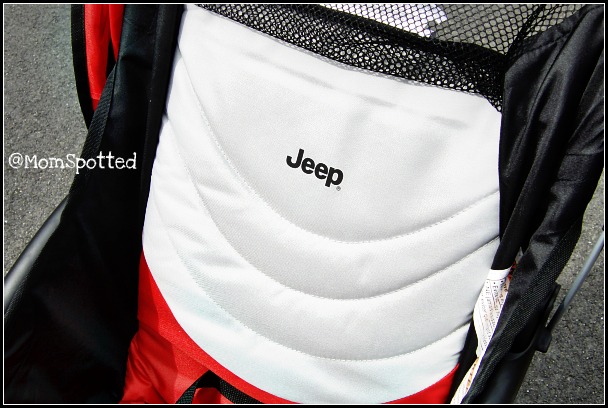 Seat can sit up or lay down… or go at any angle in between!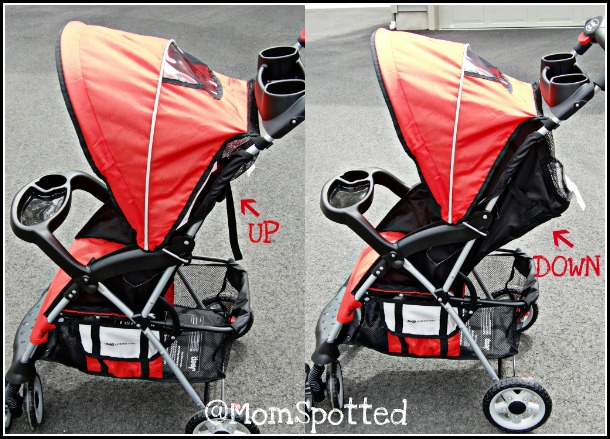 Due to the way you move the seat's back positioning you can actually stop it at any angle your child wants it at. You can also slowly lower them. This is great if they feel asleep sitting up in an uncomfortable position. You don't have to worry them slamming down into the next position.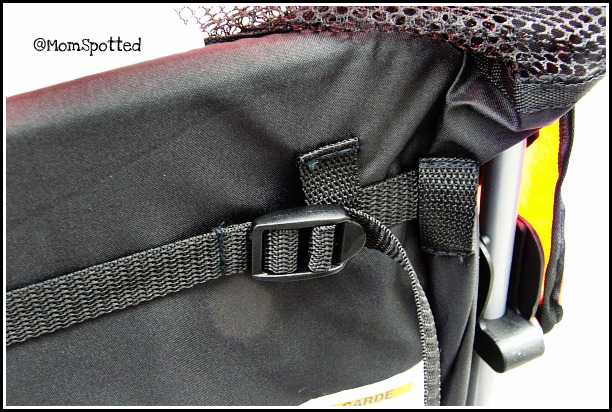 The canopy is also adjustable and I really like the extra bit of material at the end. It can be pushed up and sticks to the top of pulled down and adds that little extra where we normally can't get to and is great at keeping the sun out of your child's eyes and we all know how miserable they are when the sun is in their face. I've never seen this on a canopy before and I love it!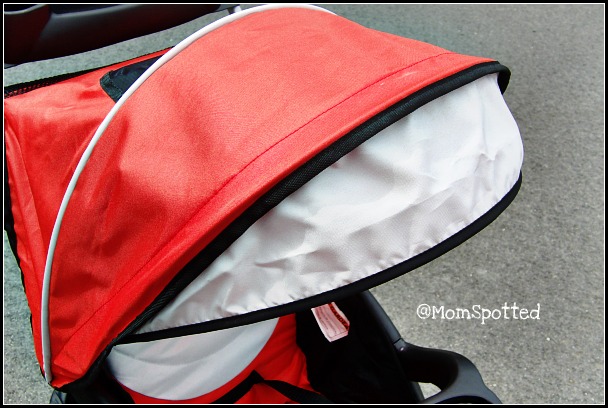 There is still a peep-hole for mom!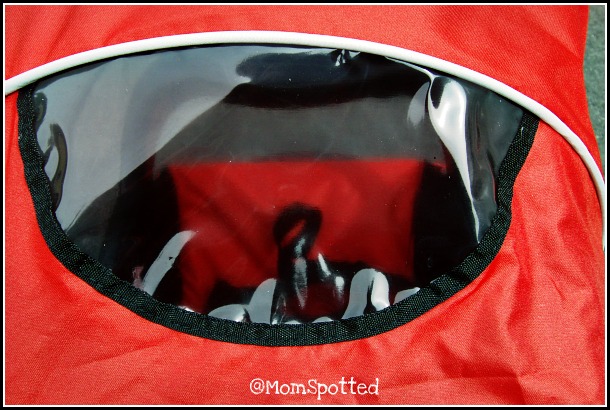 And of course the needed foot rest so they don't rest their feet on the wheels and drive you crazy.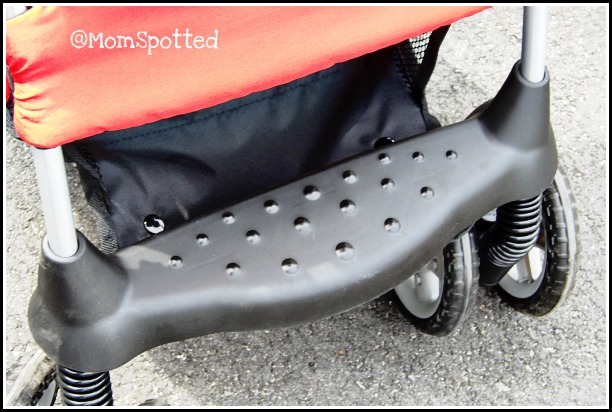 The basket size is still really good size and you should be able to bring everything you need and put your shopping purchasing in there too!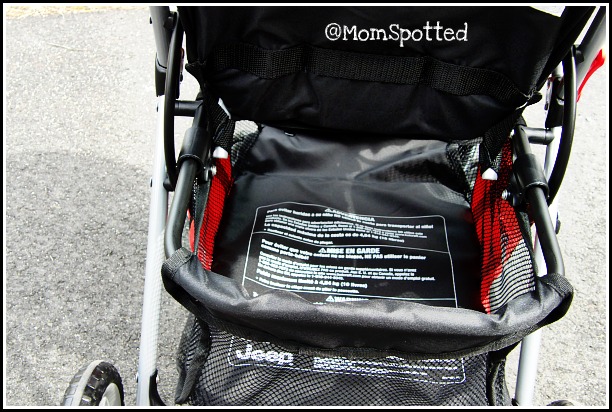 Plus, both sides have these great little gear pouches. I love these for things you need every time you're out. I usually like to keep wipes, a spare diaper, and lotion on one side and then sunscreen and a first aid kit on the other.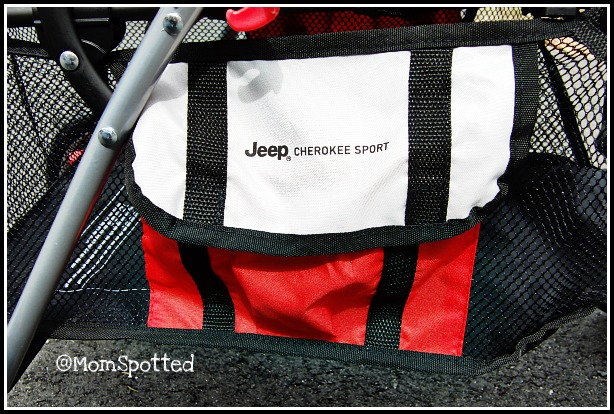 Both sides have an easy locking system too! Just simply step down and use your toe to lift up.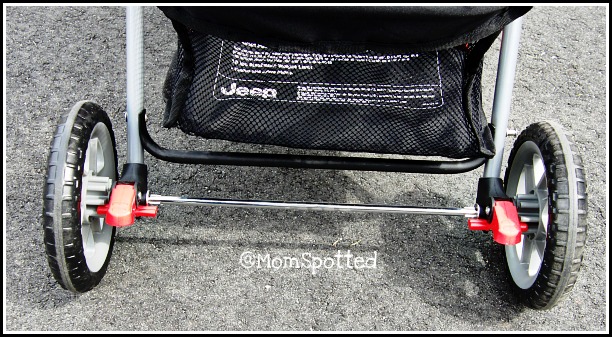 There is also a removable parent tray. Why you'd actually remove it beats me but you can if you want too! my last main stroller for Gavin thought we didn't need space for our own stuff and it drove me nuts because I always had to toss my coffee because I had nowhere to put it when I was pushing the stroller. I love that there are two spots and a place for my keys and camera!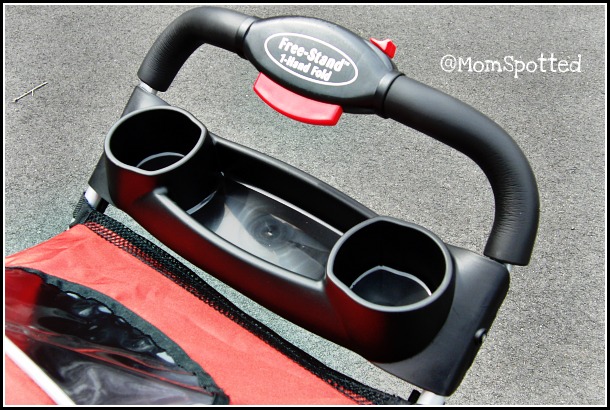 Then when it's time to go simply use one hand to fold it down.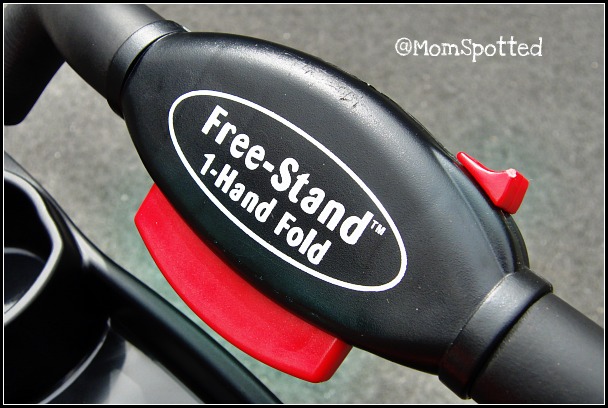 Fold up nice. I love when they can stand. This keeps them clean when they are being stored in a place other than your vehicle.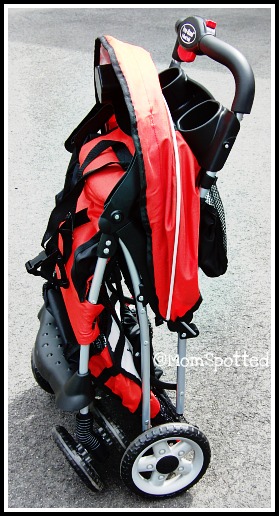 You can purchase the Jeep Cherokee Sport Stroller for $79.99 in the React color (shown) at Amazon.com or in the Shock (Pink) color for $59.54 on Amazon.com or for the same $59.54 at Walmart.com!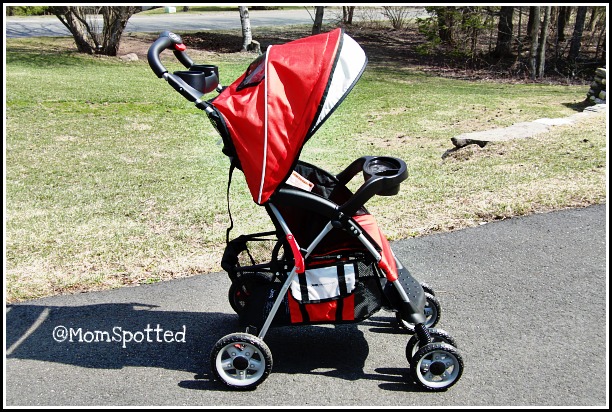 Kolcraft has offered one Mom Spotted Reader a Jeep Cherokee Sport Stroller!!!
Mom Spotted Review Policy: I was provided with the featured item(s) at no cost by the manufacturer and/or its PR agency in order to test the products abilities and give my own personal opinions on it. The opinions I have given are mine and may differ from others but it was not influenced in any manner by monetary means.