Tomatoes. Tomatoes are one of my favorite foods. I don't care how you serve them I love them. Funny that my favorite food is also the most hated food by the rest of my family. I don't know how they can dislike tomatoes but in this house if I'm the cook the tomatoes are going no where! So that means that i need to be creative in the ways that I put them into the meals I make.
See, while I love the taste of tomatoes they also hold so many benefits to eating them. According to the 2010 Dietary Guidelines they want to encourage more healthier eating with foods and consume fewer foods with sodium (salt), saturated fats, trans fats, cholesterol, added sugars, and refined grains.
Then I also read this article that told me just how important tomatoes are! Did you know that in addition to lycopene, tomatoes are one of the top contributors of potassium to the American diet? I didn't! I mean I knew that tomatoes helped reduce the risk heart disease as well as cancer but I didn't know tomatoes contained potassium.
~An article published in the March/April 2011 American Journal of Lifestyle Medicine titled "Tomato Consumption and Health: Emerging Benefits," demonstrates the significant nutritional advantages of increasing tomato consumption. Emerging research underscores the relationship between consuming tomatoes and tomato products with reduced risk of certain cancers, heart disease, ultraviolet light-induced skin damage, osteoporosis, and other conditions.
~For more information about the health benefits of tomatoes, check out this interactive webinar: http://www.rippeinfoservices.com/conagra-foods-science-institute/webinars/tomatoes-webinar.htm
~Did you know tomatoes are good for your heart? (It's easy to remember because they're red.)  They are low in calories, but rich in nutrients like potassium, fiber and the POWERFUL antioxidant called lycopene.
~The lycopene in canned tomatoes, like Hunt's, is easier for your body to use than from raw tomatoes, and you get seven times more lycopene from canned tomatoes than from the raw version.  Hunt's tomatoes are convenient to use in lots of recipes.
~In fact, because tomatoes are so nutritious, the new Dietary Guidelines for Americans say people should try to eat one more serving of them each day.
~All of Hunt's tomatoes are grown in California and are 100 percent natural.
~Hunt's tomatoes come in lots of varieties, including No Salt Added.
~Tomatoes are a superfood!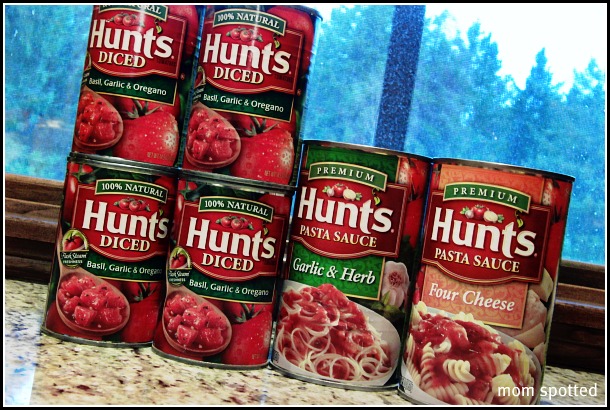 So how do I get my family to eat more tomatoes? Cook them into their favorite foods! My husband loves chicken parmesan and everyone loves bread so I thought of a way that I could combine them while getting some tomatoes in. I thought of an old recipe I had and thought maybe if I changed the inside ingredients I could pull off a tomato healthy recipe. After all, my family's health is incredibly important to me.
So to begin these are the ingredients you'll need: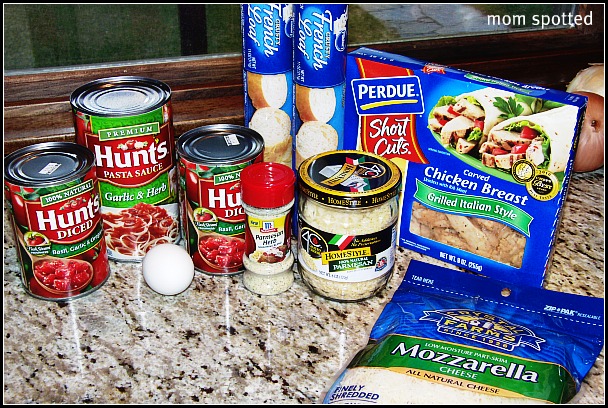 2- 11 ounce french bread
1 cup shredded mozzarella cheese
1 cup parmesan cheese
1 cup chopped chicken breast
1 egg
1 teaspoon parmesan herb seasoning
1 can Garlic & Herb Hunts Pasta Sauce
1 can Hunt's Diced Tomatoes with Basil, Garlic and Oregano
6-8 cloves garlic
I was lazy and bought store ready cooked italian chicken breast. Grabbed my food chopper and chopped it up. Place in small mixing bowl.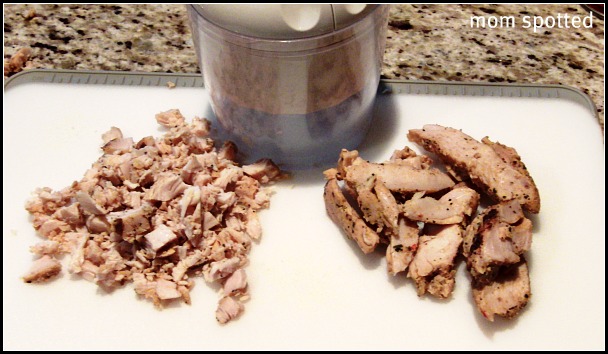 Peel and press garlic. I like garlic and personally would add more next time around.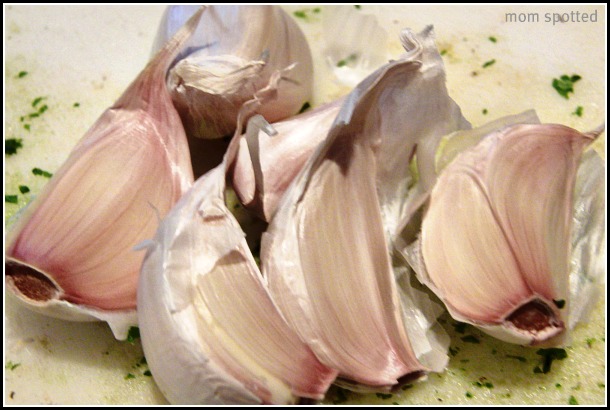 Add one cup parmesan cheese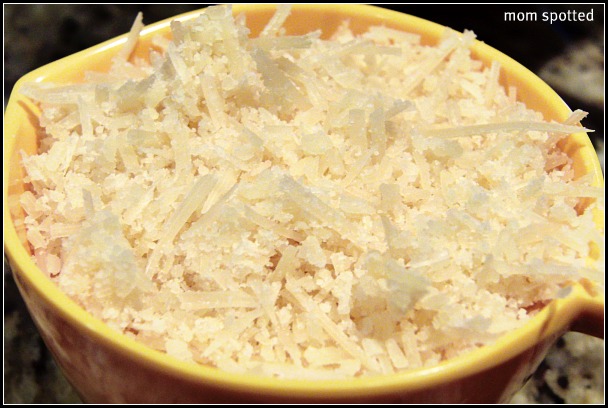 Add a small handful (about 1/4 cup) of fresh chopped basil. Your mixture should look like this: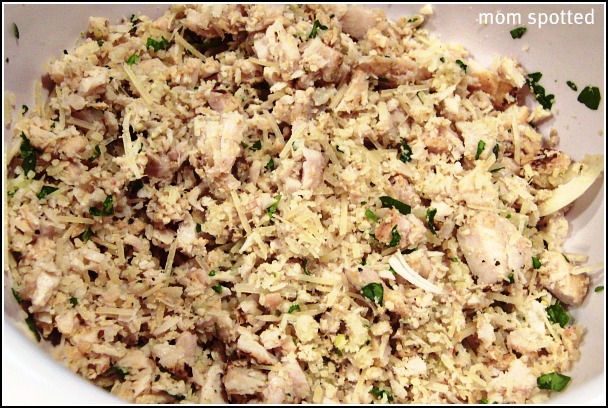 Next grab a can of Hunt's Diced Tomatoes with Basil, Garlic and Oregano.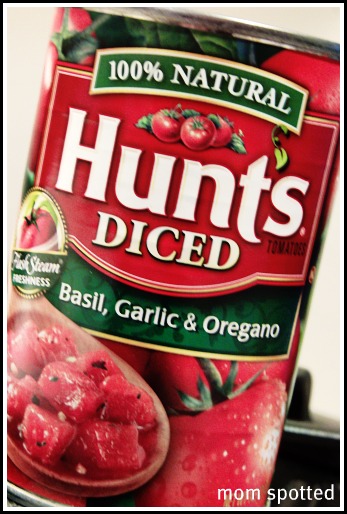 When you open it you're going to see it's juicy. Because we are working with dough we need to get as much of the straight liquid out as possible.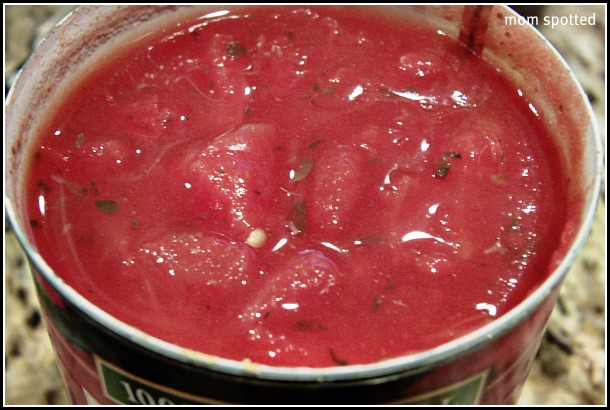 I mushed through a mesh strainer to get as much liquid out as possible.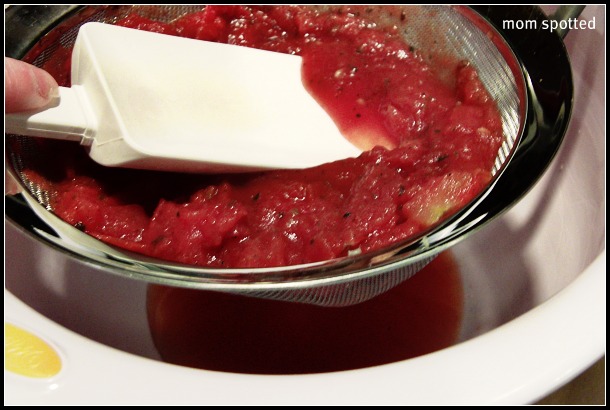 Mix into your mixture. Yummy.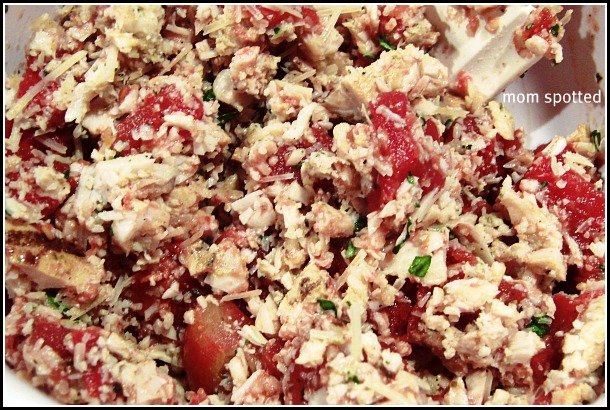 Next you're going to need to set up your breads. Open both packages of the refrigerated french bread dough rolls and lay length wise with the seams up. Take a serrated knife and cut halfway through all the way down like shown in the photo.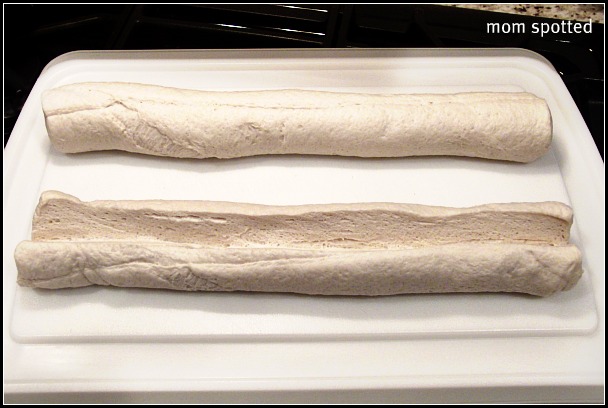 Next, sprinkle lightly with flour. Then grab a smaller sized roller and roll them out so they are wider and have room to add a filling.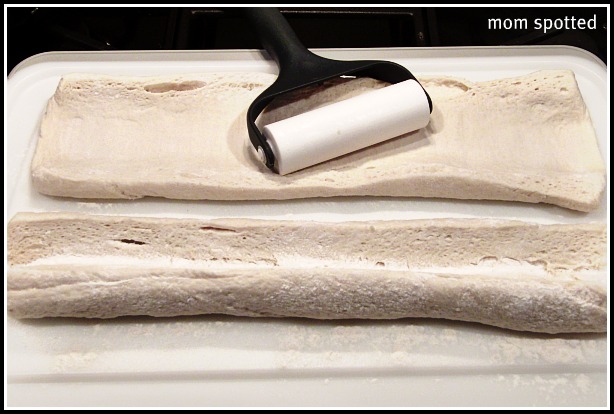 Now grab your Hunts Garlic & Herb Pasta Sauce.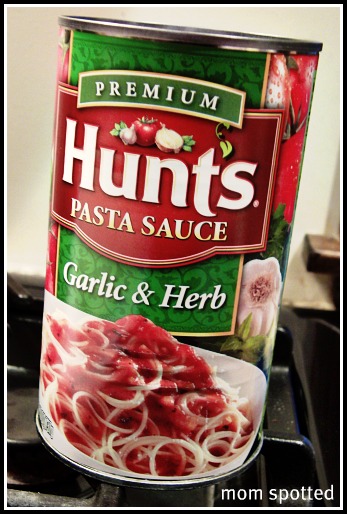 Spoon just enough to coat the dough. You don't want a lot. Don't toss the left over sauce you'll use this later.
Tip: Do not get the sauce on the edges like I did. You want the edges of the dough to remain bare.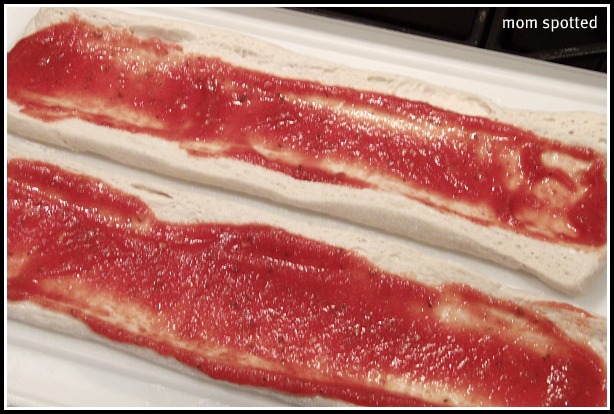 Sprinkle with mozzarella cheese.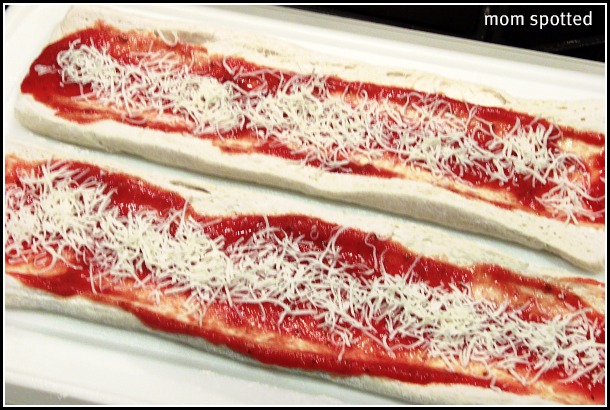 Spoon in chicken mixture. Remember to try and keep all the ingredients centered.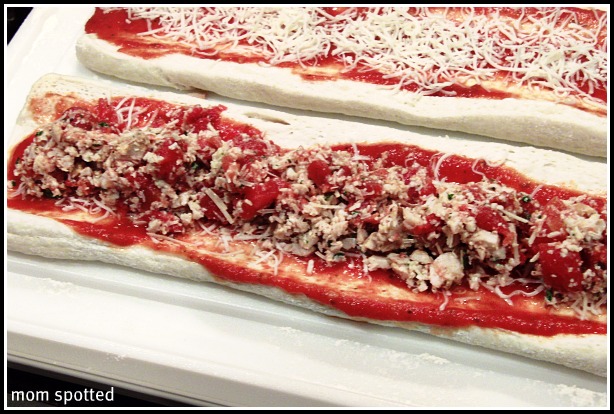 Then you're going to pull the edges together and pinch. If you got your edges wet you're going to struggle here. Keep some flour on the edge of your board so you can try and dry the edges and seal them together.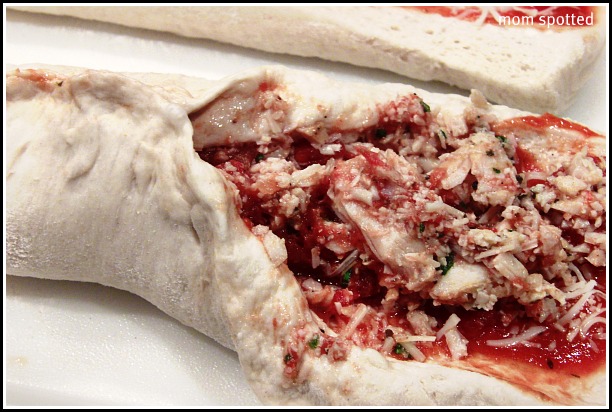 They should look like this when done: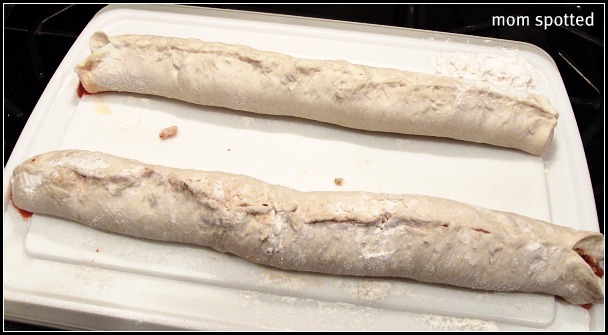 Sorry about a few of these photos. My hands got messy and things moved along and it became harder to take photos.
You want to carry them over to a stone or cookie sheet. I used a baking stone. You'll want to "X" them over each other like shown.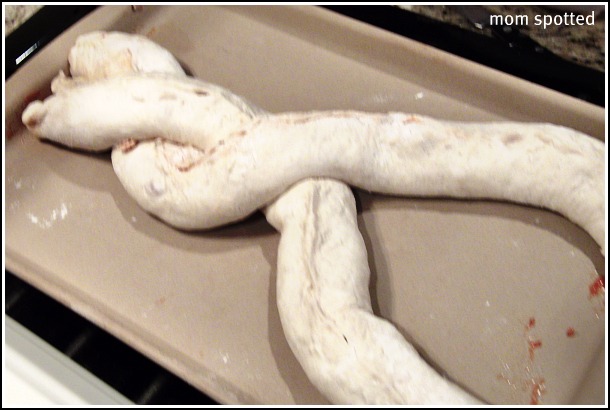 Next in small bowl whip egg and parmesan herb seasoning.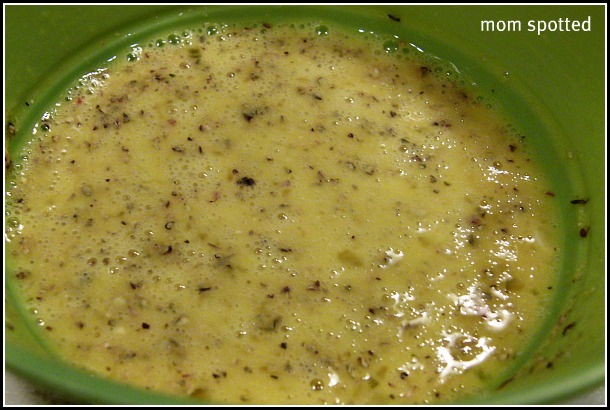 Coat the bread braid with your egg mixture. Sprinkle with parmesan cheese.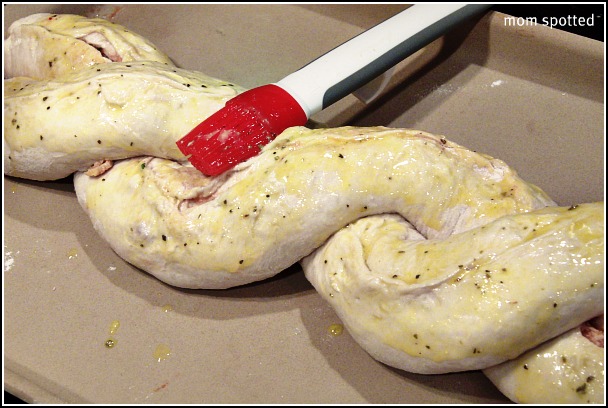 The one side I got wet refused to stay close no matter what I tried so I ended up securing it with tooth picks which actually worked well.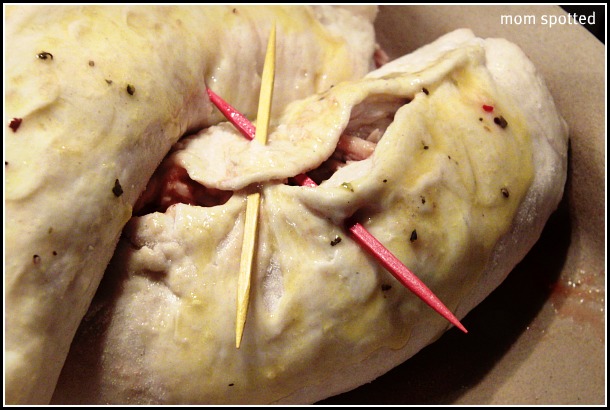 Bake for 35-40 minutes at 375.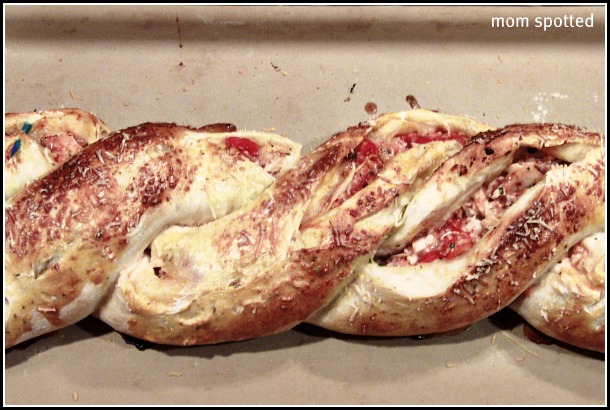 Cut in the middle to make sure your bread if fully cooked. Sometimes where it criss crosses it struggles. If not fully cooked place bak in for 10 minutes. If not it will look like this: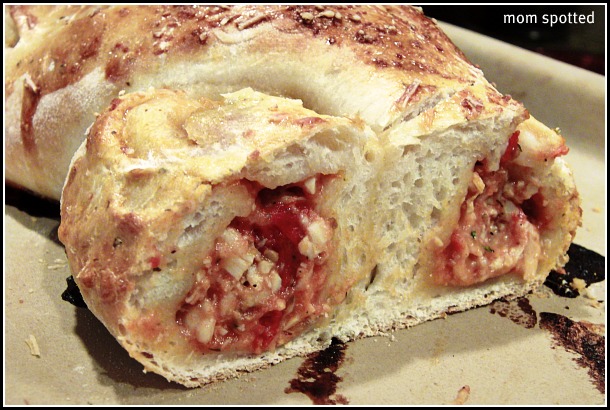 Serve with pasta and use the remaining Hunts Garlic & Herb Pasta Sauce on noodles. Doesn't this look good?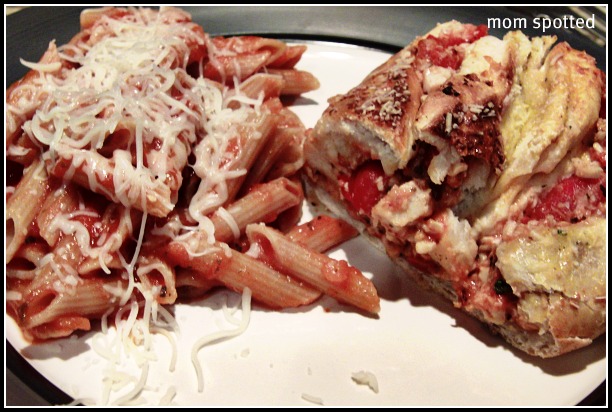 It was amazing and everyone loved it. Loved it is probably an understatement. And guess what? They ate tomatoes!
Mom Spotted Review Policy: This post is part of TheMotherhood.com's campaign in conjunction with Hunts.  I was compensated for my time and to come up with this recipe. The opinions I have given are mine and may differ from others but it was not influenced in any manner.