I have to be honest when given the chance to review a copy of Disney's Sharpay's Fabulous Adventure I was a bit leery at first. I have two boys and wasn't sure if they would up for such a, um, pink movie. To me this movie screamed all things girly and a little bit 'legally blond'. But it was Disney! I don't think I've ever seen a Disney movie I didn't like so I figured why not. When the movie came in I was surprised that Johnny was interested in watching this movie with me.
This movie was great! We love Ashley Tinsdale and she made a great Sharpay. Johnny loved "boy" her dog. Boy actually had a much bigger role in this movie then you would think as both Sharpay and Boy are equally important in this movie. They both embark on an adventure in New York City, NY to try and make it in the acting world. When Sharpay realizes that the theater world doesn't want her but Boy instead it puts a twist on her plans and she needs to figure out what she's going to do to make it in NYC before she has to return home and work for her father.

Sharpay's Fabulous Adventure is a hilarious fish-out-of-water tale about a small town Diva and her dog's mis-adventures in New York City! After a talent scout spots her performing with her dog Boi at a charity gala, Sharpay Evans (AshleyTisdale) sets off for the bright lights of NYC, convinced instant fame and fortune are in the bag (designer, that is). But the theatre is a dog-eat-dog world, as she and Boi discover when they encounter the devious owner of a pampered Pooch named "Countess" and a scheming Broadway starlet who will do anything to crush the competition. Fortunately, Sharpay also meets Peyton (Austin Butler), a handsome student filmmaker who finds Sharpay nearly as fascinating as she finds herself.
Walt Disney Studios Home Entertainment will be proudly unveiling Sharpay's Fabulous Adventure, an all-new movie on Blu-ray™ and DVD   staring Ashley Tisdale reprising her role as Disney Channel's global sensation "High School   Musical" drama queen character Sharpay Evans.
Sharpay's Fabulous Adventure is a witty comedy about pursuing your life-long dreams and believing in yourself. The films catchy tunes, Sharpay's lavishly glittery "pink" outfits, and the adorable featured   male co-stars – Austin Butler ("Life Unexpected," "Ruby and the Rockits" and "Zoey 101") and   Bradley Steven Perry ("Good Luck Charlie") – will be sure to keep viewers fully entertained and laughing throughout.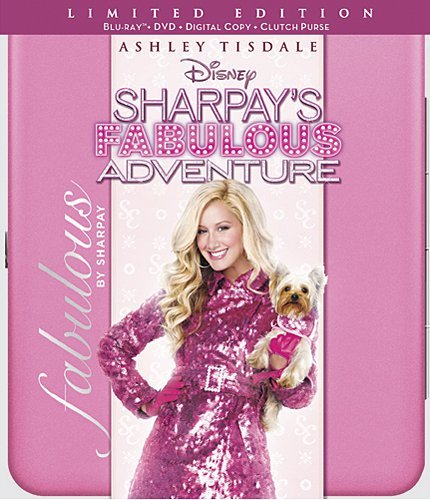 Bonus Features:
BLOOPERS (on Blu-ray & DVD) – Ashley Tisdale and the cast cut up on set.
AUSTIN CAM (on Blu-ray & DVD) – Actor Austin Butler, who plays student filmmaker Petyon,   not only shoots scenes needed for the movie, but takes his camera behind the scenes to see how Ashley Tisdale has fun between takes.
THE EVOLUTION OF SHARPAY (on Blu-ray only) – Ashley Tisdale traces the development of her bigger-than-life character from the High School Musical movies through her current movie.
Feature Run Time Approximately 89-minutes
Rated G
Technical 1.78:1 widescreen – enhanced   for 16×9
Sound Dolby Digital 5.1 Surround Sound
Languages French and Spanish
Subtitles French and Spanish

You can purchase the three disc special of Disney's Sharpay's Fabulous Adventure for $27.96 at Walmart, $24.99 at Target, and $27.99 at Amazon.
Mom Spotted Review Policy: I was provided with the featured item(s) at no cost by the manufacturer and/or its PR agency in order to test the products abilities and give my own personal opinions on it. The opinions I have given are mine and may differ from others but it was not influenced in any manner by monetary means.