I know all the benefits of hand sanitizer but I didn't care. The only thing I cared about was the fact that the minute it touched my hands I wanted to cry. See, I suffer from severe psoriasis and have open wounds all over my skin. My hands are one of my worst areas. On top of the open wounds they also dry out and crack and bleed. It's not pretty. So, in the past when I thought of hand sanitizer I thought of pain and burning. I'd rather take my chances with the germs then have it feel like someone is cutting may hands off.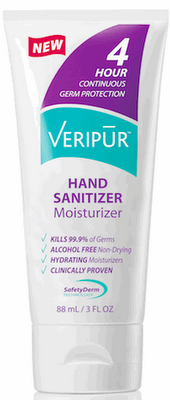 Then I tried Veripur Hand Sanitizer Moisturizer and that theory had to get pushed aside. There was no burn because it contains no alcohol. In fact this was like no other hand sanitizer I've ever used! This was like a lotion. It soothed my skin, made it feel better! Not just that but it didn't just kill 99.9% of the germs on my hands but it will work at keeping my hands germ free for the next 4+ hours!
Alcohol-based hand sanitizers
protect for seconds.

Their alcohol may leave hands dry and
cracked, making them vulnerable to environmental aggressors.

Veripur Hand Sanitizer Moisturizer
works differently:

No drying alcohol
No triclosan
SafetyDerm® technology allows antibacterial benzethonium chloride to veil your hands like invisible, germ-fighting gloves
Kills 99.9% of germs
Germs touched after application continue to be killed for 4 hours!
Loaded with moisturizers: avocado, jojoba, and grapeseed oils
Leaves hands silky-soft and smooth
I actually had a chance to try out Veripur Hand Sanitizer Moisturizer back in NYC at BlogHer. I was impressed then but when I got home I couldn't find it anywhere. I am super excited to see to find out that it is now available at Walgreen's! If you can't find it in your local Walgreen's you can get it online too!
www.veripur.com
I wrote this review while participating in a blog tour by Mom Central Consulting on behalf of Veripur Hand Sanitizer Moisturizer and received a sample to facilitate my review and a gift code to thank me for taking the time to participate.