Gavin loves Mickey Mouse so in the fall when we heard about the all new Mickey Mote we were all about trying it. Gavin loves using it and interacting were the characters! So when we heard that there was a new DVD that worked with the Mickey mote we couldn't wait to give it a try! On February 8th Disney released the all new Mickey Mouse Clubhouse: Minnie's Masquerade.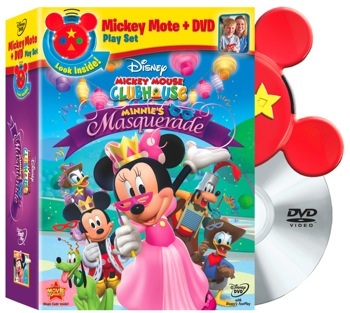 Parents and their preschoolers are invited to join in the ultimate   masquerade party with Minnie, Mickey and pals in a fun-filled collection of Mickey Mouse Clubhouse   latest episodes that celebrate themes of friendship, teamwork, sharing and problem solving. Mickey   Mouse Clubhouse: Minnie's Masquerade is the perfect gift to dress-up your Valentine's Day, available   on Disney DVD February 8 from Walt Disney Studios Home Entertainment.
Synopsis:
Mickey Mouse Clubhouse: Minnie's Masquerade starring Disney's Fab Five — Minnie, Mickey, Donald,   Goofy and Daisy – takes viewers on an all new adventure as they dress-up in their favorite costumes for   Minnie's Masquerade Ball.  In this episode, Minnie needs some help getting everything ready for her   party including making royal crowns for their costumes, searching for Sir Goofalot's lost shoe, stringing   up paper lanterns and much, much more. At the ball, Professor Von Drake hosts the great Clubhouse   Costume Show and gives out prize ribbons to all the friends who have dressed up in some funny and   fancy costumes.  All it takes is a heaping helping of imagination…and the right Mouseketools.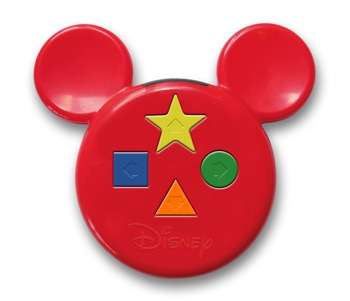 About Disney's Exclusive Mickey Mote:
Disney's Mickey Mote works with any Disney Preschool DVD that includes the Discovery Mode™   feature – an interactive "Watch & Play" feature on the DVD.  All parents have to do is program the   remote control – there's an easy and quick set-up guide in each DVD- and select the Discovery Mode   feature on the menu screen.  Within minutes, kids will be easily responding to questions, throughout the   story, about scenes they just watched by pressing one of four color-coded buttons on the device — a   yellow star, green circle, orange triangle or blue square – to click in their responses.  Discovery Mode   features include two levels of play, which provides more challenging questions as the child grows.   The Mickey Mote can be used with any Disney Preschool DVD that includes the Discovery Mode feature.   To date there are more than 11 titles that can be used with the remote control, just take a look at the back   of the package to make sure.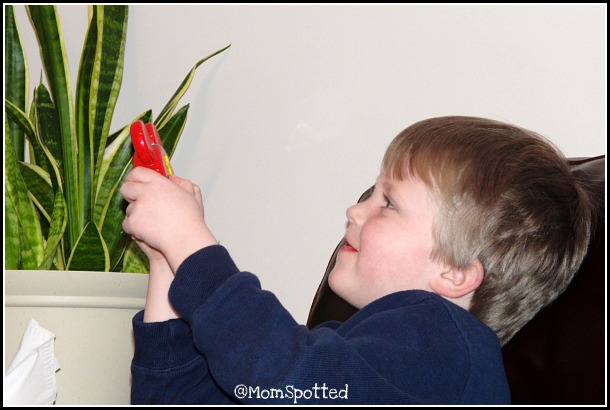 Gavin loves the Mickey Mote and loves seeing new DVD's available. He loves interacting and can't wait until it's time to use the remote. While the show themselves are great and don't require the use of the remote you need to remember you need to be in the features area and select Discovery Mode or you won't be able to use the remote. Once you get into Discovery Mode your kids will love the remote. We love that they are asked questions and really make the kids have to pay attention in order to get the questions right. They include a mask for you to wear too. Johnny and Gavin had fun playing with that. Of course Johnny would kill me if he knew this picture made it onto my blog.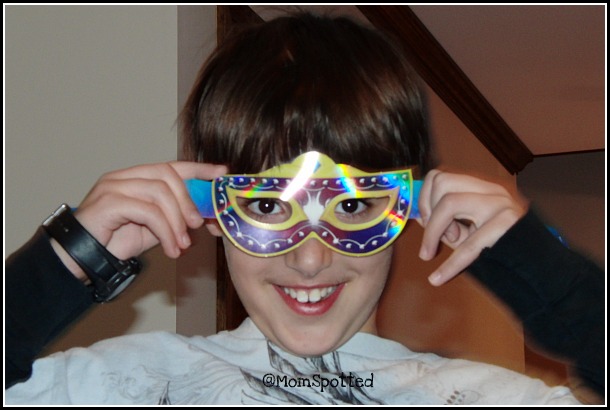 Suggested Retail Price: Single Disc DVD + Mickey Mote = $29.99 U.S. / $35.99 Canada   Single Disc DVD = $19.99 U.S. / $24.99 Canada
Rated:    TV-Y
*Bonus materials not rated
Run Time:   Approximately 120 minutes   Aspect Ratio: Full screen (1:33:1)   Sound: Dolby Digital Sound   Languages: English, Spanish, French
You can find Mickey Mouse Clubhouse: Minnie's Masquerade at most major retailers such as Walmart, Target, and Amazon! Or of course you can always purchase directly from Disney!
Mom Spotted Review Policy: I was provided with the featured item(s) at no cost by the manufacturer and/or its PR agency in order to test the products abilities and give my own personal opinions on it. The opinions I have given are mine and may differ from others but it was not influenced in any manner by monetary means.