Over a year ago I first discovered Kidorable. Since then I can't look at all rainwear as being the same. See Kidorable Rainwear has the most adorable rainwear sets. They take the imagination and bright colors our children love and take them to the next level. In November of 2009 I did a review of Kidorable on their cute frog rainwear. Gavin loves having any opportunity to wear this set. I had gotten it a bit on the big side and it now fits him perfectly. Here are some pictures I took about a year ago when Johnny had a outdoor soccer tournament in the rain. Gavin got so many compliments that day.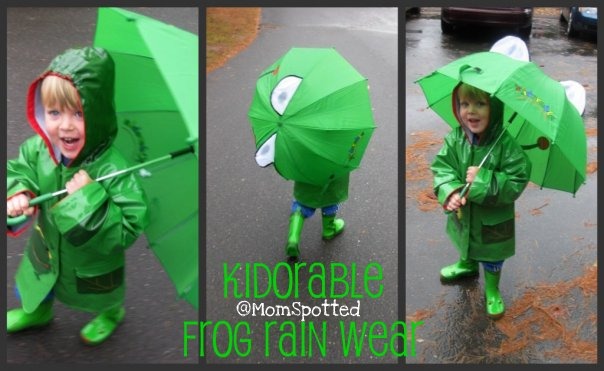 Recently Kidorable released two new collections for both boys and girls. Does your child love space and someday want to be a Space Hero? If so, then you need to check out the collection. Everything right down to the space pack backpack is so stinkin cute! If I had a girl I would have immediately fallen in love with the Ballerina Collection– Oh wait too late, I LOVE it! The eay the jacket has the built in tutu at the bottom with enough extra to twirl. I mean seriously how cute is that!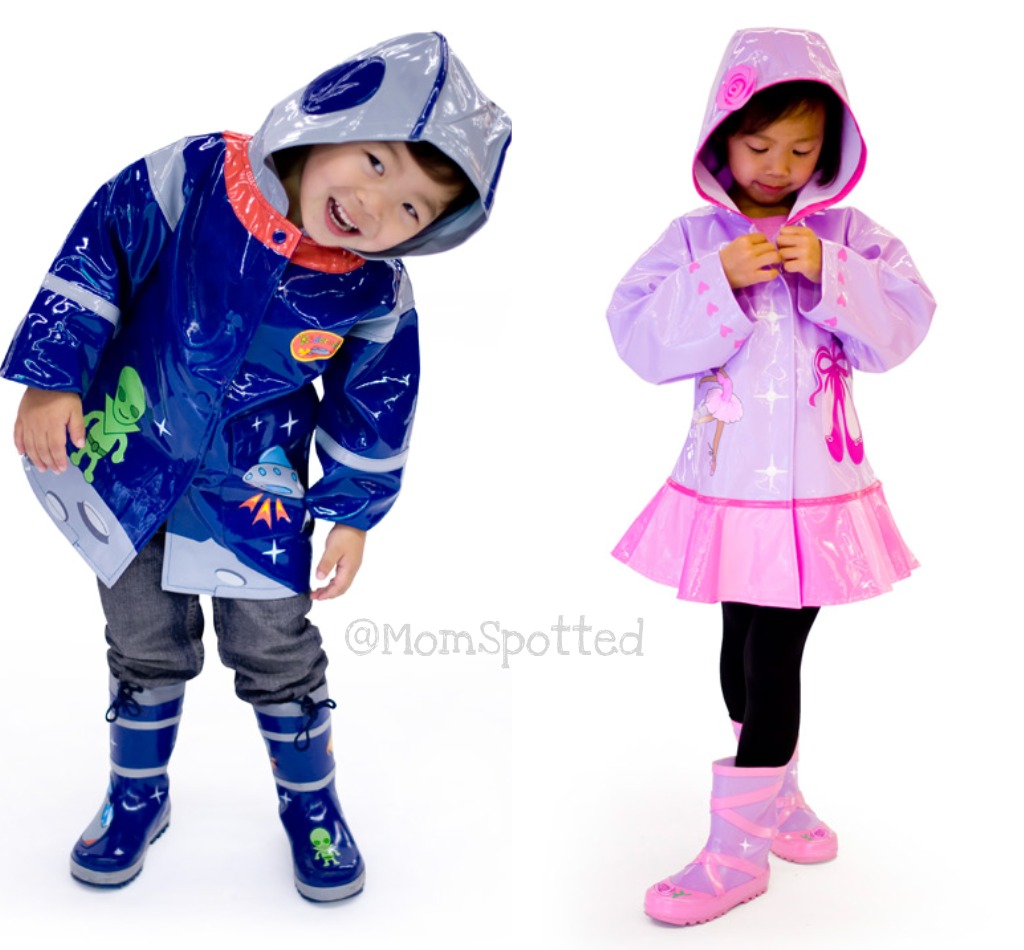 This time around I thought Gavin would love the Fireman Collection. This rainwear outfit is so much cuter then I thought it would be… and knowing how cute their stuff is already says something. The bright colors and the design are just perfect! It's more then just rainwear it's like an actual dress up collection with function!
They carry the perfect patterns between the pieces. In the picture below you can see that from the raincoat to the umbrella there is no change in colors or design. They are both fun and creative. I love how it is designed to even look like a real fireman's jacket!
Irresistible and eye-grabbing, our stylish, upscale coats are the core of the Kidorable ensemble. All styles are PVC with a comfortable polyester lining, available in sizes My First (1T, 12-18 mos.), 2T, 3T, 4T, 4/5, 5/6 and 6/6X. All coats now come with a FREE matching Kidorable hanger.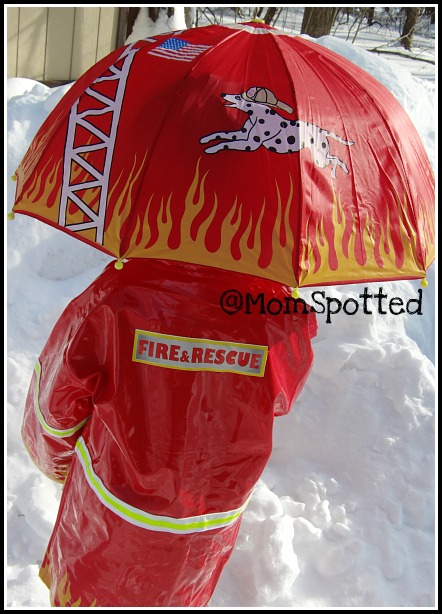 Even the front is designed the same way! See how the clasps on the front are functional. They are easy for little hands and the inside has a few snaps for added closure. The material is quality made and will keep all moisture out.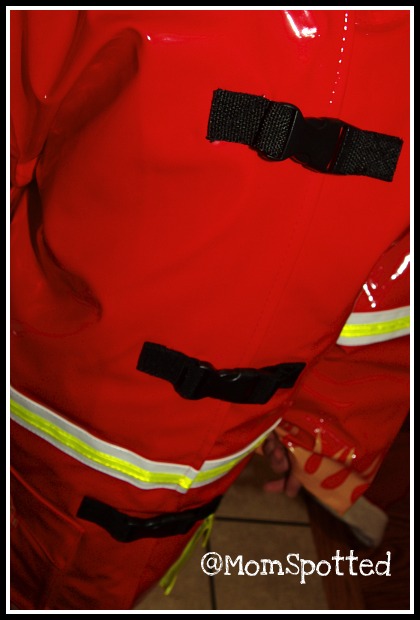 The Fireman rainboots are cute too! They have enough space at the top to tuck in pants and finish the look perfectly.I didn't catch it in the back but there is a little flame that sticks up. This is also perfect to help little ones to grab on and pull the boots on. Knowing Gavin can put them on by himself is key in teaching him independence.
More than just a pair of boots, these playful puddle magnets make a wonderful gift. Made of natural rubber, they are guaranteed to be the cutest boots in your neighborhood. All styles are available in My First (size 5), children's sizes 6-13, plus young adult sizes 1 and 2.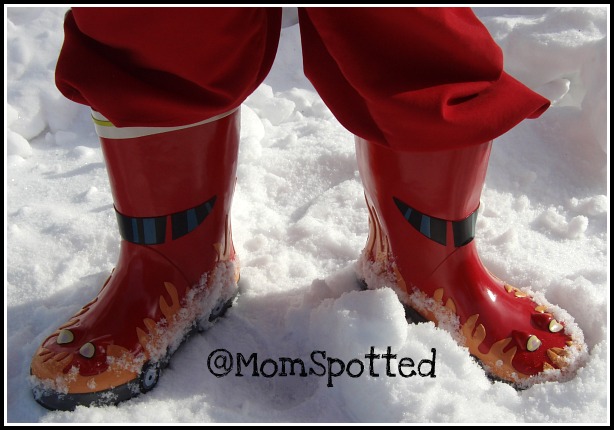 I wanted to show you the two coats near each other. The Fireman Set is brand new and the Frog Set is almost 18 months old. As you can tell the Frog Set has held up wonderfully and looks just as good. There are no rips, tears, or cracking in the set. I left the boots out of the picture but even those look like new. They don't require washing if any dirt gets on them they wipe clean easily (all pieces). The umbrella has been treated horribly being owned by a little one and often gets stepped on and kicked around and it still works perfectly.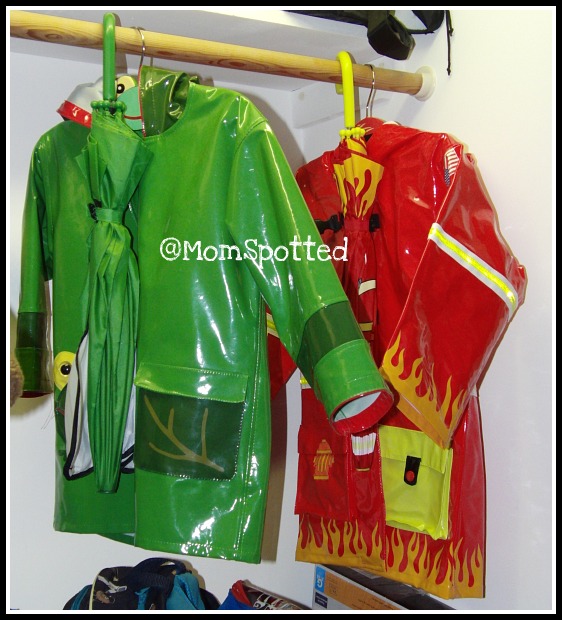 From January 26- Feb 14th in the spirit of Valentine's Day Kidorable will include a FREE pair of their adorable HEART GLOVES with any $20 purchase with the code LOVE YOU at check out! Also, keep warm and dry with 10% off boots, knitwear, and towels now until Groundhog Day: February 2nd. Use coupon code GROUNDHOG6 at checkout! Sorry, codes can not be combined.
So what are you waiting for? Head on over to Kidorable and check out all the collections! Believe it or not they have many more then I've mentioned or shown you here!
Kidorable has offered one Mom Spotted Reader an Umbrella from your choice of collection!

How to Enter:
1.) Visit
Kidorable
and tell me what collection you'd pick your umbrella from AND who you'd be giving it too.
Mandatory
How to earn additional entries:
2.) Become a follower on my blog (publicly- privately does not count)-leave another comment (or let me know if you already are) – 2 entries
3.) Subscribe to my blog by EMAIL (not feed) – 2 entries
4.) Blog about my giveaway- with a link back to here AND
Kidorable
4 entries (get two more if you include a photo of the giveaway).
Post YOUR blog entry first and then the comment (please include the link directly to it not to your front page, and make an additional comment then the ones above.)
5.) Add my Mom Spotted button to your blog
6.) Follow
Kidorable
on Twitter
6.) Follow
Mom Spotted
on Twitter AND Tweet about this giveaway-
Copy/Paste:
Win a @Kidorable Umbrella in your Choice of Collection @MomSpotted #giveaway ends 2.20 http://wp.me/p18qpn-1Qj
~this can be done once daily~
7.) Become a Fan of Mom Spotted on Facebook– leave me a comment
8.) Become a Fan of Kidorable on Facebook! – Tell them what you love at their site
9.) Post on your facebook home page (1x daily):
Win a @Kidorable Umbrella in your choice of Collection @Jennifer MomSpotted Giveaway Ends 2.20 http://wp.me/p18qpn-1Qj
(Make sure it links to me and Kidorable & put link in comment)
10.) Leave a relevant comment on any non-giveaway post (reviews are ok)
(Make sure to check out all my other giveaways!
Check the side bar to the right for list!)
That's many chances to win a Kidorable umbrella!!!
Contest ends February 20th at 11:59pm!
***US Only***

Mom Spotted Review Policy: I was provided with the above mentioned product at no cost by Kidorable in order to give my own personal opinions their website . The opinions I have given are mine and may differ from others but it was not influenced in any manner by monetary means.