There is a lot of attention in products being advertised these days regarding fiber. So much in fact it could make your head spin. With so many options it makes it hard to focus. What if it was as easy as taking two chewable tablets before you walked out the door in the morning? No counting your fiber in your foods or buying specialty food. My husband recently got addicted to some granola bars that were supposed to help with fiber. He loved them until they landed him in the bathroom for hours on end and I couldn't stand to be in the same room because he was stinking it up so bad. I needed to find a new way for him to get the fiber he was looking for without the gas and major clean job the bars were doing.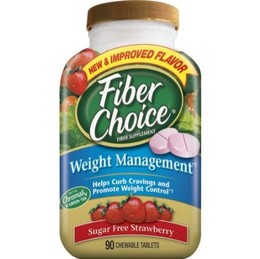 Just because you're trying to lose weight doesn't mean you have to lose great taste. Our new and improved FiberChoice® Weight Management formula is bursting with delicious strawberry flavor. Plus, it helps you curb between-meal cravings and promote weight control.* So you get the best of both worlds.

How does it work? Fiber slows the rate at which your body breaks down food, so you feel full longer. Chromium picolinate can help promote fat metabolism* when used as part of a healthy diet and exercise program.

The main source of fiber in FiberChoice® is inulin, the same kind of fiber you'll find in fruits and vegetables.
Convenient, chewable tablets –no water needed — get your fiber on-the-go!
Variety of great-tasting flavors — we were the first to offer a variety of flavors.
More fiber per dose than other brands.
2 in 1 options — get your fiber plus Weight Management, Calcium, or Multivitamins.
I have to admit then when I saw they had a weight management one I was excited. I thought it would be great. The moment I broke the seal to the bottle it smelled like sweet strawberries. Sadly that is where the enjoyment ended. I was taken by the size of these, even if they are chewable! I'll be honest and tell you I'm one of those weird people that likes Berry flavored chewable antacids and thought they'd taste somewhat similar… they don't. They recommend adults take two daily (not to exceed five). When you take the first chew they are sour. Sour enough to make you pucker. Then they are chalky like and antacid. Then they get this weird texture and get stuck in your teeth. You spend the next five minutes digging them out of your teeth. I haven't been using them long enough to really see how effective they are. I'd say a fair review would be about thirty days in. I will say thought that after a week of taking them we don't feel that we need to sit in the bathroom for hours on end and I can finally sit in the same room as hubs as they don't make you gassy either.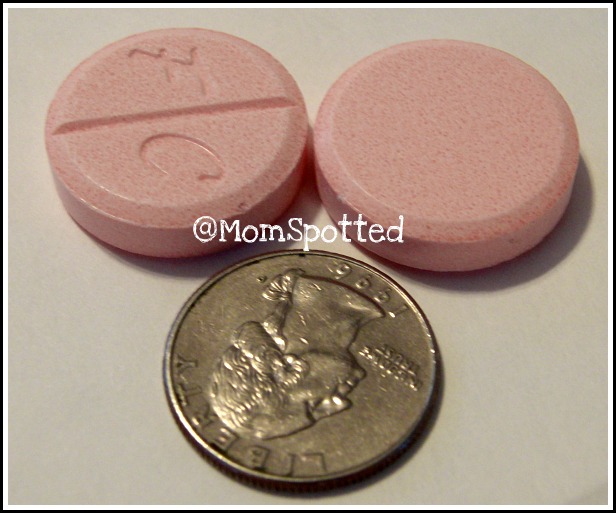 If you'd like to give any of the FiberChoice Chewable Tablets a try make sure to print out your $2 off coupon! Check them out on twitter for their daily updates too!
I wrote this review while participating in a blog tour by Mom Central Consulting on behalf of FiberChoice and received a coupon to facilitate my review and a gift code to thank me for taking the time to participate.