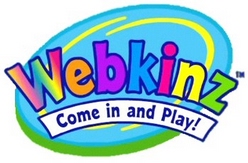 I'm sure you are well aware of what Webkinz are right now. They have been out for quite a few years and if your house is like our house you own quite a few of them. Every Christmas they are always on my Christmas list because they are los in cost and provide so many hours of fun. The kids really like them and not only do they get to play with them online but they also get a cute friend to cuddle with. If you aren't familiar with Webkinz I would highly recommend taking the Webkinz Tour so you can best understand it.
I always top off the kids stockings with a Webkinz inside. They make the perfect filler as well all know just how much filling a stocking can add up to and we also know that they don't need any additional candy. Doesn't it look cute?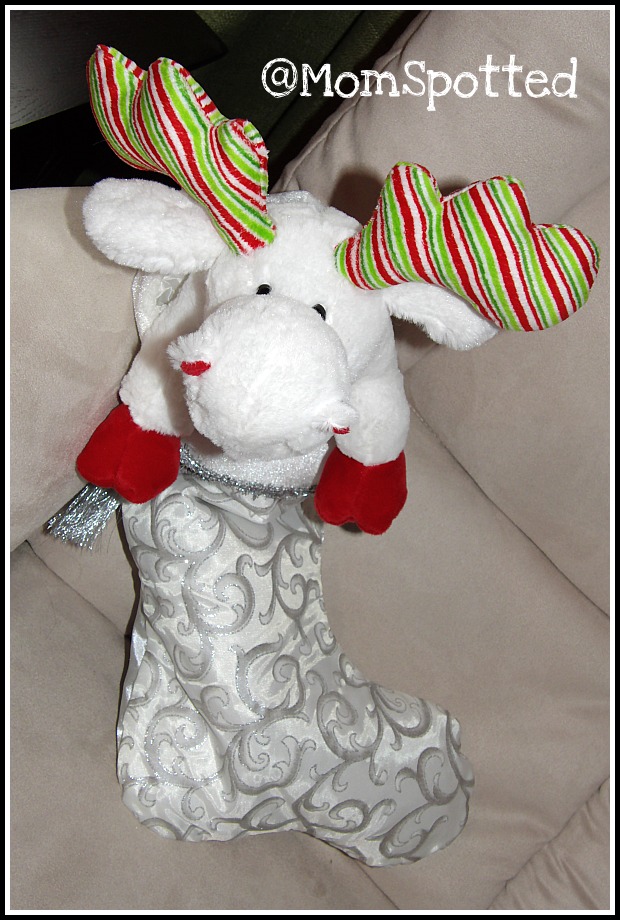 See, when you take the code that comes with your Webkinz or Webkinz Jr and visit their website you get to go through the whole adoption process. You even get to give them their own special name. Then your cute little stuffed animal is now a fun online friend that you can now play with online. You get to play in their rooms, visit the arcades, and do so much more!

There are differences between Webkinz and Webkinz Jr. Webkinz Jr is more for the preschool crowd and Webkinz for the elementary and older level. Both will allow you to play and do things with your pet but they are at different age appropriate levels. See all the fun activity's you can do!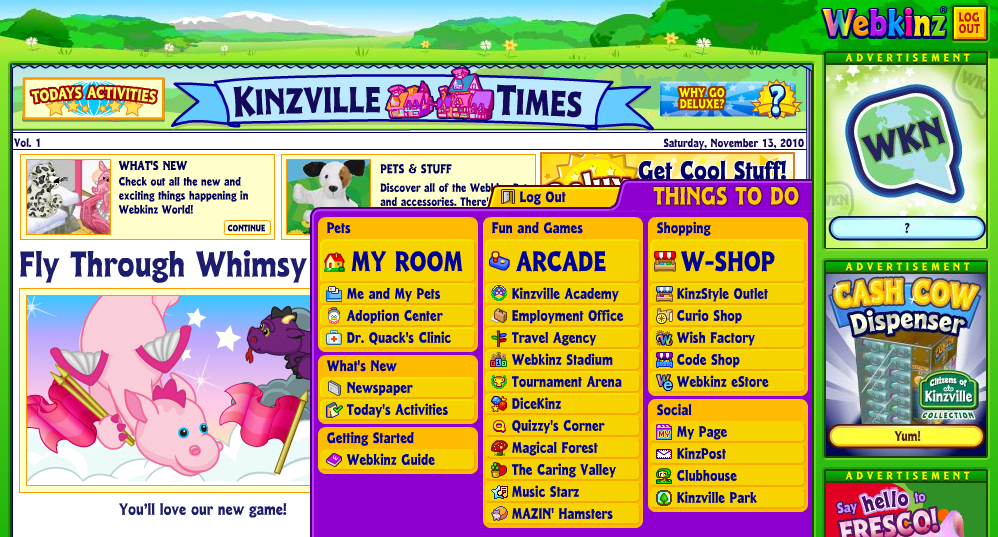 Here is Gavin playing on Daddy's laptop as you can see he is having fun playing one of the games.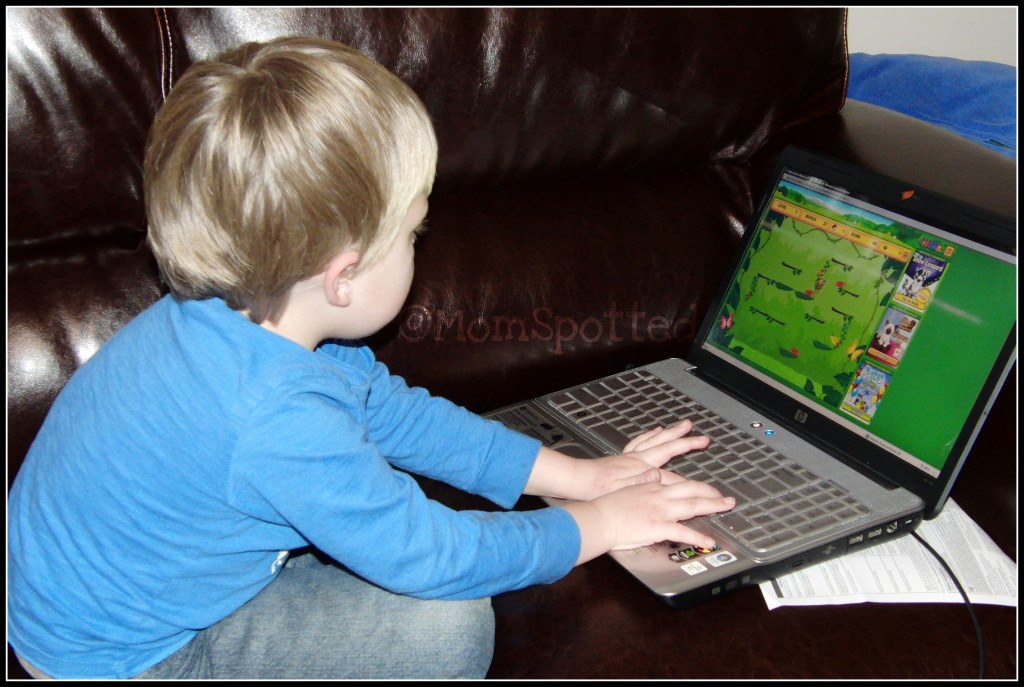 But don't forget about the cute animal because Gavin just adores his cute puppy and drags him everywhere he goes these days!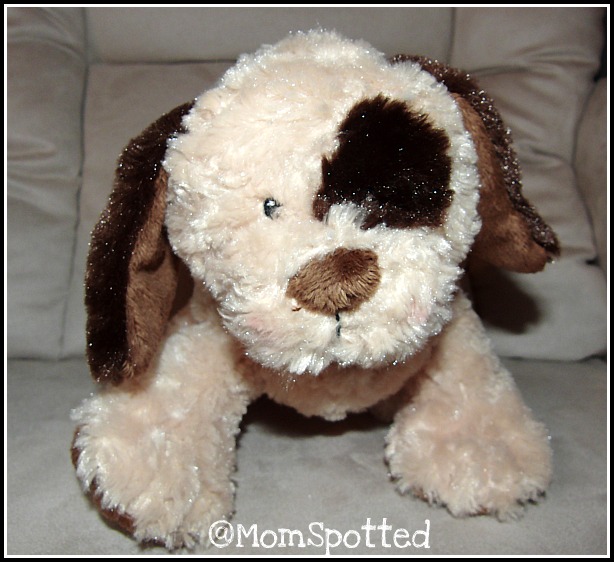 Webkinz Jr. has offered one Mom Spotted Reader a Webkinz Jr for your child!

How to Enter:
1.) Visit
Webkinz Jr.
and look around and tell me something you learned from browsing around their site.
Mandatory
How to earn additional entries:
2.) Become a follower on my blog (publicly- privately does not count)-leave another comment (or let me know if you already are) – 2 entries
3.) Subscribe to my blog by EMAIL (not feed) – 2 entries
4.) Blog about my giveaway- with a link back to here AND
Webkinz Jr.
4 entries (get two more if you include a photo of the giveaway).
Post YOUR blog entry first and then the comment (please include the link directly to it not to your front page, and make an additional comment then the ones above.)
5.) Add my Mom Spotted button to your blog
6.) Follow
Webkinz Jr
on Twitter
6.) Follow
Mom Spotted
on Twitter AND Tweet about this giveaway-
Copy/Paste:
Win a Webkinz Jr for your child from @WebkinzJr & @MomSpotted #giveaway ends 12.16 http://wp.me/p18qpn-1C2
~this can be done once daily~
7.) Become a Fan of Mom Spotted on Facebook– leave me a comment
8.) Become a Fan of Webkinz Jr. on Facebook! – Tell them what you love at their site
9.) Post on your facebook home page (1x daily):
Win a Webkinz Jr for your child from @Webkinz Jr. & @Jennifer MomSpotted Giveaway Ends 12.16 http://wp.me/p18qpn-1C2
(Make sure it links to me and Webkinz Jr. & put link in comment)
To do that cut and paste above then delete the @names and re-write them in.
10.) Leave a relevant comment on any non-giveaway post (reviews are ok)
(Make sure to check out all my other giveaways!
Check the side bar to the right for list!)
That's many chances to win a Webkinz Jr. for your child!
Contest ends December 16th at 11:59pm!
***USA Only***

Mom Spotted Review Policy: I was provided with the featured item(s) at no cost by the manufacturer and/or its PR agency in order to test the products abilities and give my own personal opinions on it. The opinions I have given are mine and may differ from others but it was not influenced in any manner by monetary means.