When I first discovered SpongeBob I thought he was the most annoying character ever made. I refused to let Johnny watch it and avoided him at all costs. Then one day somehow I ended up watching it and laughed. Hysterically. From then on Johnny was able to watch it. Since then SpongeBob has become a regular in our home. Not only that but with a six year age difference in my boys it's also the only show they will watch together without arguing.
It's hard to believe that we are siz season into SpongeBob already! Has it really been that long? Finally, we now have the Volume Two set consisting of two DVD's.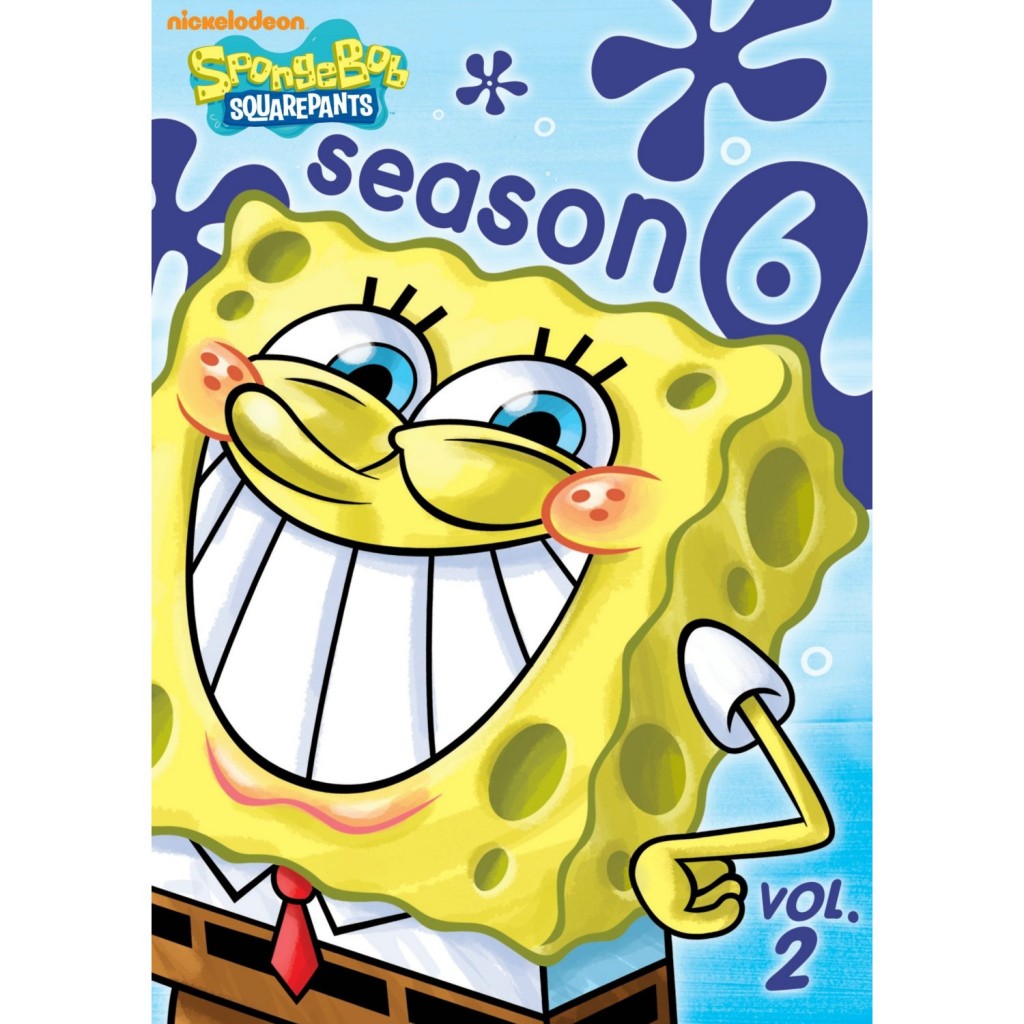 SpongeBob SquarePants: Season 6, Volume 2 Episode Synopses:
Disc 1:
Porous Pockets
SpongeBob becomes the richest citizen of Bikini Bottom.
Choir Boys
SpongeBob follows Squidward on his way to audition for a solo with the Bikini Bottom Men's Chorus.
Krusty Krushers
Mr. Krabs enrolls SpongeBob and Patrick in a tag-team wrestling tournament.
The Card
Patrick finds a rare, limited-edition Mermaidman and Barnacleboy trading card.
Dear Vikings
SpongeBob invites Vikings to the Krusty Krab so that he can learn everything about them.
Ditchin'
SpongeBob ditches boating school to attend Mermaidman and Barnacleboy's book signing.
Pineapple Fever
Squidward gets stuck indoors with SpongeBob and Patrick during a storm.
Chum Caverns
Plankton creates an underground restaurant that threatens to put the Krusty Krab out of business.
Grandpappy the Pirate
Mr. Krabs' granddad is coming to town!  But instead of being excited, Mr. Krabs is nervous because his swarthy pirate granddad thinks that Mr. Krabs is a pirate, too.
Cephalopod Lodge
When SpongeBob finds out that Squidward is a member of a secret society, SpongeBob decides he wants to join, too!  The only problem is that the society is just for fish with tentacles.
Shuffleboarding
SpongeBob and Patrick get carried away when they fill in for Mermaidman and Barnacleboy.
Professor Squidward
Squidward poses as the teacher at a prestigious music school. But SpongeBob and Patrick show up and nearly blow his cover.
Disc 2:
Pets or Pests
SpongeBob adopts a stray worm, which soon gives birth to a litter of baby worms.
Komputer Overload
Plankton tries to replace his computer wife, Karen, with a new line of Krabby Patty-stealing robots.
Gullible Pants
Mr. Krabs leaves SpongeBob in charge of the Krusty Krab for 15 minutes.
Overbooked
SpongeBob triple-books his schedule, and does his best to be at all three events at the same time.
No Hat for Pat
Mr. Krabs offers Patrick a job as a sign-holder.
Toy Store of Doom
SpongeBob and Patrick spend the night locked in a toy store.
The Clash of Triton
King Neptune is celebrating his birthday at the Krusty Krab, and SpongeBob wants to make sure all his friends and family are there, including his son, Triton. But Neptune and Triton don't get along, so when SpongeBob brings Triton to the party sparks begin to fly.
Sand Castles in the Sand
A friendly day of building sand castles soon turns into all out war when SpongeBob and Patrick use their sand creations to battle each other.
Shell Shocked
When Gary's shell breaks, SpongeBob tries to find him a replacement.
Chum Bucket Supreme
Plankton hires Patrick to create advertising slogans for the Chum Bucket.
Single Cell Anniversary
SpongeBob helps Plankton find the perfect anniversary gift for Karen.
You'll get a grand total of 265 minutes of SpongeBob! Perfect as a stocking stuffer!
You can purchase the SquarePants: Season Six, Volume Two DVD 2 Disk Set for $19.99 from Amazon, $20.59 from Target, and $19.86 from Walmart.
Mom Spotted Review Policy: I was provided with the featured item(s) at no cost by the manufacturer and/or its PR agency in order to test the products abilities and give my own personal opinions on it. The opinions I have given are mine and may differ from others but it was not influenced in any manner by monetary means.