Magic is everywhere in Disney's "The Sorcerer's Apprentice" the fun family adventure from the creators of "National Treasure". Balthazar Blake (Nicolas Cage) is a modern-day sorcerer with his hands full defending Manhattan against dark forces. When a seemingly average kid shows hidden potential, Balthazar takes his reluctant recruit on a crash course in the art and science of magic to become the ultimate sorcerer's apprentice. Experience more extraordinary thrills, heart-stopping action and spectacular special effects than you can imagine as these unlikely partners show us that the real world is far more magical than we ever knew.
A fun, modern-day adventure follows Dave (JAY BARUCHEL), just an average college student, or so it  appears, until the sorcerer Balthazar Blake (NICOLAS CAGE) recruits him as his reluctant protégé and  gives him a crash course in the art and science of magic. As he prepares for a battle against the forces  of darkness in modern-day Manhattan, Dave finds it is going to take all of the courage he can muster to  survive his training, save the city and get the girl as he becomes THE SORCERER'S APPRENTICE.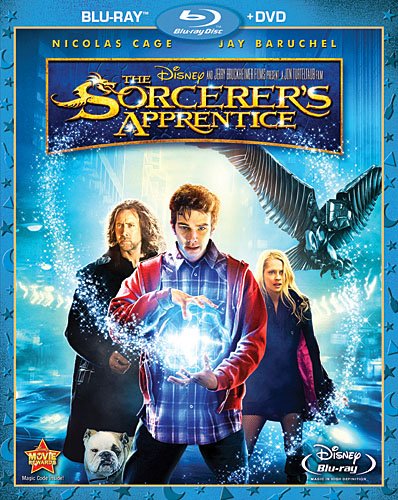 The moment I found out that Nicholas Cage was in this movie I was sold. I absolutely love Nicholas Cage. I don't think I've ever seen a move that he's done that I haven't been happy with. Disney's The Sorcerer's Apprentice was no different. Right from the start of the movie we were hooked. Funny thing is my son is a HUGE Harry Potter fan. I thought this movie would be perfect for him and when it came in he brushed it off thinking it wouldn't compare. I asked him if he would just watch it with me and in the end he was hooked. He was even upset when I paused it to get a drink. Regardless if you are an adult or an older child this movie is a great one.
It starts off centries ago when Balthazar (Cage) fights Morgana the evil sorceress and in the last moment his true love Veronica takes in Morgana to save him. Balthazar traps them in ancient nesting dolls and spends centuries looking for the new Prime Merlinian to save his love. Problem is finding the Prime Merlinian! He'll know he's found the right person once the dragon rings acknowledges them! Well that special person is none other then Dave Stutler (Baruchel) a not so popular physics student at NYU. Dave isn't interested in becoming the Prime Merlinian though, he's interested in Becky.
What will happen? Who will win? Will Dave study and become the sorcerer he's meant to be or will he miss his chance to become the Prime Merlinian and help free Balthazar one true love to find his?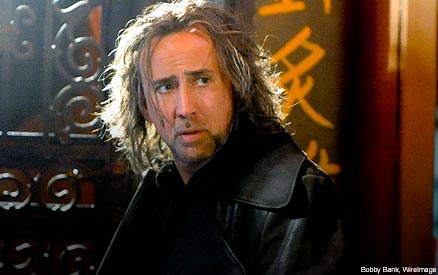 Bonus Features:
Go behind the scenes and on location to learn all about the making of The  Sorcerer's Apprentice   Blu-Ray:
Magic In The City
The Science Of Sorcery
Making Magic Real
The Fashionable Drake Stone
The Grimhold: An Evil Work Of Art
The Encantus
Wolves & Puppies
The World's Coolest Car
5 Deleted Scenes
Outtakes
And more!
DVD / iTunes:  o The Making Of The Sorcerer's Apprentice (DVD only)
Deleted Scene: Balthazar Recruits Dave     Genre:  Comedy Adventure  Rating:  PG
U.S. Release Date:  November 30, 2010
Suggested Retail Price:   3-Disc  Combo Pack (Blu-ray + DVD + Digital Copy) — $44.99 U.S./$51.99 Canada  2-Disc Combo Pack (Blu-ray + DVD) — $39.99 U.S./$44.99 Canada  1-Disc DVD — $29.99 U.S/ $35.99 Canada
You can purchase Disney's The Sorcerer's Apprentice on DVD and Blu-ray right now for $19.49 at Amazon, $19.00 at Walmart, and $29.99 at Target.
Mom Spotted Review Policy: I was provided with the featured item(s) at no cost by the manufacturer and/or its PR agency in order to test the products abilities and give my own personal opinions on it. The opinions I have given are mine and may differ from others but it was not influenced in any manner by monetary means.