Gavin loves Wubbzy there's just something about the little yellow guy that gets him so excited. I love him because in all of his shows he is always teaching our children an important lesson. With the cute animations and story lines they are easy for him to follow and keep him amused until the end.
In celebration of the upcoming release of the brand-new DVD "Fly Us To The Moon,"  Wow! Wow! Wubbzy! invites fans to enter a super special sweepstakes on www.Wubbzy.com to win an original, one-of-a-kind piece of Wubbzy artwork from series' creator Bob Boyle!
Fans should visit www.wubbzy.com for more information, official rules and to enter!  No purchase necessary.  Also, please visit Bob's very cool blog!
To enter click HERE, I did! BTW the date they are asking for is your date of birth… I know it is not clear.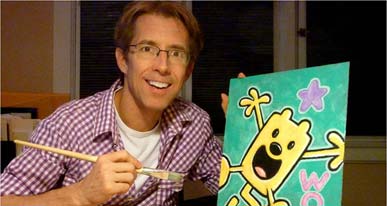 Join Wubbzy, as he blasts off on the ultimate outer space adventure! What happens when Wubbzy thinks aliens are coming to Wuzzleburg? How far will friends go to wake up The Man In The Moon? It's an all-new collection of way-out Wubbzy favorites featuring spacemen, superheroes, rocket racers and even a visit from The Tooth Fairy.
The Wow! Wow! Wubbzy! Fly Us To The Moon DVD is 70 minutes long  is not yet rated. It consists of five episodes: Warp Speed Wubbzy, Fly Us To The Moon, Tooth or Dare, Wonder Wubbzy, and The Super Fixers. They even have a bonus episode included called All Bottled Up. It also has bonus features such as Coloring & Activity Sheets and Music Videos.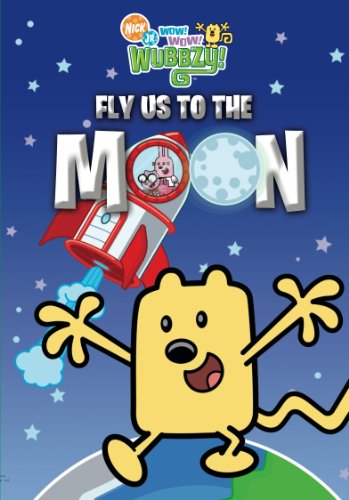 You can purchase the Wow! Wow! Wubbzy! Fly Us To The Moon DVD from Walmart for $12.96 , Target for $12.89 , and Amazon for $12.99. Available for purchase starting today!
Or you can win one here!
How to Enter:
1.) Visit
Wubbzy
and tell me your favorite craft you can make from their site.
Mandatory
How to earn additional entries:
2.) Become a follower on my blog (publicly- privately does not count)-leave another comment (or let me know if you already are) – 2 entries
3.) Subscribe to my blog by EMAIL (not feed) – 2 entries
4.) Blog about my giveaway- with a link back to here AND
Wubbzy
2 entries (get two more if you include a photo of the giveaway).
Post YOUR blog entry first and then the comment (please include the link directly to it not to your front page, and make an additional comment then the ones above.)
5.) Add my Mom Spotted button to your blog
6.) Follow
Wubbzy
on Twitter
6.) Follow
Mom Spotted
on Twitter AND Tweet about this giveaway-
Copy/Paste:
Win the Wow! Wow! Wubbzy! Fly Us To The Moon DVD from @WWWubbzy @MomSpotted #giveaway ends 12.3 http://wp.me/p18qpn-1qq
~this can be done once daily~
7.) Become a Fan of Mom Spotted on Facebook– Say Hi
8.) Become a Fan of Wow! Wow! Wubbzy on Facebook! – Tell them what you love at their site
9.) Post on your facebook home page (1x daily):
Win the Wow! Wow! Wubbzy! Fly Us To The Moon DVD from @Wow! Wow! Wubbzy! & @Jennifer MomSpotted Giveaway Ends 12.3 http://wp.me/p18qpn-1qq
(Make sure it links to me and Wubbzy)
10.) Leave a relevant comment on any non-giveaway post
-EFFECTIVE IMMEDIATELY-
You must have your email in your comment or in your profile in order to win.
(Make sure to check out all my other giveaways!
Check the side bar to the right for list!)
That's many chances to the Wow! Wow! Wubbzy! Fly Us To The Moon DVD!!!
Contest ends December 3rd at 11:59pm!
***USA & Canada Only***

Mom Spotted Review Policy: I was provided with the featured item(s) at no cost by the manufacturer and/or its PR agency in order to test the products abilities and give my own personal opinions on it. The opinions I have given are mine and may differ from others but it was not influenced in any manner by monetary means.