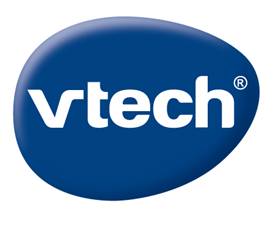 Every year there is one brand that is always under our Christmas Tree. That brand has always been Vtech Kids. They always bring us the latest and greatest educational toys that not only teach our children but make it fun! From birth and up. I love that not only are these toys education but they are quality made. We still have the Baby's Learning Laptop™ that we bought for Gavin his first Christmas and other then replacing the batteries it could work forever!
Their latest and great toys are the V.Reader and MobiGo! Do your kids try to snag your latest flip phone or eReader? Then these toys are a perfect match.
The V.Reader is just like an eReader in a sense. Gavin has been using his for months now and he still continues to play with it. He loves the touch screen ability and the QWERTY keyboard. It has helped him having the same set up when using this and our laptop. I love that it tells him stories, teaches him spelling, and the basics of learning how to read. Since using the V.Reader Gavin has been able to start spelling and recognizing many words that he didn't know before.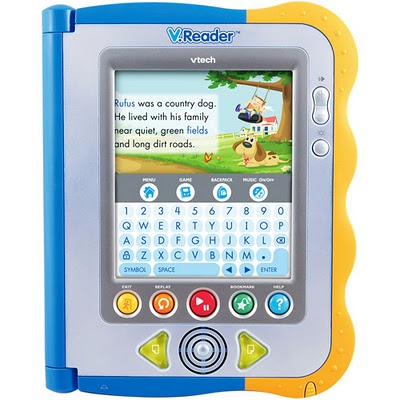 They'll love learning to read!

With the V.Reader Interactive E-Reading System, children will discover the joy of reading while seeing well-loved characters like Shrek and Disney Fairies in stories with vivid animations. As the stories come alive with animations and sounds on the color touch screen, children take a journey into a world of imagination while developing the necessary building blocks to grow from a pre-reader to a confident and fluent reader. Cartridges are age graded for 3 to 5 year-olds and 5 to 7 year-olds. Each storybook cartridge includes a fully narrated and animated story, 8 reading skill games, and a Story Dictionary.

V.Reader Interactive E-Reading System Features

4.3″ Color touch screen
Plays fully animated stories with story narration, character voices, vivid graphics and exciting music and sounds!
Includes 3 ways to play: Watch the Story, Reading Games and Story Dictionary
USB port and SD memory card slot for expansion
Durable, kid-tough design
Here is Gavin playing one of the games. For additional videos as well as my complete review please click HERE.
Then we also have the MobiGo. While both the V.Reader and the MobiGo are both amazing toys the MobiGo is a favorite of Gavin's and he plays with it constantly. I think that the flip feature of the screen is definitely his favorite part. Sometimes he does struggle to pop it open but its just because he wants it to lift when it slides instead. This is also a great educational toy that captures both fun and learning. I love that I can purchase games with all of his favorite characters.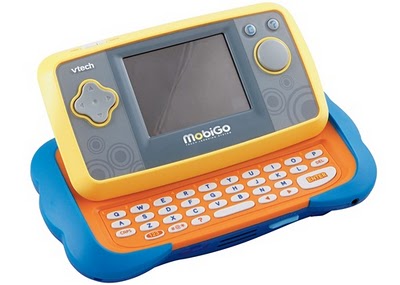 MobiGo Touch Learning System

VTech's MobiGo gives kids ages 3-7 their own touch-tech toy that keeps them engaged while they learn. With a touch-activated screen and a QWERTY slide-out keyboard, kids get to emulate their parent's gadgets while learning from characters like Shrek, Disney Princesses and Dora. Tap, slide or flick with MobiGo – kids pick the way they play and learn about colors, shapes, spelling, math, logic and more.

MobiGo Touch Learning System Features

Portable handheld gaming system lets kids enjoy learning on the go
Touch screen technology introduces kids to a new way to play and follows the hottest trend in gaming today
Slide-out QWERTY keyboard adds a stylish touch and gives kids a chance to familiarize themselves with a keyboard layout
One cartridge is included with the system
Sturdy, kid-tough design and colorful appearance
Here is Gavin playing with his MobiGo. Normally he holds it in his hands but played with it on the floor for my benefit. For additional videos on this great educational toy as well as my detailed review you can click HERE.
Since we have both the V.Reader and the MobiGo already this holiday season it only makes sense that we have additional games and accessories under our tree for him to take his playing to the next level. I love that not only can we purchase additional games but we can also go online and download additional games for free! Plus, Vtech just came out with a Game Storage for storing all your downloaded games!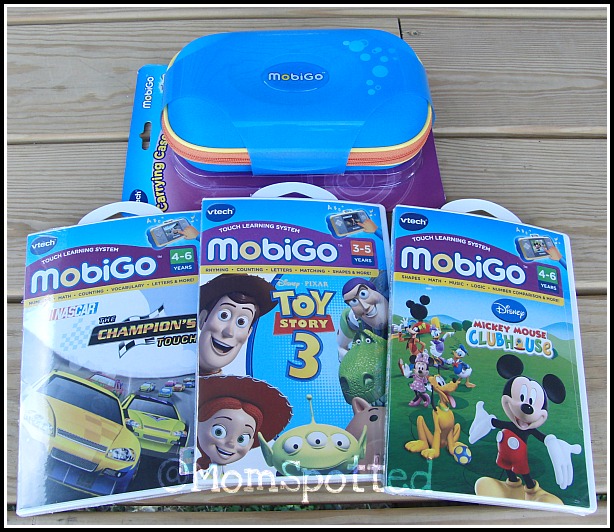 VTech's Facebook Fans have chosen the Ronald McDonald House Charities to donate product to. For every 50 entries (comments or trackbacks) on THIS giveaway post, VTech will donate 1 product to the Ronald McDonald House Charities. With a maximum of 3 products per review, every product donated will make a difference to a family in need.
Vtech Kids has offered one Mom Spotted Reader THREE Games and the Carry Case for the MobiGo!
***Please note games may vary, but they will try to keep them the same**

How to Enter:
1.) Visit Vtech Kids and tell me what item your child would love to get this Holiday season (other then the MobiGo & V.Reader)!
Mandatory
How to earn additional entries:
2.) Become a follower on my blog (publicly- privately does not count)-leave another comment (or let me know if you already are) – 2 entries
3.) Subscribe to my blog by EMAIL (not feed) – 2 entries
4.) Blog about my giveaway- with a link back to here AND
Vtech Kids
2 entries (get two more if you include a photo of the giveaway).
Post YOUR blog entry first and then the comment (please include the link directly to it not to your front page, and make an additional comment then the ones above.)
5.) Add my Mom Spotted button to your blog
6.) Follow
Vtech Kids
on Twitter
6.) Follow
Mom Spotted
on Twitter AND Tweet about this giveaway-
Copy/Paste:
Win a Vtech MobiGo Prize Pack from @vtechtoys & @MomSpotted #giveaway ends 12 http://wp.me/p18qpn-1qf.3
~this can be done once daily~
7.) Become a Fan of Mom Spotted on Facebook– Say Hi
8.) Become a Fan of Vtech Toys on Facebook! – Tell them what you love at their site
9.) Post on your facebook home page (1x daily):
Win a Vtech MobiGo Prize Pack from @VTech Toys & @Jennifer MomSpotted Giveaway Ends 12.3 http://wp.me/p18qpn-1qf
(Make sure it links to me and Vtech Toys)
10.) Leave a relevant comment on any non-giveaway post
-EFFECTIVE IMMEDIATELY-
You must have your email in your comment or in your profile in order to win.
(Make sure to check out all my other giveaways!
Check the side bar to the right for list!)
That's many chances to win THREE new games and a Carry Case for your MobiGo!!!
Contest ends December 3rd at 11:59pm!
www.vtechkids.com
***USA Only***

Mom Spotted Review Policy: I was provided with the featured item(s) at no cost by the manufacturer and/or its PR agency in order to test the products abilities and give my own personal opinions on it. The opinions I have given are mine and may differ from others but it was not influenced in any manner by monetary means.