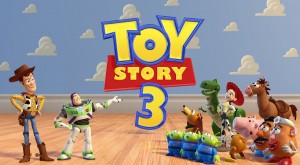 They're back! Walt Disney Animation Studios and Pixar Animation Studios present the critically-acclaimed, global box office smash Toy Story 3, an exciting, heart-warming story filled with humor, adventure and surprises, that reunites America's favorite animated toys, Buzz and Woody, and introduces a whole new set of favorites to audiences around the globe.  The world's #1 animated film in box office history and The Walt Disney Company's second biggest film of all time, Toy Story 3 will be released on Blu-ray and DVD November 2 by Walt Disney Studios Home Entertainment.
Families won't want to miss adding the Blu-ray Combo Pack, 2 Disc Blu-ray or the DVD edition of Toy Story 3 to their home movie collections. Fans of all ages who have come to love and cherish these unique characters, can explore them in a whole new way as the Disney●Pixar team provides a more in-depth look into Pixar Animation Studios and the creation of its characters with hours of exclusive bonus features on the Blu-ray Disc version of the film including filmmaker commentary with Director Lee Unkrich and Producer Darla K. Anderson, amusing views of life at Pixar, analysis of favorite scenes, the Toy Story Trivia Dash game, and much, much more!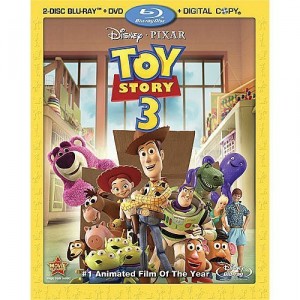 Normally I don't tell my boys about products or DVD's that are heading our way just in case something happens but even I was so excited about this release that I told them the moment I found out. Everyday Gavin checked for the mail, luckily, it came really quick and when it did Gavin was jumping around on the deck he was so excited! I had my camera on me and he actually said "Mommy, take my picture with Toy Story!".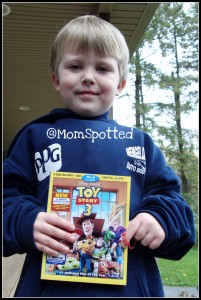 If you have been living in a cave and have missed the details of Toy Story 3 then let me share the story. Of course not everything because I wouldn't want to spoil it on you!
See, this time around Andy is all grown up and heading off to college. Mom wants his belongings packed up, tossed out, or donated. Andy struggles with the choice but in the end decides to put his favorite old toys in the attic. However Mom mixes them up with the donations and off they go to Sunny Patch the neighborhood daycare center!
The toys think they are in for a great treat! Plenty of children to play with them everyday! Sounds like so much fun. When they meet the daycare toys they think everyone and everything is so great and wonderful…but that's until Sunny Patch closes!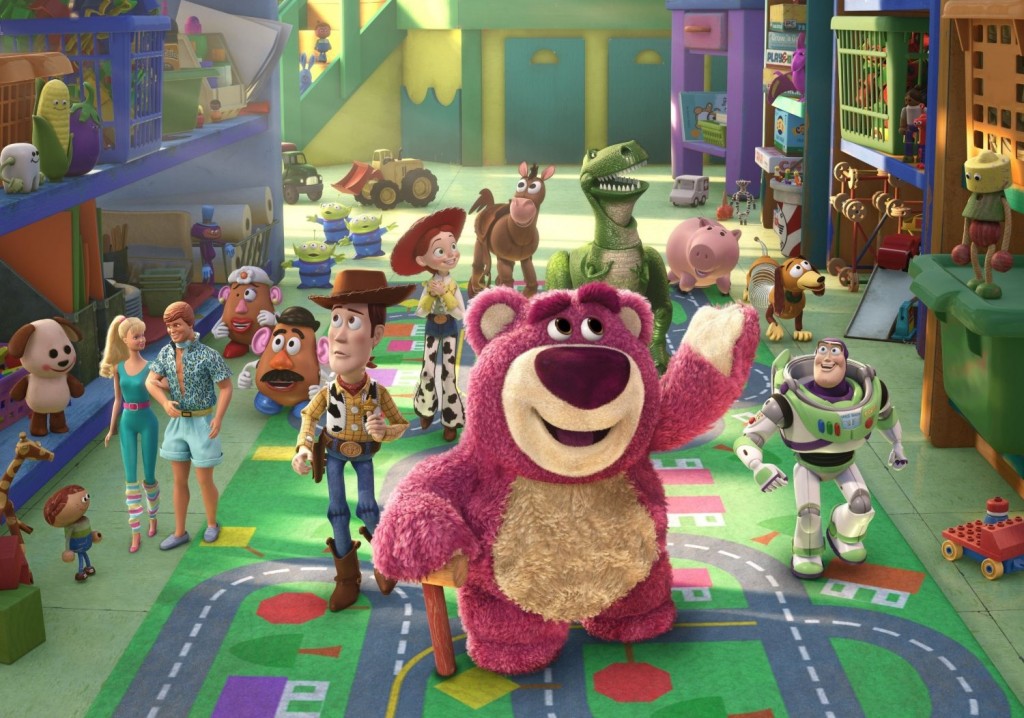 There is so much craziness that goes down once we learn the "rules" for the toys and things go terribly wrong! If you want to find out if they make it out you'll have to of course purchase your copy of the DVD!
The boys LOVED this movie. It was our first great experience in the theaters with Gavin. Both he and Johnny were completely entertained from start to end! Of course Johnny thought it was hilarious when I cried. He says "How do you cry at a Disney movie?" I just laugh knowing how many times Disney has made the emotion real and brought me to tears. I was not the only Mom with a tear, I promise you that!
The kids and I all agree that our favorite part of this movie (and probably all three movies) is when Buzz is reset and put into spanish mode and falls in love with Jessi! When he grabs her and start dancing with her just cracked us all up! Since owning the movie my boys have made sure to call me in every time it comes on.
I highly recommend this movie in your Holiday gift giving. Well, that is if you can manage to hang onto it for that long. It's perfect for boys and girls! Makes a great family night too!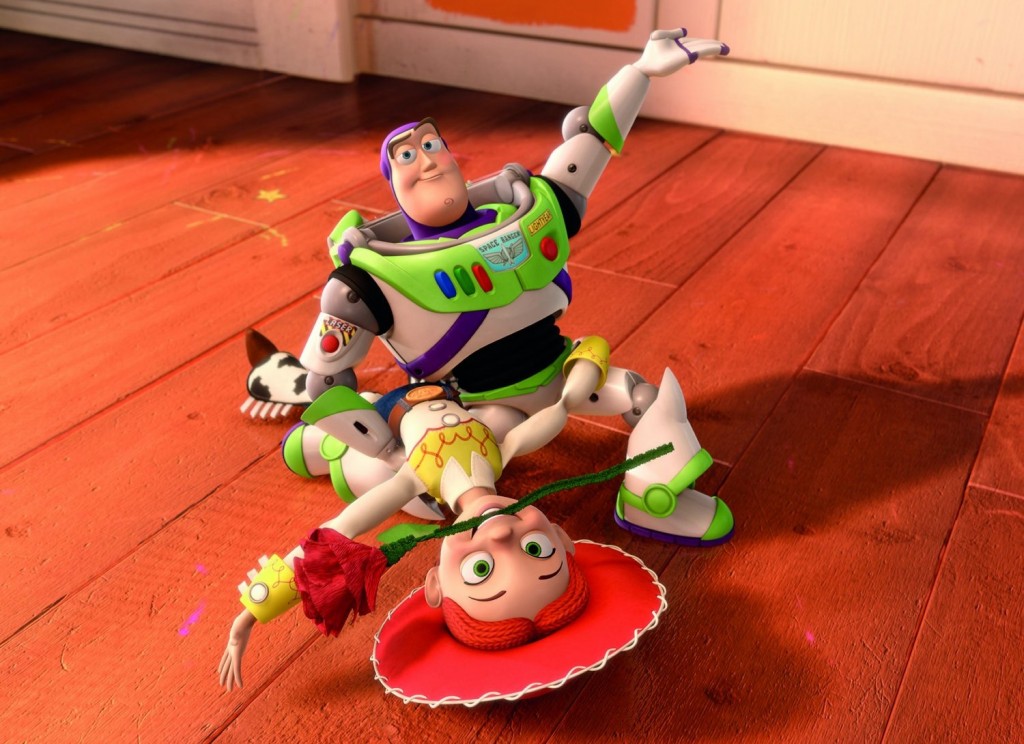 As you can see we absolutely adore this movie! From the moment we walked out of the theater I knew we would need to own this movie. If you haven't picked up this DVD yet you need too! Not only will your kids love it but you will too! It would be a great stocking stuffer come Christmas if you need to hold on to it too!

Even if you saw it in theaters the DVD/Blu-Ray come with lots of extra's you didn't yet get to see:
The Gang's All Here – A look at the returning voice talent for Toy Story 3.
Paths to Pixar – Pixar Editors, past and future, share anecdotes about their career path
Studio Stories: Where's Gordon? – There's a hidden room at Pixar that we call the Where's Gordon? and this is its story
Studio Stories: Clean Start – The Pixar animation team shaves their heads to mark the start of TS3 animation
Beginnings with Michael Arndt – Screenwriter Michael Arndt analyzes successful opening scenes from Toy Story, Nemo and The Incredibles
Bonnie's Playtime – A roundtable discussion with Lee Unkrich and the story artists who brought the "Bonnie's Playtime" scene to life
Roundin' Up a Western Opening – Development process and scene analysis of "Western Opening" in its various iterations through the story process
Goodbye Andy – An exploration of character design, acting and animation in the scene "Andy's Goodbye"
The Accidental Toymakers of Pixar – Meet the makers of the original Buzz Lightyear and watch how the newest version of Buzz, the Ultimate Buzz, is constructed
Life of a Shot – Overview of artist contribution to each step of the production pipeline on a select group of shots from the Western Opening of Toy Story 3
Epilogue – Stand-alone 1.33 version of the Epilogue
You can find it at many stores right now. Walmart, Target, Amazon or any other store you find DVD's in! The DVD suggested retail prices for Toy Story 3 are $45.99 (US)/$52.99 (Canada) for the 4-Disc Blu-ray Combo Pack (Blu-ray + DVD + Digital Copy), $39.99 (US)/$47.99 (Canada) for the 2-Disc Blu-ray, and $29.99 (US)/$35.99 (Canada) for the Single Disc DVD.
Also available is an exciting Ultimate Toy Box 3-Movie Collection that contains all three TOY STORY releases on Blu-ray, DVD and Digital copy. Priced at $100.00 (US)/$115 (Canada), this release contains:
Mom Spotted Review Policy: I was provided with the featured item(s) at no cost by the manufacturer and/or its PR agency in order to test the products abilities and give my own personal opinions on it. The opinions I have given are mine and may differ from others but it was not influenced in any manner by monetary means.