Last year we watched the Santa Buddies DVD and loved it. This year the The Search For Santa Paws DVD came out and we were excited to see it.
In the movie, when Santa and his new best friend, Paws, discover that the boys and girls of the world have lost the spirit of the season, they take a trip to New York City.  But after Santa loses his memory, it's up to Paws, a faithful orphan named Quinn (America's Got Talent's Kaitlyn Maher), her new friend Will (The Game Plan's Madison Pettis) and a wonderful group of magical talking dogs to save St. Nick and show the world what Christmas is really all about.  Do you believe in Santa Paws?  Experiencing this sure-to-be holiday classic, full of fun, adventure and a carrying the timeless messages of the holidays, with surely delight the entire family!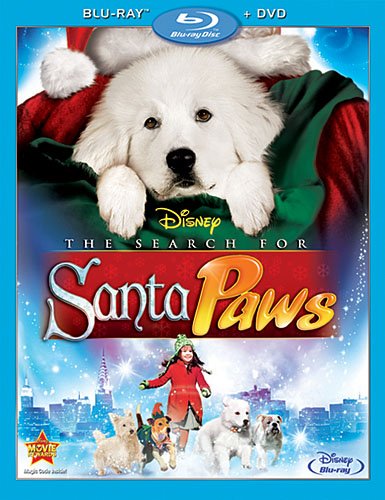 This is such a cute tale about the need for believing in the power of Christmas. Little Quinn's parents "didn't make it" and she is brought to live at an orphanage. Unfortunately, the Head of the orphanage is not very nice. Not only does she burn their toys and make them clean all day. Even worse she refuses to celebrate Christmas and doesn't allow singing or decorations. Quinn just won't have it though!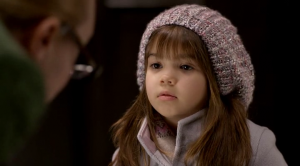 Santa heads to New York because he has heard that we have lost our power to believe and he wants to make us believe again. When Paws runs into the road Santa runs to save him and gets hit instead. He gets knocked out and when Paws runs for help a bum steals Santa's special crystal. When Santa wakes up he doesn't remember anything. He doesn't know who he is or where he is. Luckily, the Hucklebuckles take him in to be the toy store Santa.This is where Quinn meets him and tells him how all she wants is for Will to get her bike and the girls to get a dog. Santa finds her requests touching and so does Mrs. Hucklebuckle. By chance Quinn discovers Paws and sneaks him into the orphanage where he starts to work magic with his special crystal decorating and all. When the orphange director walks in and finds them in holiday dresses, singing, and the entire room decorated she is outraged. She rips the crystal off Paws neck and throws him and Will in the basement for the night.
But without his crystal Paws changes back into a stuffed animal. When the elves realize something is wrong are they too late?
Santa is in the hospital and is losing his fight and Paws is a stuffed animal! If they don't get their crystals back on their necks fast Christmas as we know it will be over!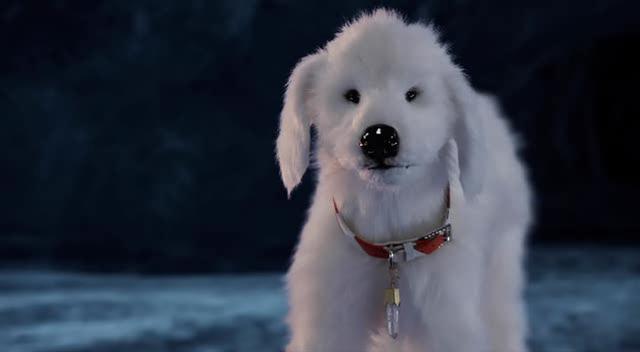 I don't want to spoil the ending of this great movie so to find out what happens you must watch this movie! In the meantime you can check out this great clip:
You can purchase The Search For Santa Paws on Two-Disc Blu-ray/DVD Combo tomorrow! Right now you can pre-order for $23.99 on Amazon, $24.99 at Target, and $23.96 at Walmart.
Mom Spotted Review Policy: I was provided with the featured item(s) at no cost by the manufacturer and/or its PR agency in order to test the products abilities and give my own personal opinions on it. The opinions I have given are mine and may differ from others but it was not influenced in any manner by monetary means.