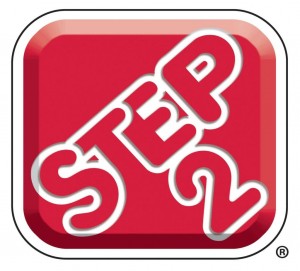 Step2 has been providing our family with great toys for years. Their toys are incredibly durable, affordable, and of course loved by children. We've had countless products from Step2 in our 10 years as parents and every single one of them have lived up and past their abilities and fun from our kids. Did you know that they started out with only five, yes five, employees back in 1991! In under twenty years their company has grown in so many ways. They now have over 800 employees and serve to not only the US and Canada but over seventy other countries as well.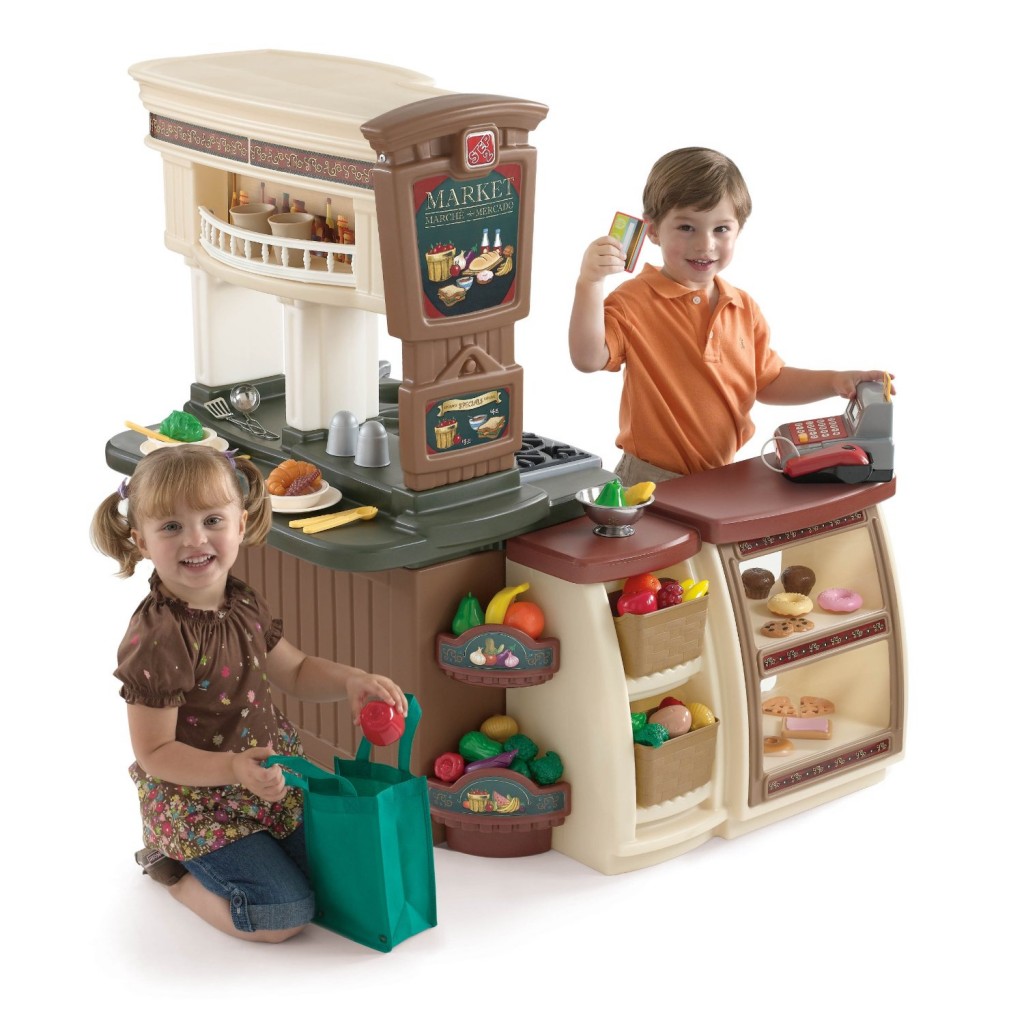 The moment I saw the Fresh Market Kitchen I knew it would be such a perfect fit for Gavin. He loves to play market at school and when I purchased a kitchen for Johnny when he was little Daddy nearly had a melt down. This market is the perfect way to bypass Dad and still get your little one a fun cooking station.
Stocked with fun! This 3-in-1 kitchen lets your little one role play with a full-size kitchen, market, and dining area. Trendy colors and decals give a realistic bakery feel. Made in USA of US and imported parts. Accessory set and electronics made in China.
See-thru baker's display case with two shelves
"Stainless steel" refrigerator, oven and microwave
Large sink area with "cutting board"
Electronic features: register, scanner, stove top, and range light
47-piece accessory set, reusable grocery bag, and 2 "wicker" baskets included
Durable poly construction wipes clean easily
Requires 4 AA and 3 AAA batteries (not included)
Adult assembly required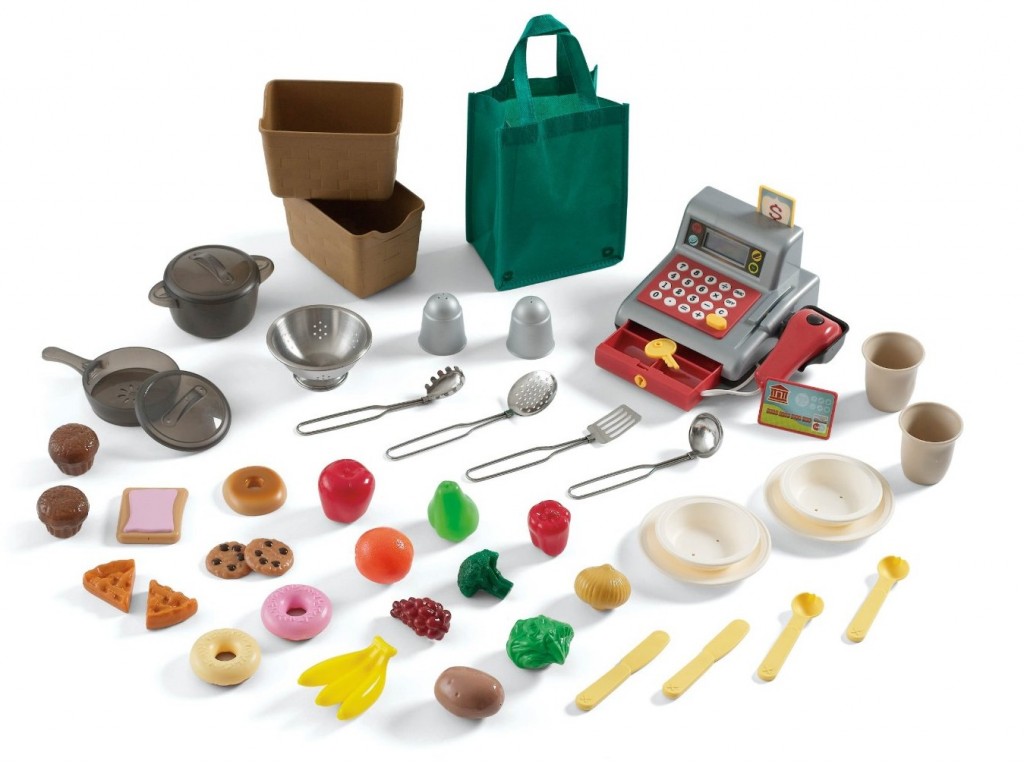 While I don't normally use a lot of stock photos my photos just couldn't do this Fresh Market Kitchen justice. This is really the ultimate market for your kids! I wanted to make sure that you really got to see everything great it has too offer. I wasn't able to get a good angle of the back and really there is no "bad angle" of this market/kitchen. No matter how you set it up and no matter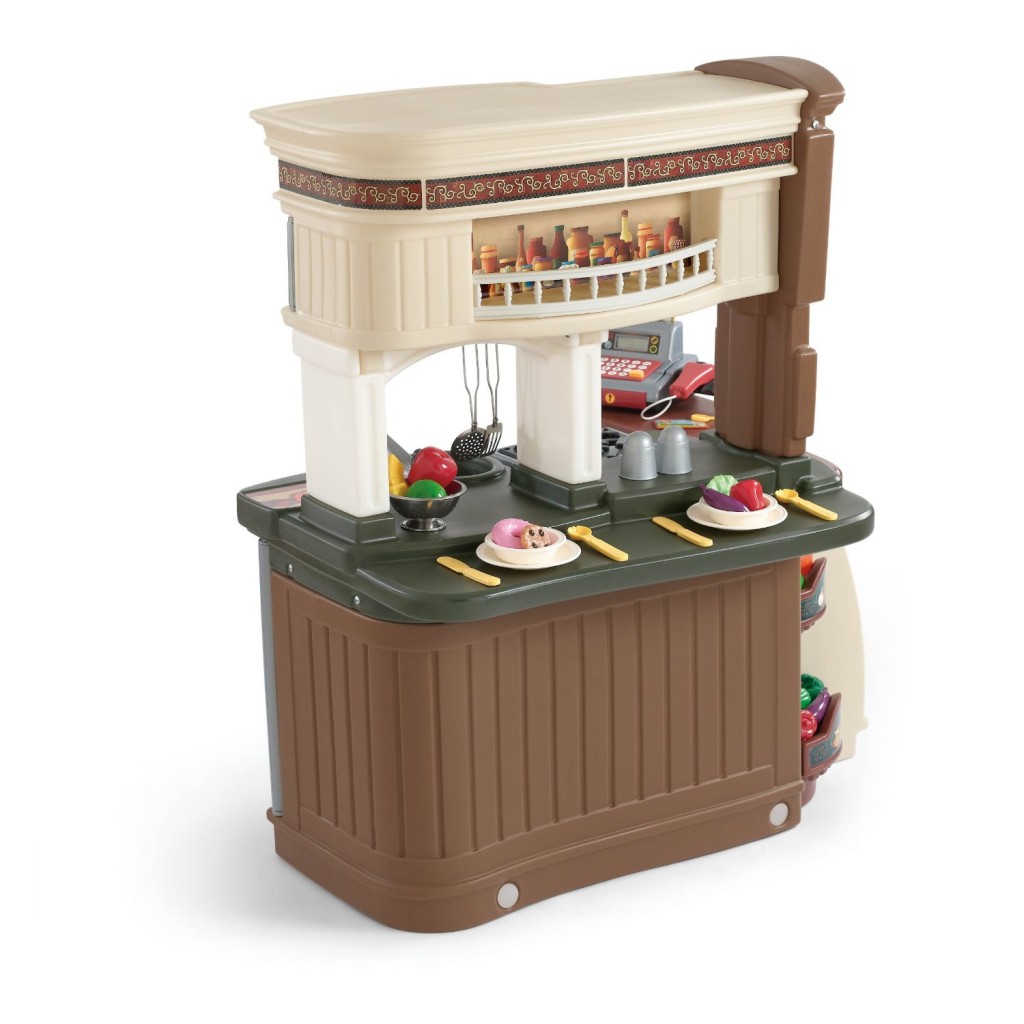 For space purposes I cornered it right up against the wall so he can play with the inside of it independently. However, there are times where I will spin it around so I can play with him. When he has friends over this is always the hit in his room.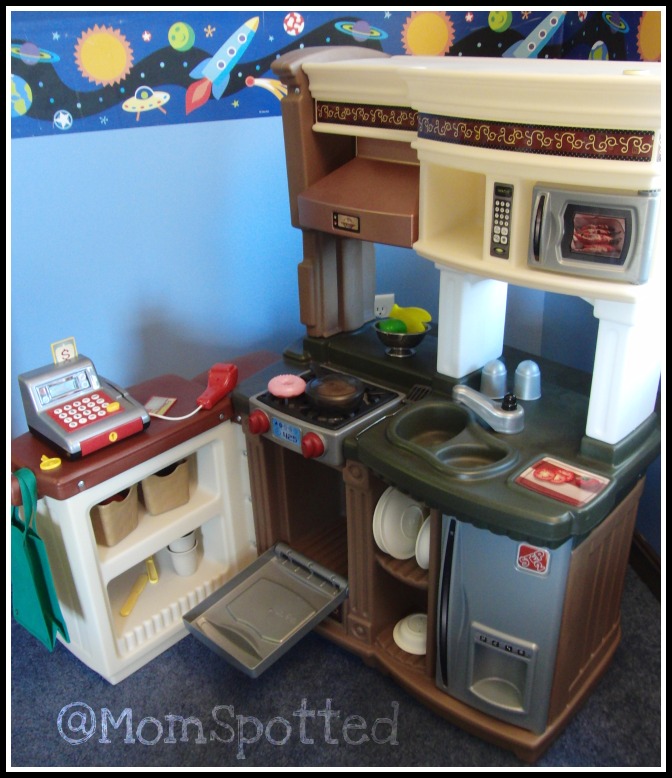 As you can see there is tons of storage area. You can tuck dishes and food all over the place.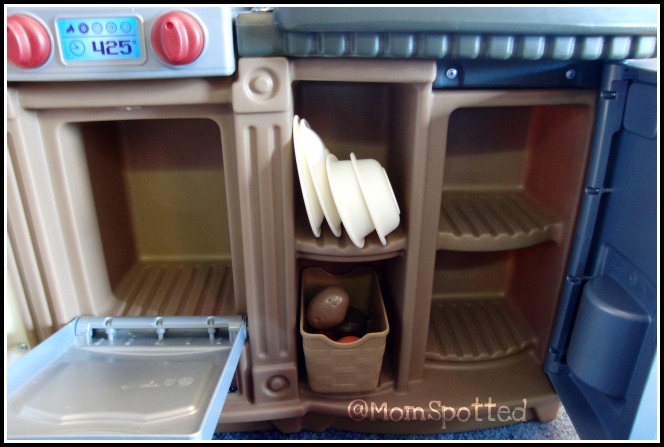 The stove lights up and makes noises when you turn the handle. It definitely adds to the fun of all cooking. Our old kitchen set didn't do this so this was definitely cool for us!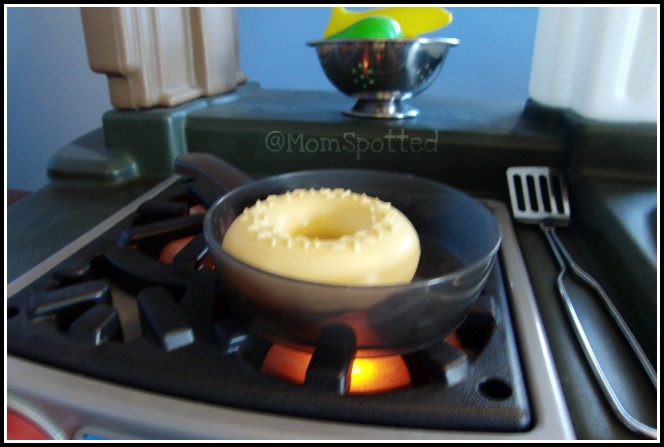 Above the stove is a light that you can turn on and off at the push of a button. Gavin will consistently leave it on as his night light too.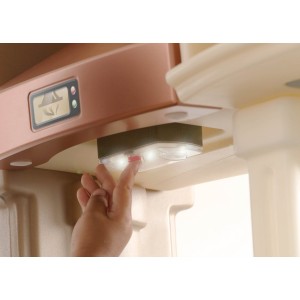 Now Gavin's favorite part of this Fresh Market Kitchen! The cash register. This really takes the entire set to a whole other level. The register is 100% working. Is lights up and scans when you push the button. The calculator work and when you push the yellow button it opens up. I do wish it came with a couple of coins to help teach the money process. It's really the only thing that it didn't come with.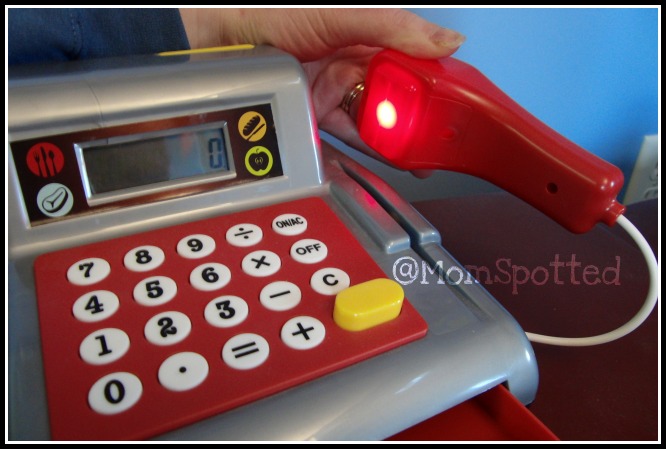 When you slide the credit card through the register the sale sign pops up.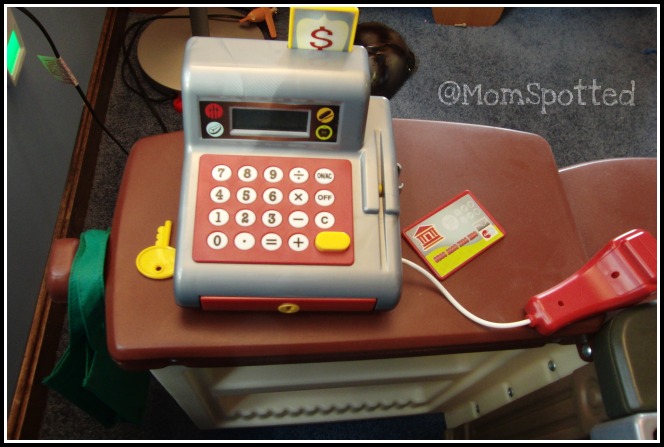 If you're playing the customer you can see the food options through the plastic panel in the front.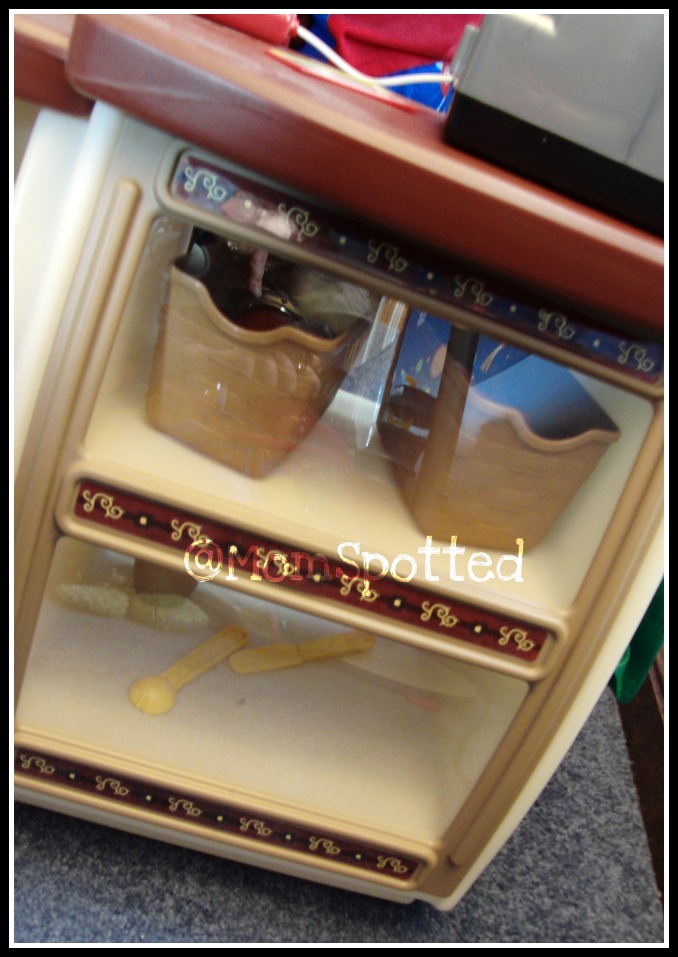 There are also additional storage slots for other food options as well. When I tell you this is the ultimate Fresh Market Kitchen I'm not lying!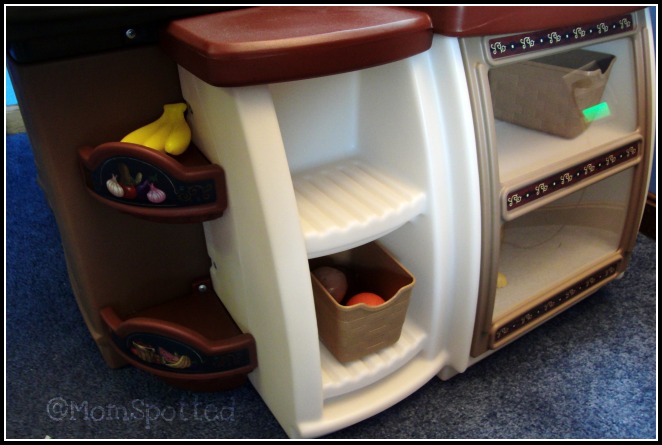 Gavin LOVES the Fresh Market Kitchen!!! Loves, loves, loves it! The quality of the accessories is amazing. It has stainless cooking utensils and strainer. It comes with two cooking pans. One fits in the microwave too!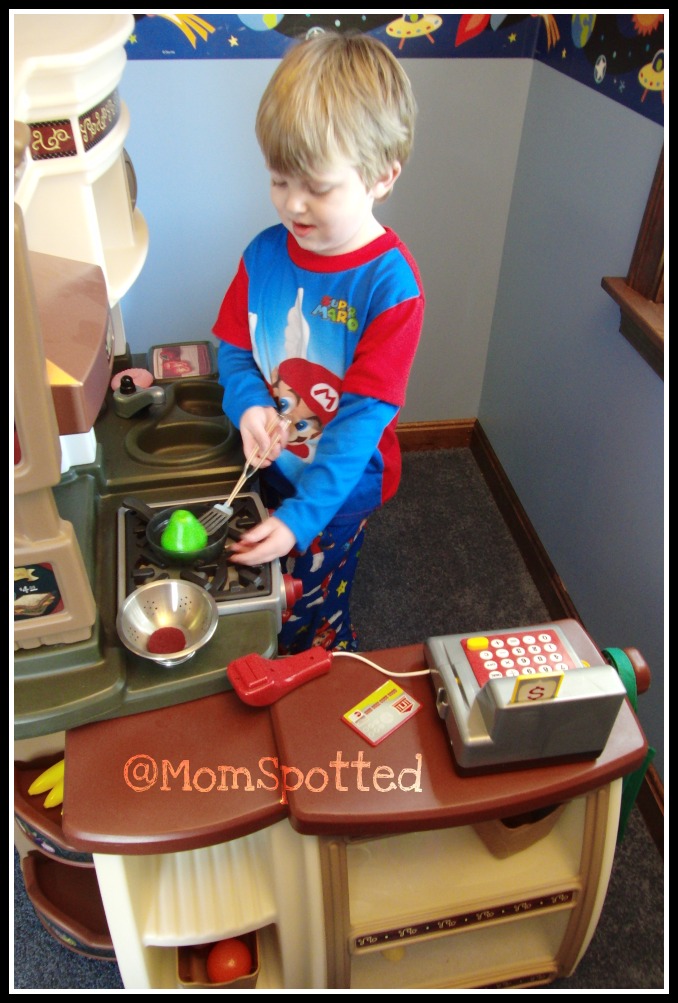 He loves using the register. It's his favorite option. I love that the calculator really works because he loves seeing the numbers and he's learning the basics of using one for when he is older.
This is a MUST if you're in the market (no pun intended) for one of these. I love that its perfect for both boys and girls. While we aren't supposed to admit that Dads can't stand their boys playing kitchen it's true. This is a great option for those fathers who just can't get over it. It has all the goodies that a kitchen has. Microwave, Stove, Oven, Sink, and more but then it also has all the extra's that a market has too! You have the shelves, the register, the menu and more! It's just under $200 and with all of it's possibilities it's so worth it. My only complaint is that the oven doesn't close. At all. Gavin trips over it and I'm ready to just tape it closed or rip it off. It could just be mine but if not it should be looked into.
You can purchase the Fresh Market Kitchen for just $199.99!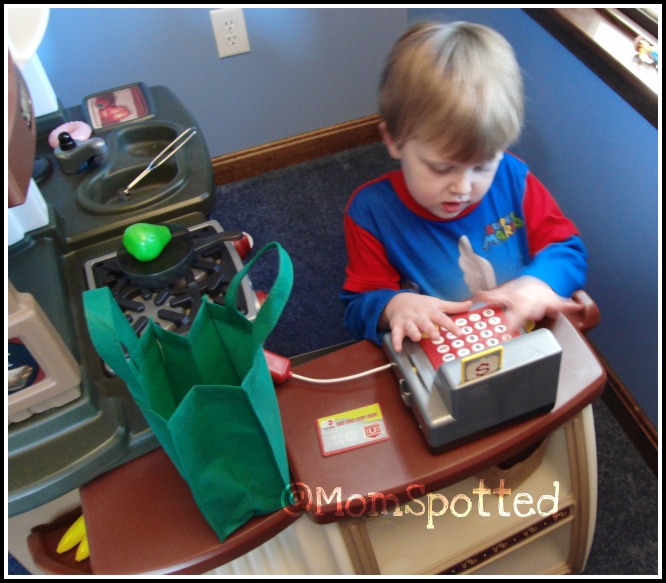 Step2 has offered one Mom Spotted Reader a $200 Fresh Market Kitchen!!!

How to Enter:
1.) Visit
Step2
and tell me what other product of theirs you love!
Mandatory
How to earn additional entries:
2.) Become a follower on my blog (publicly- privately does not count)-leave another comment (or let me know if you already are) – 2 entries
3.) Subscribe to my blog by EMAIL (not feed) – 2 entries
4.) Blog about my giveaway- with a link back to here AND
Step2
4 entries (get two more if you include a photo of the giveaway).
Post YOUR blog entry first and then the comment (please include the link directly to it not to your front page, and make an additional comment then the ones above.)
5.) Add my Mom Spotted button to your blog
6.) Follow
Step2
on Twitter
6.) Follow
Mom Spotted
on Twitter AND Tweet about this giveaway-
Copy/Paste:
Win a $200 Fresh Market Kitchen from @thestep2company & @MomSpotted #giveaway ends 12.6 http://wp.me/p18qpn-1s2
~this can be done once daily~
7.) Become a Fan of Mom Spotted on Facebook– leave me a comment
8.) Become a Fan of Step2 on Facebook! – Tell them what you love at their site
9.) Post on your facebook home page (1x daily):
Win a $200 Fresh Market Kitchen from @Step2 & @Jennifer MomSpotted Giveaway Ends 12.6 http://wp.me/p18qpn-1s2
(Make sure it links to me and Step2 & put link in comment)
10.) Leave a relevant comment on any non-giveaway post (reviews are ok)
(Make sure to check out all my other giveaways!
Check the side bar to the right for list!)
That's many chances to win a $200 Fresh Market Kitchen from Step2!!!
Contest ends December 6th at 11:59pm!
***USA Only***

Mom Spotted Review Policy: I was provided with the featured item(s) at no cost by the manufacturer and/or its PR agency in order to test the products abilities and give my own personal opinions on it. The opinions I have given are mine and may differ from others but it was not influenced in any manner by monetary means.