Gavin has been on this Mickey Mouse kick for several years now. It's one character that he just seems to love and doesn't pass on through. When I heard there was a new device that would make his favorite episodes even more fun I knew I'd have to give it a try. It's called the Mickey mote.
This coming holiday, parents and their preschoolers will discover a whole new way to watch and play their favorite Disney preschool DVDs, with the all-new "Mickey Mote". This one-of-a-kind, kid's remote control, from Walt Disney Studios Home Entertainment, will debut this November 16th packed with Mickey Mouse Clubhouse: Mickey's Number Roundup and Handy Manny: Big Construction Job.  The new "Mickey Mote" is a child-friendly handheld remote control, shaped like Mickey ears, that will take children's viewing experience to a whole new level by providing an engaging interaction with their favorite Disney characters.  With multiple levels of play, the new Mickey Mote will provide hours of fun, engaging and challenging adventures for kids age 2-5.   The Mickey Mote is a value for moms and fun for kids!

How It Works: The Mickey Mote works with any Disney Preschool DVD that includes Discovery Mode™, the interactive "Watch & Play" feature on the DVD!  All parents have to do is program the remote control – there's an easy and quick set-up guide in each DVD- and select the Discovery Mode feature on the menu screen.  Within minutes, kids will be easily responding to questions, throughout the story, about scenes they just watched (such as "What color is Goofy's hat?") by pressing one of four color-coded buttons on the device — a yellow star, green circle, orange triangle or blue square – to click in their responses.  Discovery Mode features include two levels of play, which provides more challenging questions as the child grows.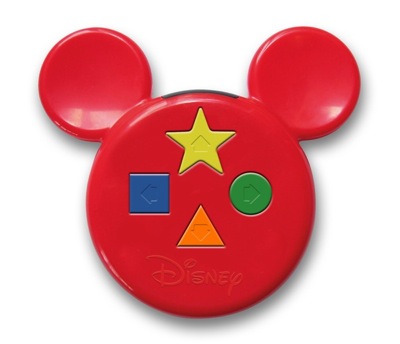 Why Parents Will Love It: Once families have purchased a Disney Preschool DVD that comes packaged with the Mickey Mote, they can continue to build their Disney Preschool libraries as the Mickey Mote works in compatibility with any Discovery Mode enhanced DVD. For example, kids can immediately use the remote with any of the following titles:

Mickey Mouse Clubhouse: Road Rally
Mickey Mouse Clubhouse: Mickey's Adventures in Wonderland
Mickey Mouse Clubhouse: Mickey's Choo Choo
Mickey Mouse Clubhouse: Minnie's Bow-Tique
Handy Manny: Manny's Motorcycle Adventure
Handy Manny: Manny's Big Race
Little Einsteins: Fire Truck Blast Off
My Friends Tigger & Pooh: Super Duper Super Sleuths
My Friends Tigger & Pooh: Bedtime With Pooh

Note:  Discovery Mode can also be played using any DVD remote control. Look for more Discovery Mode DVDs on future Disney Preschool franchise releases such as Mickey Mouse Clubhouse and Handy Manny!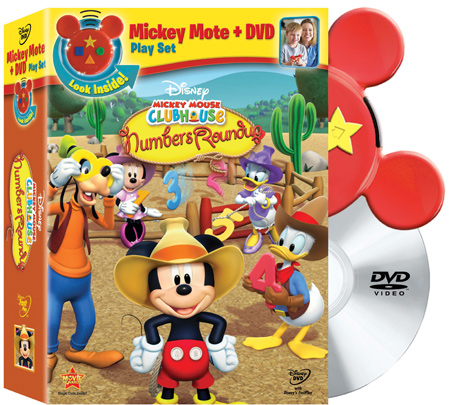 The Mickey Mote was simple to set up. I first had to find two AAA batteries which luckily I have around. Then I had to take my DVD remote and face it to the Mickey Mote three inches apart. Follow the directions and when your done your ready to roll! I wish that directions on how to set it up were included in the box (which they aren't) I had to google the directions and found this picture and squinted through it. This picture blown up a little bigger and included in the box would have been a lot easier.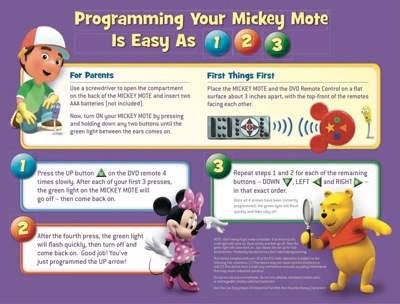 It can also be used on several other DVD's in the new collection (see above). Overall Gavin loved using the Mickey Mote. It was really simple to use since it only has four buttons. He is 4 years old so he's right in the targeted age for these DVD's. The first time he used it he was super fidgety waiting to use the remote. It isn't like that though. You participate throughout the episodes but it is not a constant thing. Once he figured that out he was fine, but at first it was really hard to him to wait until it was time to use it. Now he loves that he can participate in the show and picks this movie over others.
Handy Manny: Big Construction Job is a fun-filled, full-length adventure that takes Manny out of Sheet Rock Hills and to a new construction project out of town!  Introducing new tools, new songs and a never-before-seen episode, Handy Manny stars Wilmer Valderrama (TV's "That 70's Show") as the voice of Manny.  It is a top 5 television series with preschoolers 2-5, and is an Emmy®-nominated show, set in a multicultural, multi-generational community and follows a curriculum that models problem solving and the importance of community.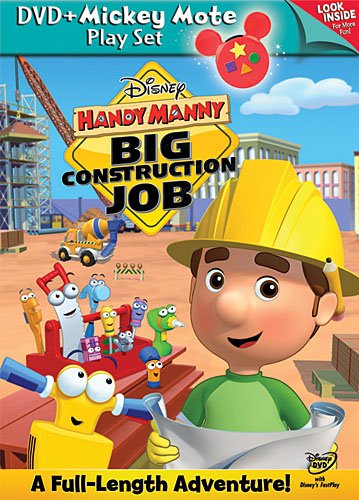 If you are purchasing in store be on the lookout for this coupon! I had one on the front of both sets. It will save you $8 when you purchase two Mickey Mote compatible DVD's.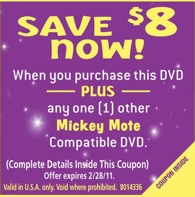 Of course you can also find these and other great Mickey Mote titles easily online for purchase too! Amazon carries the Mickey Mouse and the Handy Mandy titles with Mickey Motes included in them. They run for about $24 with the DVD and Mickey Mote combined and then you can purchase additional DVD's for around the same price as a regular DVD.
Mom Spotted Review Policy: I was provided with the featured item(s) at no cost by the manufacturer and/or its PR agency in order to test the products abilities and give my own personal opinions on it. The opinions I have given are mine and may differ from others but it was not influenced in any manner by monetary means.