Discover one of nature's last great mysteries in Disneynature: Crimson Wing, a miraculous story of love, courage and survival from Disneynature- the studio that brought you earth. In a place like no other on the planet, the dramatic and desolate Lake Natron in northern Tanzania, you'll witness a spectacle unlike anything you've seen before- a million crimson-winged flamingos arrive to continue the circle of life. Focusing on the adventures of a single chick, and set against a backdrop of never-before-filmed landscapes, The Crimson Wing is a visually stunning journey into the life and struggles of the mysterious and inspiring flamingo.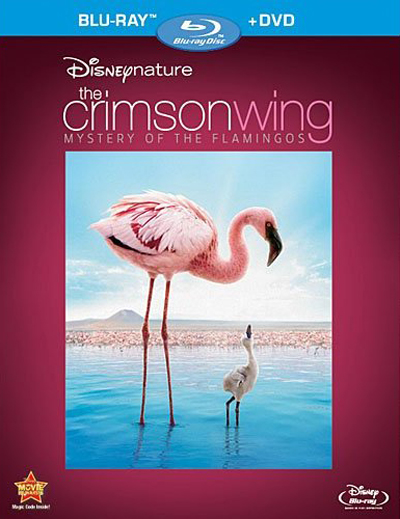 DVD Bonus Features Include:
Lake Natron Diaries: Behind The Crimson Wing – 5 behind‐the‐scenes pods
Blu-ray High-Def Bonus Features Include:
Living Planet – Fully interactive through BD‐Live, explore the Earth with up‐to‐date facts, migration information and videos by the filmmakers and leading wildlife experts
Filmmaker Annotations (CineExplore) – An in‐movie experience with pop‐up facts from the directors Leander Ward & Matthew Aberhard, and screenwriter Melanie Finn
The Crimson Wing Screensaver
Running Time: 78 Minutes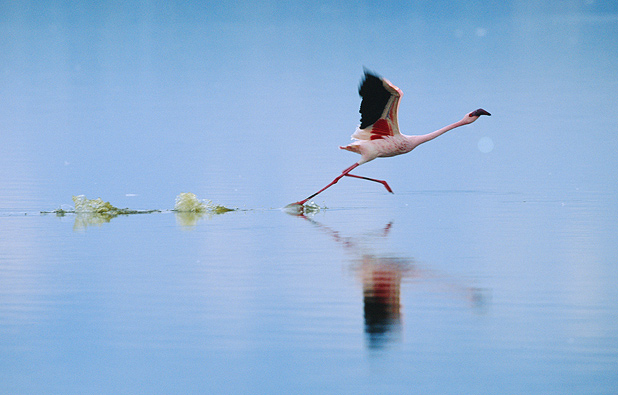 As I've mentioned many times Johnny has a love for animals. Granted, his focus is on sea life I thought this movie would be perfect for him. He was super excited to see this movie. We had just watched Oceans the night before and he loved it. He loved as it showed not only the good side of flamingos but also the bad. It doesn't just show you the historical side of the bird it walks you through the life. Johnny absolutely loved when all the birds were together and the noise they could make. If you have surround sound this movie will truly let you realize how great it is.
As a Mom I thought what a great way to get children excited about topics they otherwise wouldn't have learned about. The picture and clarity of this movie is amazing. There are certain scenes in this movie that could almost make you feel as though you were right there! Johnny is almost 10 years old and it held his attention. I worry though that for a young child this movie would be too much. Gavin walked away in the first ten minutes although popped in and out and had moments where he was definitely interested.
You can purchase The Crimson Wing from on DVD for $29.99 or the DVD & Blu-Ray Combo pack for $39.99
Both are available at Amazon.com for less!
Mom Spotted Review Policy: I was provided with the featured item(s) at no cost by the manufacturer and/or its PR agency in order to test the products abilities and give my own personal opinions on it. The opinions I have given are mine and may differ from others but it was not influenced in any manner by monetary means.