If you're looking for a dessert that turns heads, is easy to make, and tastes delicious. This Cookies & Cream Cake recipe is perfect for you!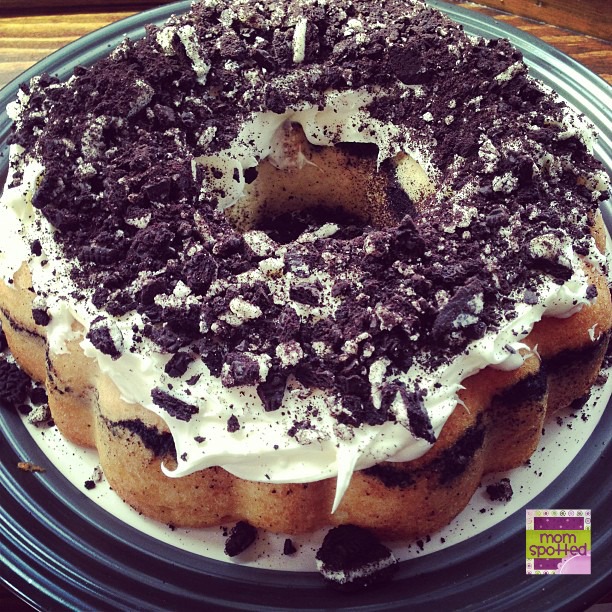 INGREDIENTS

Cake
12 oreo's, crushed
1 pkg white cake mix
3/4 cup water
1/2 cup sour cream
3 egg whites
2 T vegetable oil

Icing
6 oreo's, crushed
1 1/2 cup powdered sugar
1/4 cup sour cream
3 T butter, melted
Preheat oven to 325. Spray pan.
Combine all cake ingredients in bowl and mix. Pour half the cake batter into the fluted pan.
Layer the crushed
oreo's
.
Then take remaining batter over the
oreo's
. Smooth batter making sure to fully cover any of the cookies.
Bake for 50-55 minutes. When you remove the cake lets it cool in the pan for 10 minutes.
When you remove your cake sometimes it can get stuck to the sides. Since you don't want your cake to break simply take an orange peeler.
Let the cake completely cool on a cooling rack. Warning, if you don't let the cake cool at least 10 minutes or more in the pan it will stick to the cooling rack.
Mix icing ingredients in a small bowl. Make sure the butter is softened. You'll know because if it wasn't soft it won't be able to be drizzled over the top. If it is on the thick side you can microwave it for about 20 seconds.
Drizzle the icing over the cake. Then sprinkle with the crushed oreo's.
Doesn't this Cookies & Cream Cake  look
delicious
?
Once you cut into the cake you'll be able to see the baked in a layer of cookies. This cake is always a complete hit at parties. I never have anything other than an empty serving plate to bring home.
If you're looking for a great fluted pan I recommend the
Pampered Chef Fluted Pan
. It is part of their stoneware collection. I'm not really a big fan of stoneware as I hate that you can't clean them with soap. While you're not supposed to put them in the dishwasher. I place mine in the dishwasher without soap. This way I, at least, know they are sanitized. I know I'm taking my chances of it breaking but it has worked for me so far.
Since it's been a few years since I've posted Cookies & Cream Cake recipe I thought I'd include a recent photo with my momspotted tag since I still make this cake 2x a year. It's delish!