"This post is in collaboration with Balance Your Plate and DiGiorno. As part of the collaboration, I received product and incentives in exchange for participating in the program."
With Summer winding down and school starting meal time can be stressful. Dinnertime can be so tricky to make sure my family is getting all the nutrition we need. I try to have a balance of all the food groups and also make meals my kids will enjoy. Their favorite meal is when it is pizza night! DIGIORNO pizzeria!™ and pizzeria! thin crust pizzas are crafted with care using the highest-quality ingredients to deliver a golden pizzeria style crust, 100% real cheese, premium meats, and crisp vegetables picked at the peak of ripeness. DIGIRORNO helps me balance my family's plates at dinner time.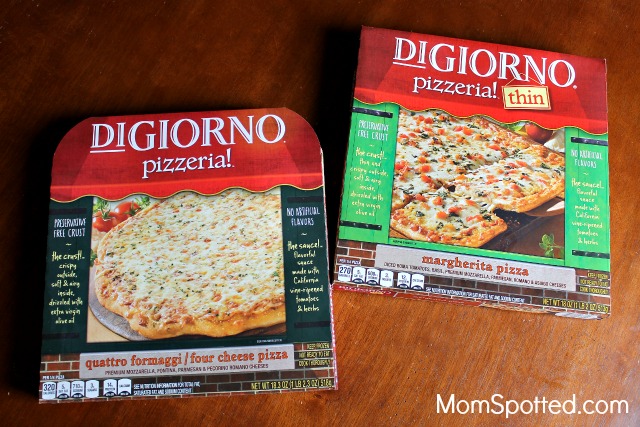 DIGIORNO pizzas make dinner time a breeze. Those busy nights when I don't have the time or energy to slave over a meal, pizza is also always a dinner my kid's cheer for. DIGIORNO pizzas are so delicious. It is the brand we go back to over and over again. I can tell they use the freshest ingredients, and there is a pizza with toppings for everyone. My kids love cheese pizzas. The DIGIORNO pizzeria four cheese pizza is delicious.  DIGIORNO pizzeria! and pizzeria! thin crust pizzas contain no artificial flavors, so you'll only taste the most delicious ingredients.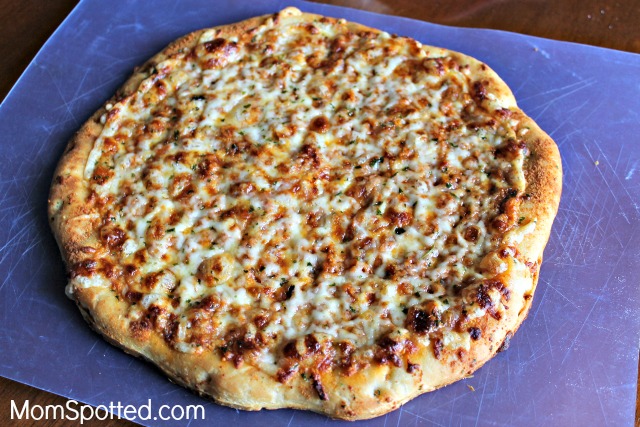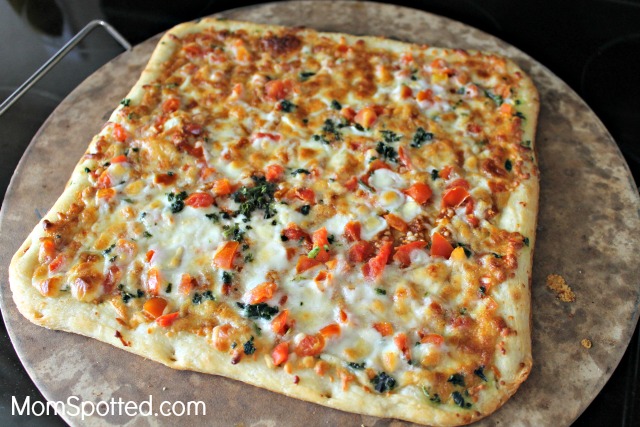 My favorite pizza is the DIGIORNO pizzeria!™ thin crust Margherita pizza. I love a delicious thin crust. The DIGIORNO pizzeria!™ thin crust pizzas have a preservative-free crust and is drizzled with extra virgin olive oil. The sauce is perfection, and I love that it is topped with vine-ripened tomatoes and flavored with basil, thyme, and oregano.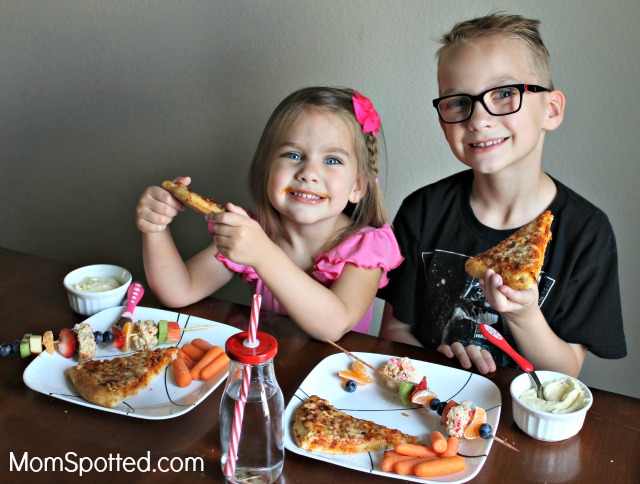 Balance Your Plate is an educational campaign by Nestlé. This campaign helps consumers build nutritious, delicious, and convenient meals that meet the DietaryGuidelines for Americans – a goal US consumers meet fully only 2% of the year. Brands like DIGIORNO uses its packaging to suggest healthy meal pairings like salads and steamed vegetables and easy to follow graphics to understand portion guidance. You can have the confidence to use frozen foods like DIGIORNO to help you have wholesome and nutritious means.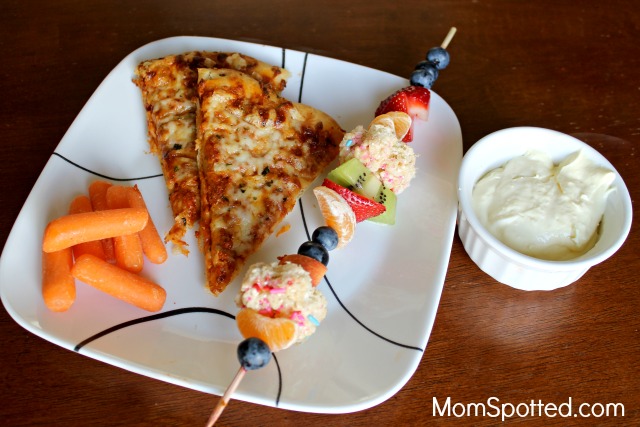 To balance our pizza night plates with our favorite DIGIORNO pizzas, I like sticking to other finger foods. We usually have baby carrots to munch on with our pizza night, and my kids love when I make fruit kabobs. Fruit kabobs are fun to eat and easy to make. I usually just use whatever fruit I have on hand and then I layer them up on a wooden skewer. This time, we used strawberries, kiwis, blueberries, oranges, and apples. I also had made some Rice Krispie Treats. I cut the Rice Krispie Treats up with a small flower cookie cutter and layered them in between the fruit.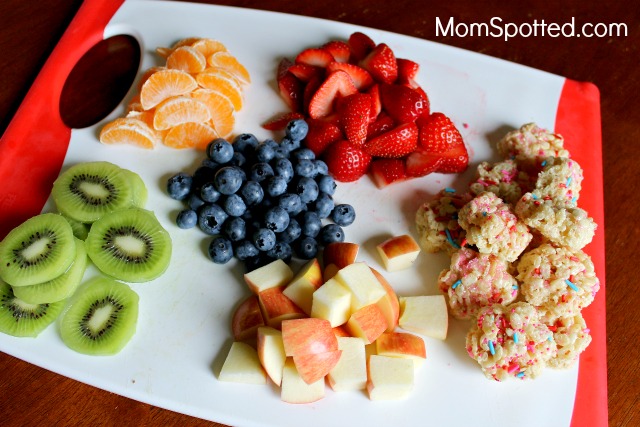 My kids are in love with dips! They love to dip their food into anything they can. Our favorite fruit dip just has three ingredients, and it is perfect for any fruit. Mixing cool whip, vanilla yogurt, and an instant vanilla pudding packet makes a deliciously creamy, sweet, and light fruit dip. We love it, and I love taking it to potlucks and BBQs during the summer.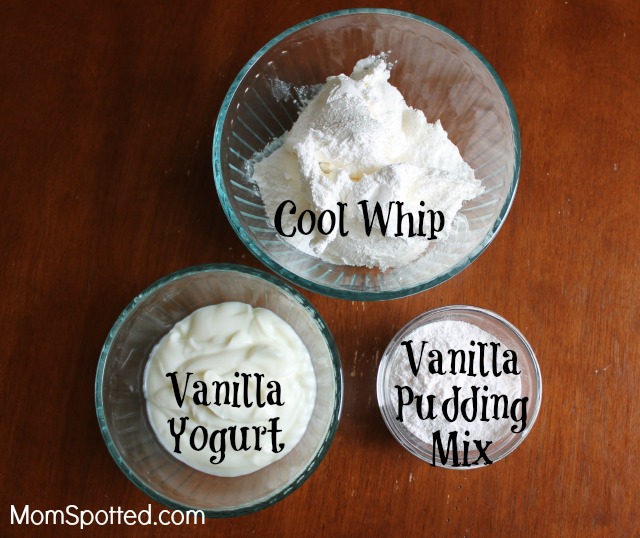 First I mix the vanilla pudding and vanilla yogurt. This gives it a chance for the pudding to dissolve. Then I carefully fold the yogurt pudding mixture into the cool whip. I let it rest in the fridge for 30 minutes and then assemble my kabobs.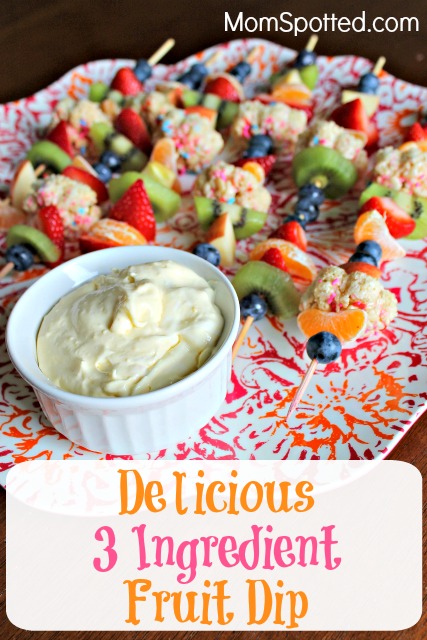 Delicious 3 Ingredient Fruit Dip
Author:
Megan - MomSpotted.com
This creamy and sweet fruit dip is simple to prepare with just a few ingredients. It is a hit at dinner time or BBQ potlucks.
Ingredients
1 (8 oz) Container of Cool Whip
2 (6 oz) Containers of Vanilla Yogurt
6 T of Dry Instant Vanilla Pudding Mix
Instructions
Mix dry instant vanilla pudding into vanilla yogurt. Stir until well combined.
Gently fold in vanilla pudding and yogurt mixture into the cool whip.
Let rest in the fridge for 30 minutes.
Dip with any fruit. Store covered in the fridge.
Fruit kabobs and fruit dip is our favorite summer side dish! I bet your family will love them too for your next pizza night. Pair them with DIGIORNO pizzeria!™ and pizzeria! thin crust pizzas to have a well-balanced plate.