Breakfast is a big deal. It's been a huge transition for me in my weightloss journey to sit down and do this summer. Normally (and sometimes sadly still) I just get coffee and run around all morning and it isn't until mid afternoon that I'd be ravishing. This summer I practiced sitting down and taking 15 minutes to eat a healthy mean to jumpstart my day.
It was so rewarding. But, in ways I didn't realize it would be.
It was 15 minutes my kids & I were able to connect each morning and map out how we wanted out days to go.
I'm hoping now that the school year is only a week away we can continue a morning get together. It will be a bit harder this year as Johnny is starting middle school and is off before the other two even wake up. Maybe now Johnny & Daddy can do some additional morning bonding since they'll be leaving around the same time.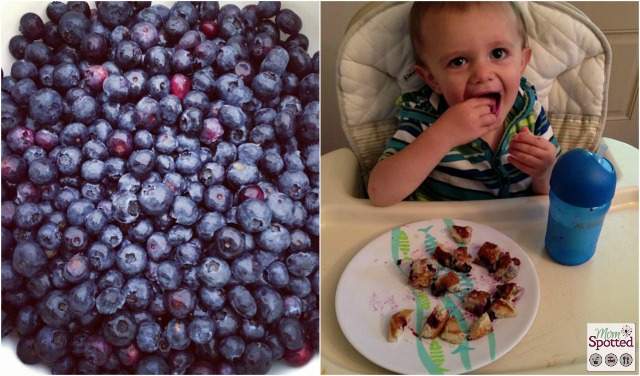 This summer we did a lot of fresh berry picking. We've been using them to make some really yummy baked goods and have been freezing the left overs for the school year breakfast. Since we also garden it's been important to me to teach the importance of diet and nutrition and how growing and picking our own is so important. How we can then take them and use them into our daily foods. For instance in one week we were able to make and eat blueberry pancakes, blueberry lemon muffins, strawberry oatmeal, and fresh fruit and toast with blueberry jam!
Lucky for us it's also one of the challenges over at Scholastic right now. What challenge you ask?
To Earn FREE Books!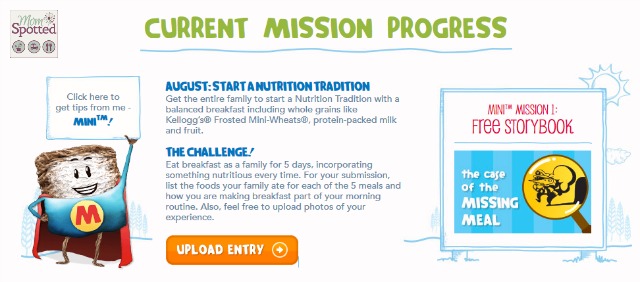 When your family completes a Mini™ Mission, you can earn free Scholastic books for your family and a chance to win prizes for your school and community! How awesome is that! I signed up and in no time I was on my way to earning free books! My favorite part was that I was able to enter in my boys school and register them to be eligible for prizes too! While you're there make sure to download free monthly stories chronicling Mini's™ adventures against the evil Skipper too!
We just had to stop in this month and share a pic and a quick line about our breakfast entry! Easy peasy!
Every time your family completes a mission you'll get rewarded with 2 Scholastic Books while supplies last. Plus, you'll be entered into a Sweepstakes where your school or community could win BIG!
Monthly Rewards for Families Include:
2 Scholastic Books when your family completes each mission (5,000 book sets available each month)*
Monthly Prizes for Schools and Communities Include:
$25 Scholastic Teacher Store Online gift cards (100 gift cards awarded each month)
Scholastic Book Sets for classrooms (20 book sets awarded each month)
$200 Grants for PTO/PTAs (10 grants awarded each month)
Book Nook Library Makeover for a local community center or organization. The Book Nook includes more than 1,200 Scholastic books, shelves, beanbag chairs, reading-themed rugs, an audio listening center and more! (One Book Nook awarded each month)
Kellogg's® Frosted Mini-Wheats® and Scholastic have partnered to bring you the Every Day is a Big Day program, created to benefit families, schools and communities across the country.
Your family is invited to complete monthly Mini™ Missions to get free books for your family. Also, each month you'll be entered into a sweepstakes for the chance to win one of 131 valuable prizes for your school and community. As you earn books and enter the sweepstakes, your family is sure to have a blast and learn something new along the way!
Start here and register for your first monthly mission!
This is a sponsored conversation by me on behalf of Kellogg's(R) Frosted Mini-Wheats(R). The opinions and text are all mine.