As you know I just had a baby. While I'm not looking to be smokin' hot every time I walk out the door but I wouldn't mind looking somewhat put together. On a rough day when I just needed to run the the grocery store I used to be able to just throw on a pair of jeans and go but now. Well, um, now I am a walking disaster. You can tell I'm living off hardly any sleep and that taking a flat iron to my hair is just about as likely to happen as a private jet waiting outside to go pick my bananas fresh.
So what's a girl to do. Clearly my regular routine isn't going to fly anymore. Sawyer (my new baby) isn't going to care if I have make up on but he is going to care if I think I'm going to take off and enjoy a 45 minute shower and then proceed onto an hour of pampering myself.
P&G Sent us some Award Winning Products to make things a bit easier:
Award-winning P&G beauty products
Time on your Side
Never let your beauty routine drop off the list – even if your day is full. Discover P&G beauty award-winning picks and shortcuts to streamline your daily routine.
Aussie 3 Minute Miracle (Elle Essential)
Crest 3D White 2 Hour Express Whitestrips (Elle Essential)
Spring Awakening
When the temperatures rise, it's time to refresh your beauty routine. Update your warmer-weather beauty routine with these must-have products bearing the seal of approval from your favorite magazines.
Secret Clinical Strength Waterproof (Real Beauty Gold Star Awards)
Venus Bikini Trimmer (Marie Claire 25 New Products That Will Change Your Life)
A Fresh New Look
Sometimes it's hard to get out of mom-mode. But a pretty, polished style is easy to achieve at home, even on the most hectic mornings, with these award-winning beauty products.
Olay Regenerist Micro Sculpting Serum (Redbook MVP Awards)
CoverGirl Nature Luxe Gloss Balm (Oprah Spring Makeup O-wards)
Here's my old look: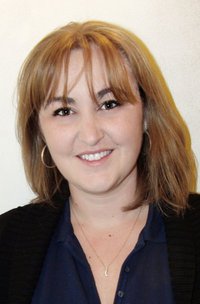 That look while seemingly simple takes me quite a bit of time from blow drying my hair and also using the flat iron to style it. I have a full face of make up and likely took my sweet ol' time doing so. See when you're youngest is five it's easy to find and make distractions.
So what's a girl to do? Here are some simple steps I take to make sure I get out the door without baby spit on my shirt or looking like I haven't slept more then 8 hours in the past week (which I don't even think in the past week I've gotten even that!).
1. I always use facial moisturizer – ALWAYS. Make sure it has SPF in it.
2. Body Spray – I don't always have the time to put on yummy or sweet smelling lotions but a few sprays of that and I'm generally good to go.
3. Make-up – Keep it simple. I have psoriasis on my face or I might even skip the make up but I get self conscience about it and don't like people staring. I use only concealer, blush, and mascara if heading out for basic errands.
Simple, huh? It's generally the start of my "fancier" routine but I just took all the extras out of the plan.
I received a Beauty Pack with P&G goodies to help with my beauty routine and they have one waiting for you too!
Aussie 3 Minute Miracle
Crest 3D White 2 Hour Express Whitestrips
Secret Clinical Strength Deodorant
Venus Bikini Trimmer
Olay Regenerist Micro Sculpting Serum
CoverGirl Nature Luxe Gloss Balm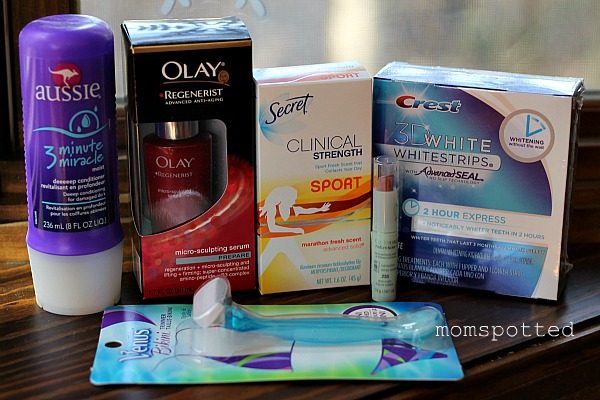 One Mom Spotted Reader a P&G Beauty Prize Pack too!!!

How to Enter:
1.) Tell me your best get ready quick beauty tip!
Mandatory
How to earn additional entries:
2.) Become a
Google + Follower
-leave another comment (or let me know if you already are) – 2 entries
3.) Subscribe to my blog by EMAIL (not feed) – 2 entries
4.) Blog about my giveaway- with a link back to here   –   4 entries (MUST include at least 30 words! Get
two additional entries
if you include a photo of the giveaway).
Post YOUR blog entry first and then the comment (please include the link directly to it not to your front page, and make an additional comment then the ones above.)
5.) Follow me on
Networked Blogs
(Widget on sidebar)
6.) Follow
Mom Spotted
on Twitter AND Tweet about this giveaway-
Copy/Paste:
Win a #PGBeauty Prize Pack from P&G and @MomSpotted #giveaway Ends 4.9.12 http://wp.me/p18qpn-4O6
~this can be done once daily (leave link in comment)~
7.) Become a Fan of Mom Spotted on Facebook– leave me a comment
8.) Post on your facebook home page (1x daily):
Win a #PGBeauty Prize Pack from P&G and @Mom Spotted Giveaway Ends 4.9.12 http://wp.me/p18qpn-4O6
9.) Leave a relevant comment on any non-giveaway post (reviews are ok)
(Make sure to check out all my other giveaways!
Check the side bar to the right for list!)
That's many chances to win a PGBeauty Prize Pack!!!
Contest ends April 9th at 11:59pm!
***USA Only***

Mom Spotted Review Policy: I was provided with the featured item(s) at no cost by the manufacturer and/or its PR agency in order to test the products abilities and give my own personal opinions on it. The opinions I have given are mine and may differ from others but it was not influenced in any manner by monetary means.