My kids are growing up so fast and with another baby on the way it is making me want to remember every moment I can before they are all grown up. I was recently sent a DXG Luxe 1080p Slim HD Camcorder and it has already helped me record special memories from soccer games, outdoors playing, and so much more! This slim style camcorder is so stylish and fits me perfectly. I absolutely love that it comes with a coordinating wristlet to store the camcorder in since I am horrible at just tossing things where ever and scratching them all up.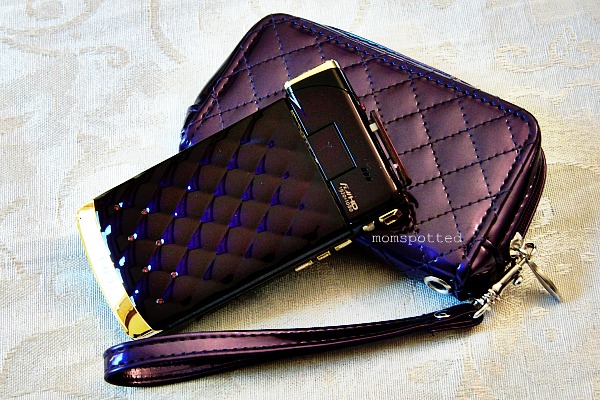 This DXG Luxe 1080p Slim HD Camcorder actually comes with everything you need right down to a nice box to store anything you are not using. I keep it in my closet with all the cables and manual so when I need to charge or do anything I know where they are and don't confuse them with the 329043 other cables I have.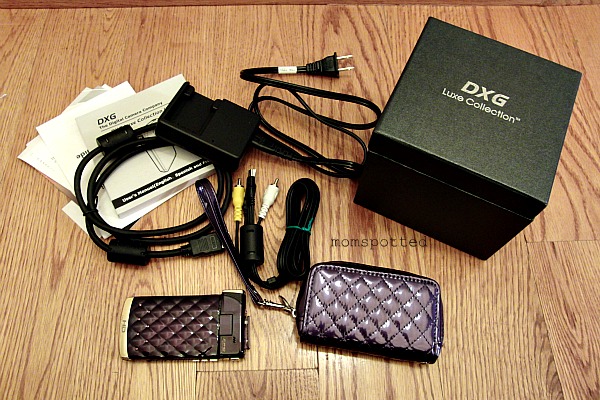 Right away I was impressed with how thin this camcorder was. When not in use it was smaller then my cell phone! Here is it next to a pen- the pen is bigger!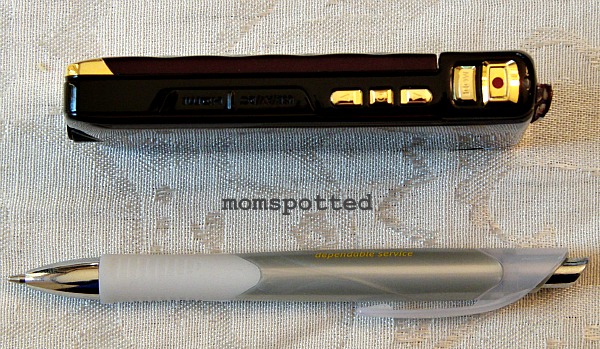 I really like the flexibility of this screen! If I want to record the kids or record myself it's easy to do so all while watching what I'm doing comfortably. I remember trying to vlog and then watching it back and being like 'Ugh, I'm not lined up right' and having to do it all over again! Not anymore!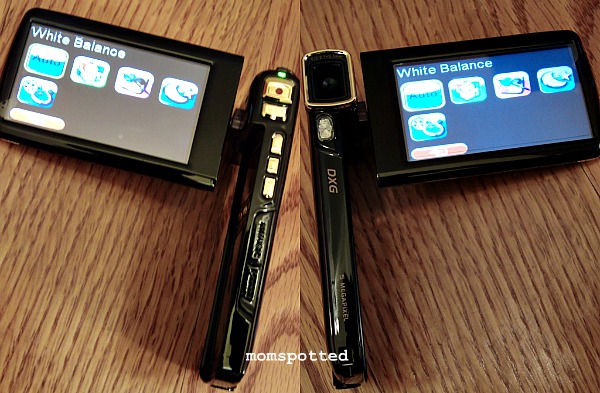 The screen is touch which I love! Ever since my iPad I want to touch screen everything. You'll often find me touching my laptop screen wondering why it's not working. This lets me move through the menu quickly and easily.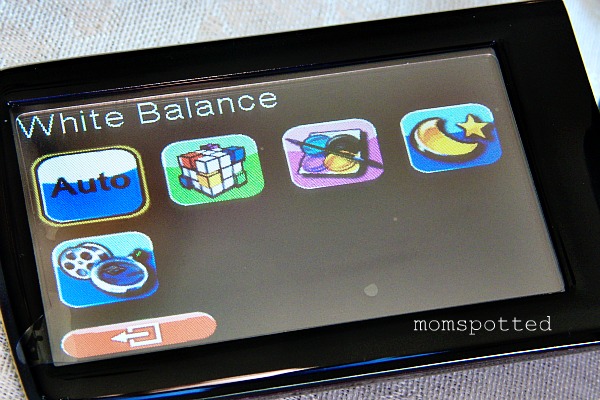 Several of the buttons are on the side as well as the cable plug, the remaining buttons are on the inside as well as the battery storage area. I love that this is a plug in charge style so I can charge it over night and not spend additional money on batteries all the time. The power button is also on the inside so I can't accidentally turn this on from my pocket. It also automatically turns on when you pop open the screen.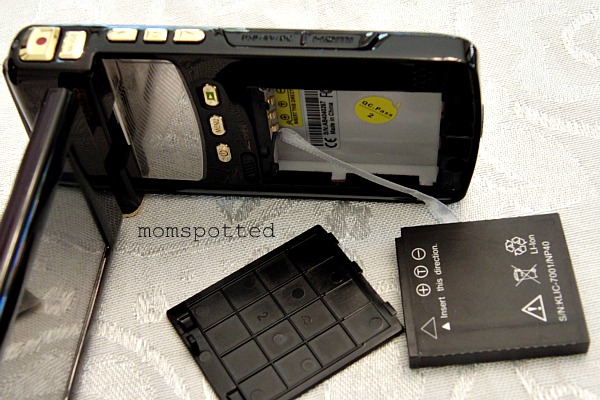 You can slide an SD card in at the top of the camcorder. I like this feature because I'm not a fan or pulling out wires and connecting things. Often times I am running around or traveling and just want to upload a quick video or photo and this is a great option. I do however wish the cover piece was a bit more sturdy I worry that it's only a matter of time before it snaps right off.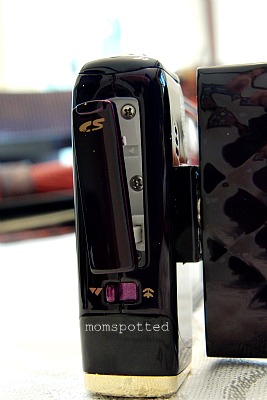 When in recording mode it turns out that the DXG Luxe 1080p Slim HD Camcorder is one model that doesn't allow zoom. When you attempt to zoom the zoom feature pops up but with the crossed out sign on it. There are buttons for the zoom feature so I really find it deceiving that you can't zoom. Turns out it's for the photo feature only.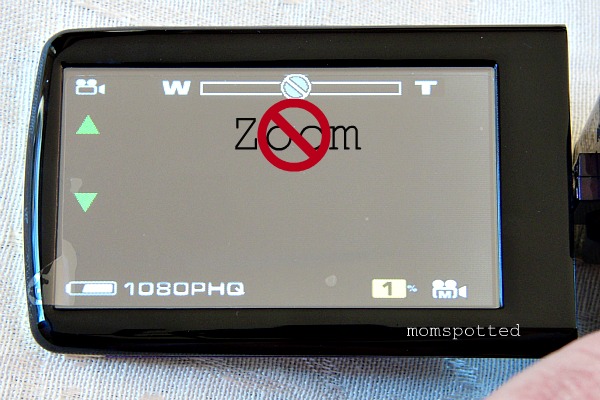 Speaking of photos this camcorder can also take pictures! I really like this feature as none of my other HD Camcorders were able to do this. The quality of the photo is really nice. I think the color is slightly off but the clarity and sharpness is dead on.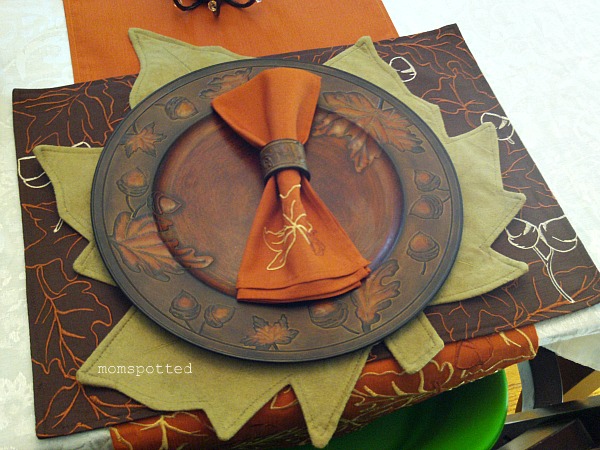 I wanted to show you the quality of the camcorder. I used it the other day while making one of my recipes that required peeling, coring, and slicing apples. Here is my sample:
DXG USA has provided your choice of either the red or purple DXG Luxe 1080p Slim HD Camcorder for FOUR of my readers!!!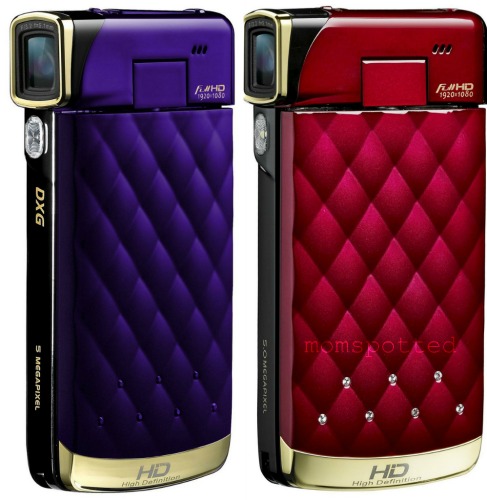 DXG USA has offered FOUR Mom Spotted Reader a DXG Luxe 1080p Slim HD Camcorder in choice of red or purple!!!
How to Enter:
1.) Visit
DXG USA
and tell me what other style of
Luxe Collection
you like
.
Mandatory
How to earn additional entries:
2.) Become a follower on my blog (publicly- privately does not count)-leave another comment (or let me know if you already are) – 2 entries
3.) Subscribe to my blog by EMAIL (not feed) – 2 entries
4.) Blog about my giveaway- with a link back to here AND
DXG USA
4 entries (MUST include at least 30 words! Get
two additional entries
if you include a photo of the giveaway).
Post YOUR blog entry first and then the comment (please include the link directly to it not to your front page, and make an additional comment then the ones above.)
5.) Add my Mom Spotted button to your blog
6.) Follow
Mom Spotted
on Twitter AND Tweet about this giveaway-
Copy/Paste:
Win a $200 Slim HD Camcorder from  DXG USA & @MomSpotted #giveaway ends 11.14.11 http://wp.me/p18qpn-44s
~this can be done once daily (leave link in comment)~
7.) Become a Fan of Mom Spotted on Facebook– leave me a comment
8.) Become a Fan of DXG Video Cameras on Facebook! – Tell them what you love at their site
9.) Post on your facebook home page (1x daily):
Win a $200 DXG Luxe 1080p Slim HD Camcorder from @DXG Video Cameras & @Jennifer MomSpotted Giveaway Ends 11.14.11 http://wp.me/p18qpn-44s
(Make sure it links to me and DXG Video Cameras & put link in comment)
10.) Leave a relevant comment on any non-giveaway post (reviews are ok)
11.) Enter Emilie's Kolcraft Baby Contest
12.) Add the Bump 2 Baby Event Button to your sidebar on your FRONT page. (2 entries)
(Make sure to check out all my other giveaways!
Check the side bar to the right for list!)
That's many chances to win a $200 DXG Luxe 1080p Slim HD Camcorder!!!
Contest ends November 14th at 11:59pm!
***USA Only***

Mom Spotted Review Policy: I was provided with the featured item(s) at no cost by the manufacturer and/or its PR agency in order to test the products abilities and give my own personal opinions on it. The opinions I have given are mine and may differ from others but it was not influenced in any manner by monetary means.