It's funny how with a 4 year old and 10 year old how many things can change in the time from when the 10 year old was 4. Television is one of those things. When Johnny was littler his must have shows Rugrats, Wild Thornberrys, Danny Phantom, and Jimmy Neutron. Now you'll be lucky if you can find them on air. Sometimes he'll reference one of the shows to his little brother and Gavin just doesn't know what he's talking about because great shows like The Wild Thornberrys ran until 2004 and Gavin wasn't born in 2006.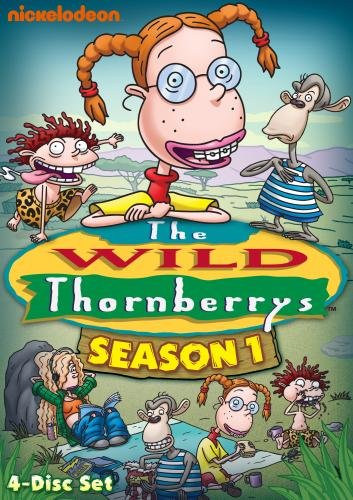 The first title to be released will be The Wild Thornberrys: Season One, which will arrive in stores on May 17, 2011.  Produced by Klasky-Csupo for Nickelodeon, The Wild Thornberrys premiered in September 1998 and aired until 2004 with reruns airing on Nicktoons and CBS from 2002-2007. The Wild Thornberrys DVD release has long been anticipated by fans but has not been available instores until now.
The hit series follows the Thornberry family as they travel the world in their Communications Vehicle (or CommVee) looking for rare animals to film.After an encounter with an African shaman, their youngest child Eliza was given the power to speak to animals! Every episode in this adventure-packed DVD set follows Eliza as she comes face-to-face with an assortment of animals, continents and danger. Encounter wildlife in all its natural glory and eavesdrop on Eliza's conversations with silverback gorillas, pythons, crested grebes, tapirs, capybaras, antelopes and opossums while the CommVee travels on!
We really enjoyed sharing The Wild Thornberrys: Season 1 DVD with Gavin. Johnny said he remembered the show when he saw the cover but it wasn't until we started watching that he really remembered. We haven't watched all 4 disc's yet but we've watched quite a bit of the 7.5 HOURS and Gavin is already enjoying it! He sometimes pretend that he too can understand animals and help them out. Johnny of course doesn't remember it that well so for him it's almost like watching it again for the first time.
I have one The Wild Thornberrys: Season 1 DVD for a Mom Spotted Reader!
How to Enter:
1.) Tell your favorite Nick Show that is no longer on air.
Mandatory
How to earn additional entries:
2.) Become a follower on my blog (publicly- privately does not count)-leave another comment (or let me know if you already are) – 2 entries
3.) Subscribe to my blog by EMAIL (not feed) – 2 entries
4.) Blog about my giveaway- with a link back to here – 4 entries (get two more if you include a photo of the giveaway).
Post YOUR blog entry first and then the comment (please include the link directly to it not to your front page, and make an additional comment then the ones above.)
5.) Add my Mom Spotted button to your blog
6.) Follow
Mom Spotted
on Twitter AND Tweet about this giveaway-
Copy/Paste:
Win a $130+ Sunny Patch Spring Fun Pack from @gummylump & @MomSpotted #giveaway ends 6.12.11 http://wp.me/p18qpn-3c1
~this can be done once daily (leave link in comment)~
7.) Become friends with Mom Spotted on Facebook– leave me a comment
7.) Post on your facebook home page (1x daily):
Win a 'The Wild Thornberrys: Season 1 DVD' from @Jennifer MomSpotted Giveaway Ends 6.12.11 http://wp.me/p18qpn-3c1
(Make sure it links to me and put link in comment)
9.) Leave a relevant comment on any non-giveaway post (reviews are ok)
(Make sure to check out all my other giveaways!
Check the side bar to the right for list!)
That's many chances to win the DVD The Wild Thornberrys: Season 1!
Contest ends June 12th at 11:59pm!
***USA Only***

Mom Spotted Review Policy: I was provided with the featured item(s) at no cost by the manufacturer and/or its PR agency in order to test the products abilities and give my own personal opinions on it. The opinions I have given are mine and may differ from others but it was not influenced in any manner by monetary means.