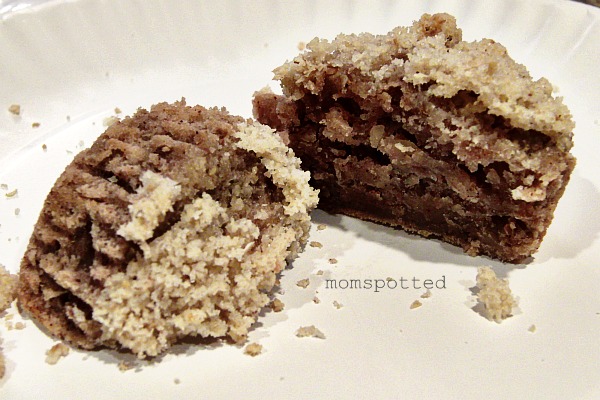 These were really yummy and didn't last long. The Hubby and boys thought they were delicious! They were moist inside and crunchy on the top. This is a great recipe to use with all the apples that you pick this fall with the kids!
Apple Walnut Muffins [Recipe]
Prep time:
Cook time:
Total time:
Ingredients
Muffin:
Apple Walnut Muffins
2 cups bread flour
2 tsp baking powder
½ tsp salt
1 tsp ground cinnamon
¼ tsp freshly ground nutmeg
2 large eggs
1 cup brown sugar
6 tbsp butter, melted and cooled
¾ cup buttermilk
1 tsp vanilla extract
2 large apple, shredded (approx. 1 cup)
1 cup coarsely chopped walnuts
Topping:
¾ cup sugar
¾ cup flour
1 tablespoon apple cider
1½ teaspoons cinnamon
¼ cup butter, softened
Instructions
Preheat oven to 375F. Line a 12 cup muffin pan with paper liners.
In a medium mixing bowl, whisk together flour, baking powder, salt, cinnamon and nutmeg.
In a large mixing bowl, beat together eggs and brown sugar until smooth. Mix in melted butter, buttermilk, vanilla extract and shredded apple. Add in flour mixture and fold the ingredients together until only a few streaks of dry ingredients remain. Fold in walnuts until equally distributed.
Divide batter evenly into prepared pan, filling each cup until just about full.
Sprinkle topping over batter. Place in preheated oven.
Bake for 16-19 minutes, or until a toothpick inserted into the center of a muffin comes out clean and the top springs back when lightly pressed.
Turn muffins out onto a wire rack to cool.